Terra Online (St Lucia)
Exclusive Land & Property Sales
Ref No: SU_025






Status:

For Sale

Price Type:

Asking Price

Price:

US$225,000

Type:
Countryside land
Beds:
Baths:
Lot Size:

1.98 acres

Location:

Soufriere



Email us about this listing
or contact
TERRA ONLINE REAL ESTATE
Anse de Sable Beach
Vieux Fort
Tel: (758) 485-7400 / 485-7401
This is a lovely lush piece of land, almost two acres in size (1.98 acres), that combines privacy with proximity to the main road, and ease of access. The lot is shaped like the letter 'b', with a long and narrow stretch that runs between the access road and a neighbouring road, and a larger, square piece that forms the bulk of the property and sits on the flat top of a hillock.

Because it is surrounded by much higher mountains further away (across hidden ravines and roads) the lot gives the strange, dual sensation of being at the bottom of a valley whilst at the same time being atop a hill.

Peeking out between the mountains are the tip of the Piton and a little bit of Caribbean sea view. The lot has a decent access road, and all infrastructure (water, electricity, telephone, etc) is available nearby. The foundations and ruins of a simple concrete house sit at the center of the land, but this can easily be demolished or else re-used.

The land contains many mature fruit trees, and is obviously exceptionally fertile. This would make a great location for an organic farm with a small Bed & Breakfast. It is only about 10 minutes' drive from Soufriere, and set back just a few dozen steps from the main Vieux Fort-Soufriere Highway.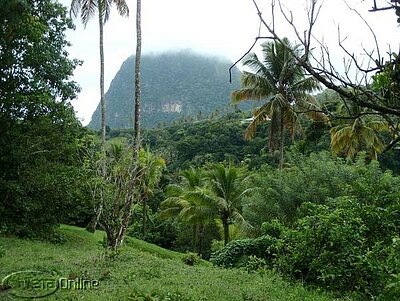 Petit piton in cloud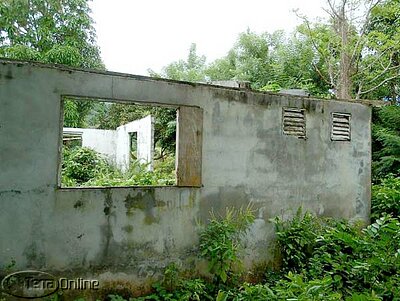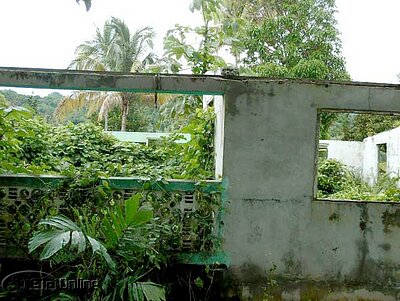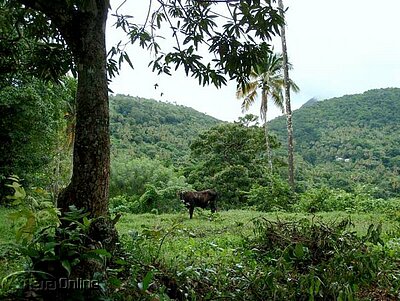 Lush, fertile land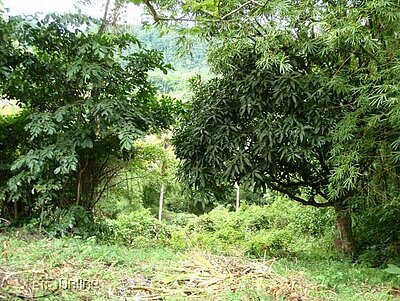 Mangoes & bamboo