Terra Online (St Lucia)
Exclusive Land & Property Sales
Ref No: RD_006






Status:

Sold

Price Type:

Priced per sq. ft.

Price:

US

Type:
Countryside land
Beds:
Baths:
Lot Size:

3 acres (3 adjacent lots)

Location:

Balembouche



Email us about this listing
or contact
TERRA ONLINE REAL ESTATE
Anse de Sable Beach
Vieux Fort
Tel: (758) 485-7400 / 485-7401
This listing comprises 3 individual lots of land which may be purchased separately or together. Lot sizes and prices are as follows:

Lot 1 - 10,000 sq ft - US$18,700
Lot 2 - 43,560 sq ft - US$81,457
Lot 3 - 85,377 sq ft - US$159,655

Located between Laborie and Choiseul, approximately 1 mile from the main Vieux Fort - Soufriere highway are three adjacent lots of land for sale at what used to be, in the colonial past, a sugar plantation.

The land is accessed via a bumpy but reliable secondary road, which continues on to rural hamlets deep in the countryside before eventually curving back to the main Vieux Fort highway. Mains water and electricity are both available close to the land.
The lots are partly flat, partly sloping. Some areas of it are currently used for growing vegetables, while others are covered in tall trees and shrubs. With selective tree trimming, a view of the Pitons can be opened up across the River Doree valley, which bounds with the land to the north. The river valleys in this part of St Lucia are very deep and steep and add a dramatic note to the landscape. They also act as a natural funnel for tropical breezes, making this a very agreeable spot. The fact that this was the chosen location for one of the small-scale sugar plantations back in the eighteenth and nineteenth centuries is perhaps the best recommendation for its excellent position and fertility.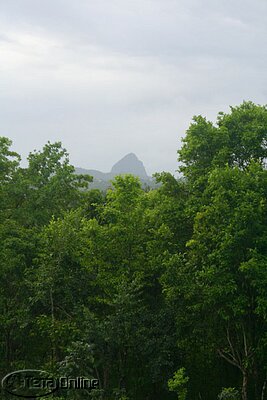 Piton views currently obscured by trees