Terra Online (St Lucia)
Exclusive Land & Property Sales
Ref No: PR_004






Status:

For Sale

Price Type:

Asking Price

Price:

US$185,000

Type:
Countryside land
Beds:
Baths:
Lot Size:

8.9 Acres

Location:

Praslin, E. Coast



Email us about this listing
or contact
TERRA ONLINE REAL ESTATE
Anse de Sable Beach
Vieux Fort
Tel: (758) 485-7400 / 485-7401
Combining the verdant beauty of the unspoilt St Lucian countryside with the attraction of being close to a 5-star resort and signature golf course, this property is just 25 minutes from the international airport and is the ideal location for an eco-tourism project that likes to feel, and be, tucked away in a timeless universe of greenery and natural abundance. Along with this, this tract of countryside land is close enough to beaches, luxury facilities and good infrastructure to make it a practicable enterprise.

A former agricultural estate left to the astounding fertility of good soils and the tropical rain and sun, these 8.9 acres are covered with just about every kind of mature fruit tree imaginable. Ripe grapefruits, mangoes and guavas drop into your hand without the need to even stretch. What is more, as the land gently slopes from the brow of the hill, it offers very pleasant views of the Atlantic Ocean, Praslin Bay, Praslin Island, and the soon-to-be-finished 18-hole Greg Norman signature golf course which is part of the Westin Le Paradis luxury marina resort development.

Needless to say that on this side of the island, the prevailing north-easterly trade winds provide wonderfully refreshing breezes. The land is situated about three-quarters of a mile inland of the Praslin community. Travelling down this road, the houses cease after about half a mile. Another few hundred yards on, and the 8.9 acres of land stretches out on a hillside to the left, while a narrow strip of land also runs along the road on the right hand-side. The (public) road access is excellent and mains water and electricity are available as far as there are homes along the road, so just need to be brought in over the short last stretch. The land is currently zoned as agricultural , but there is no reason to believe that the Government would have objections to a change to residential or touristic use.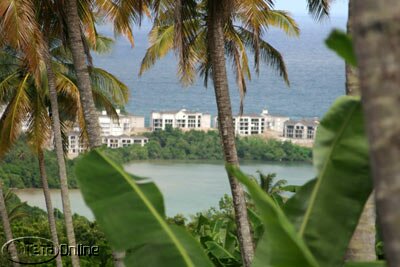 5-star Westin 'Le Paradis' marina resort in the distance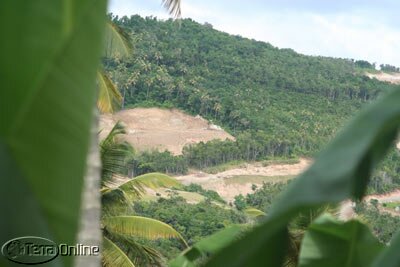 Greg Norman golf course (under construction)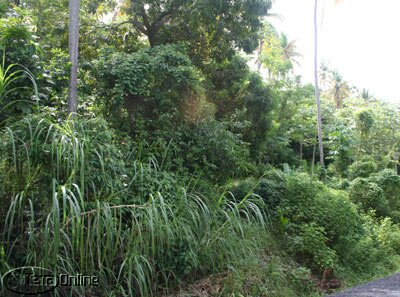 Lush tropical countryside