Terra Online (St Lucia)
Exclusive Land & Property Sales
Ref No: CAN_001






Status:

For Sale

Price Type:

Asking Price

Price:

US$365,000

Type:
Family Home
Beds:

5

Baths:

3

Lot Size:

18,000 sq. ft

Location:

Canaries



Email us about this listing
or contact
TERRA ONLINE REAL ESTATE
Anse de Sable Beach
Vieux Fort
Tel: (758) 485-7400 / 485-7401
If you like the quaintness of St Lucia's rural west coast, then this one may be the perfect house for you! Located on the edge of the sleepy fishing village of Canaries, about 15 minutes' drive north of Soufriere and 40 minutes' south of the capital of Castries, this is a well-built house, consisting of two family homes - giving it the added advantage of being an income-earner, as well as a great retirement home.
Sling up a hammock, pour a cold drink, and savour the huge sea views and blue skies that seem to jump straight at you.
With each level of the home covering approximately 1,500 sq ft of living space, and situated on over 18,000 sq ft of fully-fenced and landscaped land, this is a substantial property.
It is located along the main west-coast road, and is easily accessible via a well-designed concrete driveway. The land is sloping, and professionally engineered with sound retaining walls to the rear of the house. There is a car port for one car, and parking space for about three vehicles. Back-up water tanks to the rear of the house can be filled with water from the mains, or rain water collected from the roof. All other infrastructure (electricity, cable TV, internet and telephone) is in place as well.
The ground floor of the house is rented out, and consists of a 2-bedroom, 1- bathroom apartment. The exterior walls of the downstairs have been finished with natural stonework, lending the house a very pretty, well-cared-for air.
The top floor is accessed via an exterior stair case, and is surrounded on two sides by a long, deep balcony that makes the most of the immense sea views. Inside, an open living and dining room flow naturally into the large fitted kitchen. A hallway leads from there to the three bedrooms and laundry room at the rear of the house. The master bedroom has a large ensuite bathroom as well as a private balcony, while the other two rooms share one bathroom. High-end double-glazed windows have been fitted in the bedrooms, while aluminium louvred windows keep the living area cool and breeze. The hallway, kitchen, bedrooms and bathrooms have been tiled throughout, while the living and dining have laminated wooden floors.
The house was built around 2001 and has been meticulously maintained.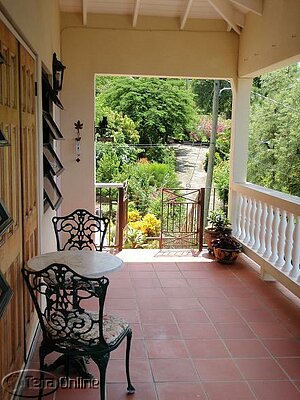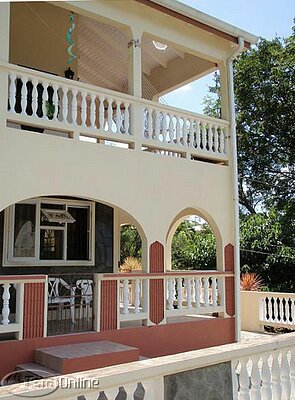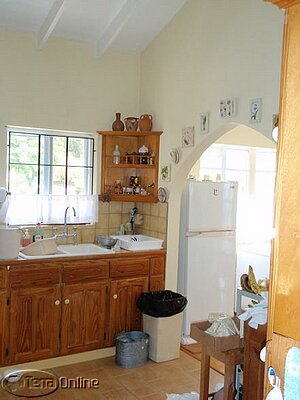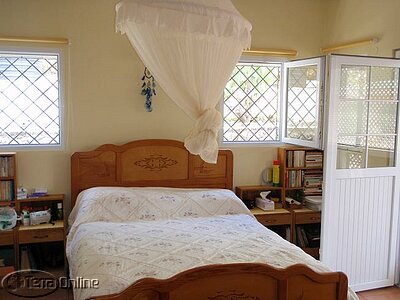 Master bedroom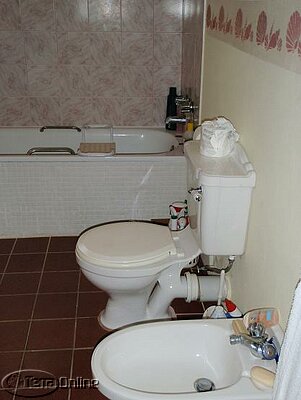 Master bathroom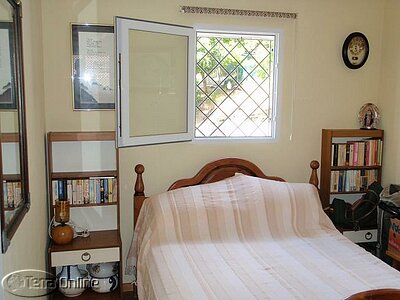 Guest bedroom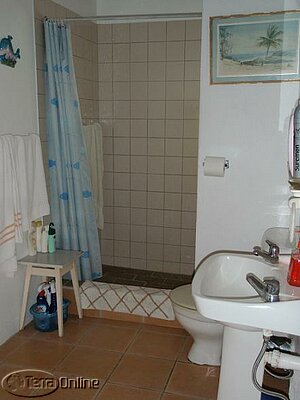 Guest bathroom