Terra Online (St Lucia)
Exclusive Land & Property Sales
Ref No: VF_041






Status:

For Sale

Price Type:

Asking Price

Price:

US$260,000

Type:
Detached House
Beds:

4

Baths:

3

Lot Size:

5,500 sq ft

Location:

Vieux Fort



Email us about this listing
or contact
TERRA ONLINE REAL ESTATE
Anse de Sable Beach
Vieux Fort
Tel: (758) 485-7400 / 485-7401
This is a neatly built, brand-new 4 bedroom house located in Pierrot, a semi-rural neighbourhood just to the north of Vieux Fort, with distant but commanding sea views out to Savannes Bay and the Atlantic Ocean.
With almost 3,000 sq ft spread over two levels and a fully-fenced garden, this is the perfect home for a young family to grow into. There is about 5,500 sq ft of land, with good-quality, established homes in the neighbourhood. Set within striking distance (less than 10 minutes' drive) of Vieux Fort with all its amenities including supermarkets, restaurants, good swimming beaches, schools, the hospital, banks, fish and vegetable markets, stores, boutiques, and so on, this house is perfectly located just a couple of hundred feet off the main Pierrot Road.

No effort has been spared in attaining the perfect finish, with a beautiful custom-made wooden kitchen with an island, and high-end fittings in the bathrooms (including a jacuzzi, bidet, shower and double face basins in the master bathroom).

The master bedroom on the top floor is 285 sq ft in size, has a 60 sq ft walk-through closet and a huge master bathroom (105 sq ft ). Best of all, the master bedroom has French doors that opens out onto a massive outdoor balcony and deck (almost 700 sq ft) with full-on views of Savannes Bay, Scorpion Island and the Atlantic Ocean (part of the protected Pointe Sable National Park).

The second and third bedrooms are also located on the top floor, and are almost 170 sq ft in size each. A second bathroom (65 sq ft) is fitted out with a shower, hand basin, bidet and wc. The bedrooms have built-in wardrobes. Connecting the upstairs bedrooms together is a large lounge area (almost 250 sq ft), which is cool and breezy, and could double as a play area or office space. An open stair case leads back to the ground floor, where the fourth bedroom (140 sq ft) is situated, along with the 3rd full bathroom, as well as a laundry room with sink and cupboards.
The remainder of the ground floor is taken up by the expansive living and dining room, with the open kitchen tied in by the island with built-in sink. The home is fitted throughout with clean, white tiles. Windows and doors are all made from durable pvc with screens, and the entrance is graced by a custom-built wooden door with decorative leaded glass.

The house is fully serviced with mains water, a back-up water tank, electricity and telephone.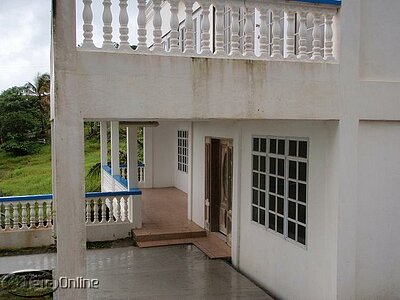 Main entrance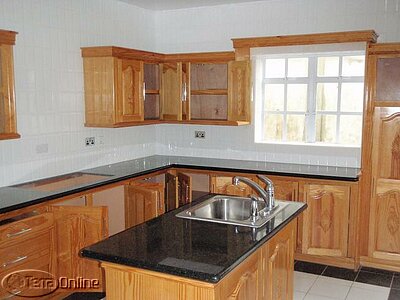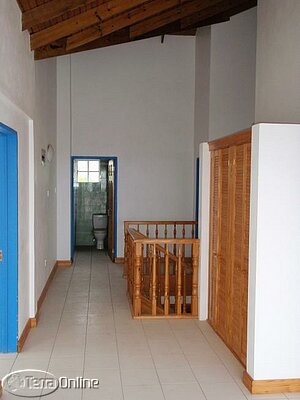 Upstairs hallway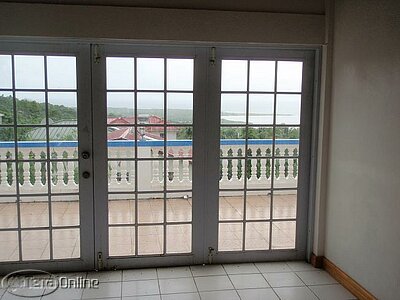 Master bedroom and balcony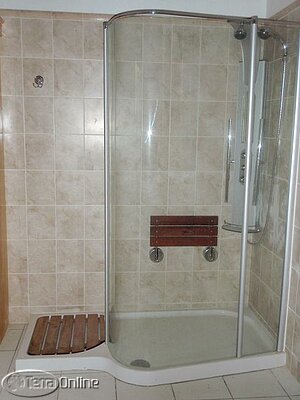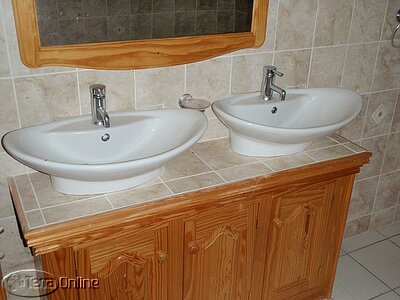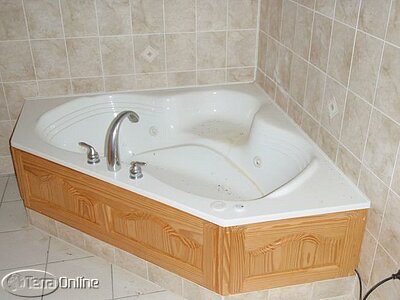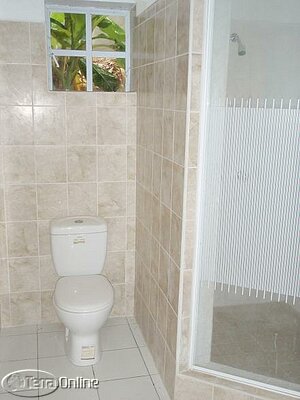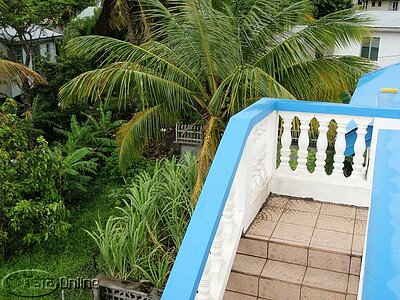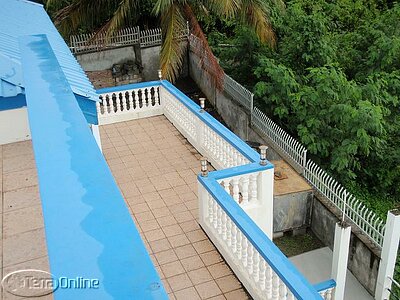 Fully-fenced grounds