Terra Online (St Lucia)
Exclusive Land & Property Sales
Ref No: MC_007






Status:

For Sale

Price Type:

Asking Price

Price:

US$499,000

Type:
Detached House
Beds:

5

Baths:

5

Lot Size:

19,665 sq ft

Location:

Micoud



Email us about this listing
or contact
TERRA ONLINE REAL ESTATE
Anse de Sable Beach
Vieux Fort
Tel: (758) 485-7400 / 485-7401
What makes this house so unique is not only its construction (prefabricated marine aluminium components) but, also its wonderful location and sea-views. Each arched window in the living area affords a different picture-postcard image of lush surroundings and intriguing sea- and bay views. Located within the Escap residential development on St Lucia's east coast, just north of the village of Micoud, this comfortable home overlooks the Atlantic Ocean, Micoud Pensinula and Port Volet - once a small, bustling harbour and only one of two such ports on the wild Atlantic east coast.

As well as being a very comfortable family home, this property would make a marvellous Bed & Breakfast, with its four bedrooms (all of them ensuite) and self-contained one-bedroom apartment on the lower floor. Another very special feature is the dining area, which is really an open breezeway between the main living area on the one side, and the bedroom wing on the other. Schematically, the house consists of two separate buildings, each with its own roof, which are connected by this breezy, covered dining area. The layout creates unity and an easy flow of energy between the two sections which are nevertheless very privately laid-out.

The house was completed in 2005, and is in a good state of repair. The material used for the frame, roof support, doors and windows is, as said, marine aluminium, sprayed a soft shade of green (glen-green). The outside walls consist of gyprock and the inside of plasterboard. The roofing material used appears at first glance to be clay roofing tiles in a dark green, but are in fact durable aluminium coated with shingled material. The foundation, base and lower floor of the house are of steel-reinforced concrete, as is common in St Lucia.
A concrete driveway flanked by colourful bougainvillea and stone retaining walls, is entered via an electric gate, after which it widens out to create ample parking space. The grounds (approximately half an acre in size) are fully-fenced. The land is sufficiently elevated to ensure that no future development will interfere with the existing views. A variety of mature fruit trees and decorative flowers and shrubs make the garden a delightful place to linger, and the grounds easily allow for the addition of a swimming pool as well. A large outside deck spanning the front and side of the house,links the indoor and outdoor spaces. Arched doors and windows to three sides of the kitchen, living and dining area continue the theme of openness, breeze and expansive vistas.

The long, golden sandy beach of Fond Bay, which is great for swimming, fishing, and impromptu picnics is just a 5 minute walk away from the home.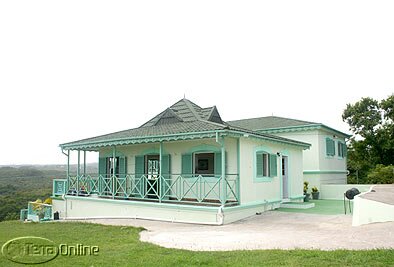 Traditional Caribbean styling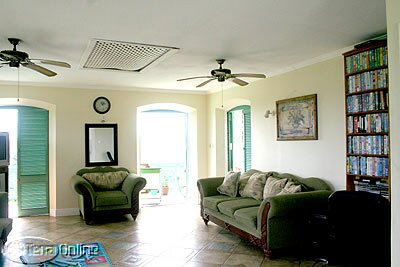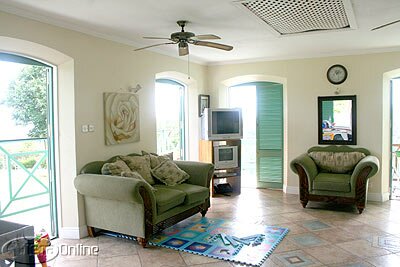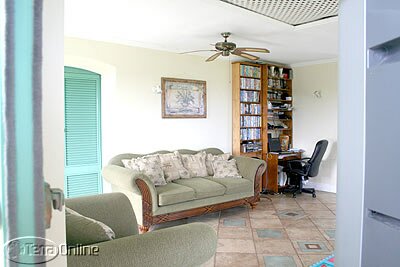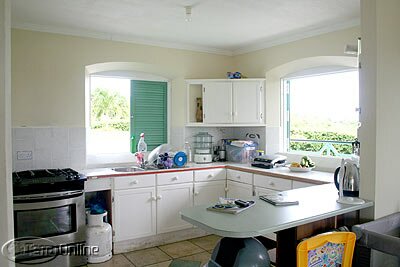 Fitted kitchen with breakfast bar
Breezy lounge/dining area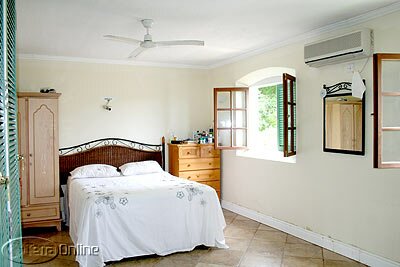 Large master bedroom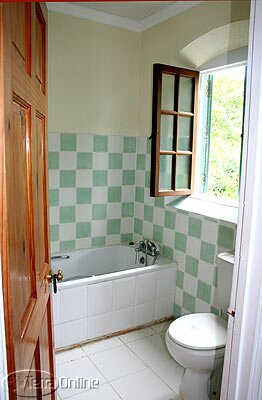 Master ensuite bathroom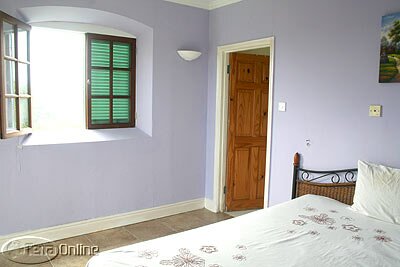 One of the three guest bedrooms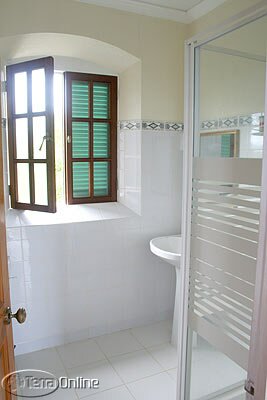 Guest ensuite bathroom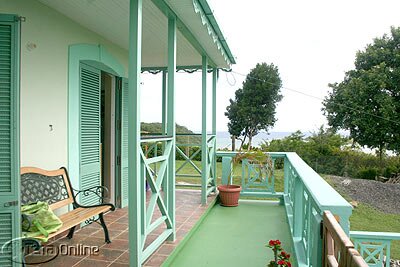 Ample outdoor deck space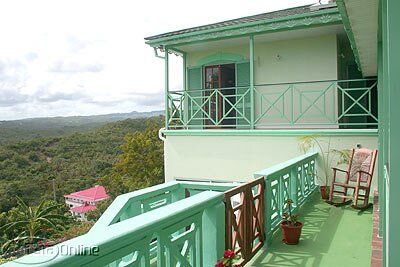 ... and mountain views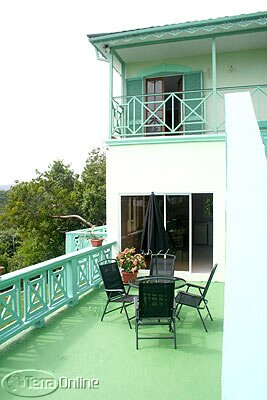 Lower deck showing entrance to apartment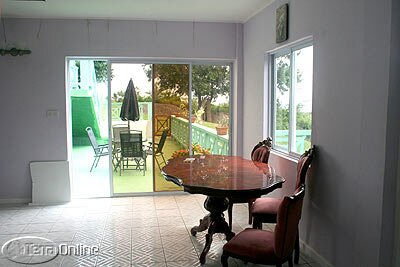 Apartment living area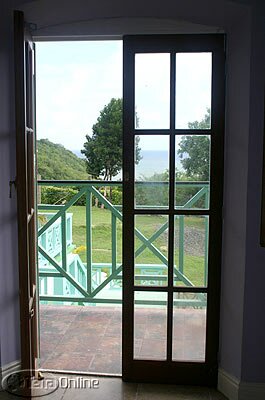 Every doorway paints a picture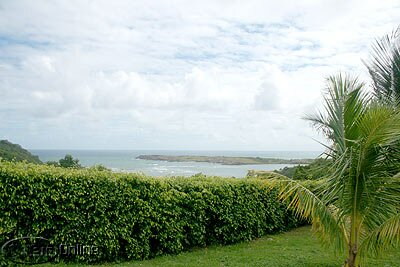 Atlantic Ocean on one side ...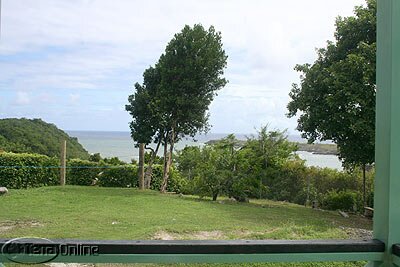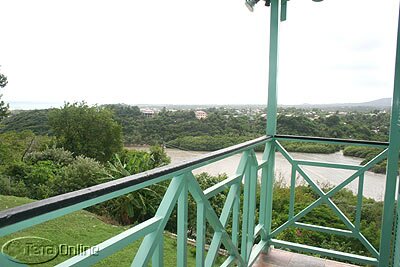 Port Volet inlet on the other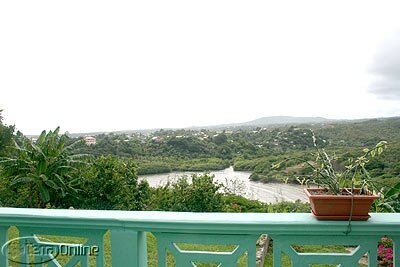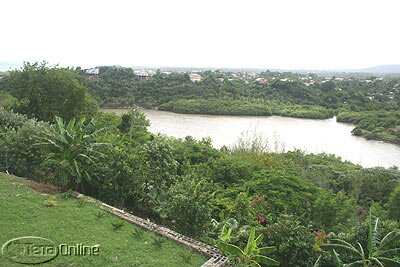 Town of Micoud in the distance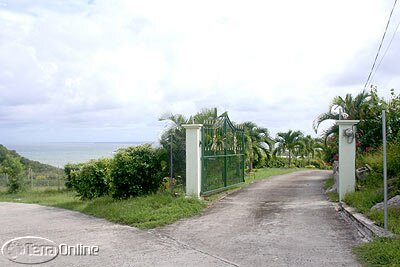 Electric gate at entrance