Terra Online (St Lucia)
Exclusive Land & Property Sales
Ref No: CA_129






Status:

For Sale

Price Type:

Asking Price

Price:

US$650,000

Type:
Detached House
Beds:

4

Baths:

4

Lot Size:

27,116 sq ft

Location:

Coubaril, S. Castries



Email us about this listing
or contact
TERRA ONLINE REAL ESTATE
Anse de Sable Beach
Vieux Fort
Tel: (758) 485-7400 / 485-7401
Pleasantly secluded amidst verdant surroundings, this house harbours a welcome surprise to the first-time visitor: On stepping through the main entrance, a huge open living space offers wide sea views across the Sandals Regency Beach and the Caribbean Sea and coastline beyond that.

Originally commissioned by a retired sea captain, this property follows the contours of a large, old-fashioned liner, with the 'bow' of the house taking the shape of a large five-sided swimming pool (about 38 x 22 ft), surrounded by a 1,236 sq ft wooden deck, built of concrete and greenheart timber.

The house sits on a ridge at La Toc, just south of the capital of Castries, in an exclusive, high-income residential neighbourhood. There are 3 bedrooms, 3 bathrooms, a spacious living and dining room, kitchen and utility room, as well as a 1-bed, 1 bathroom apartment downstairs, on the pool level.

The structure is of steel-reinforced concrete, with greenheart timber framing and ceilings, covered with a metal roof. Twin 1,200 gallon rainwater cisterns provide back-up supply, but the house is of course serviced by mains water, as well as electricity, telephone, cable TV and internet.
The house sits on 27,116 sq ft of fertile land, which slopes gently down towards a road on the western side of the house, which is entirely obscured by greenery.
The house has been vacant for some time, and is in need of a good dose of TLC, however it forms a strong and exciting canvas on which to work. With a location as spectacular as this one, it is easy to envision its potential.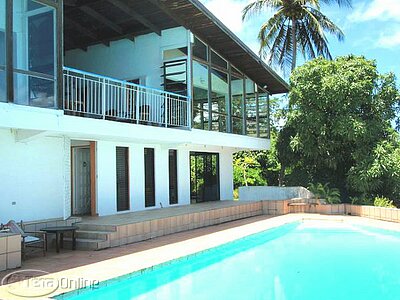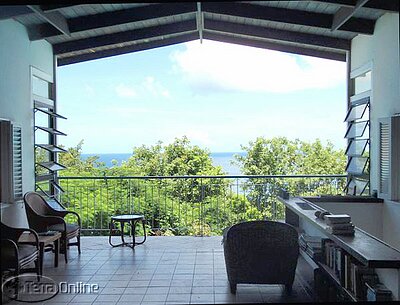 Living area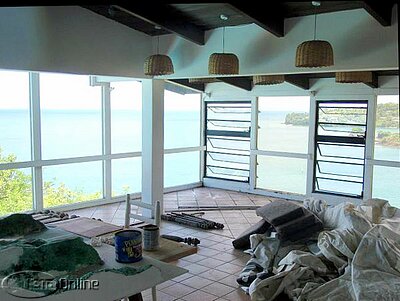 One of the bedrooms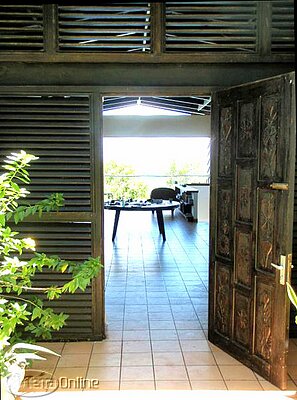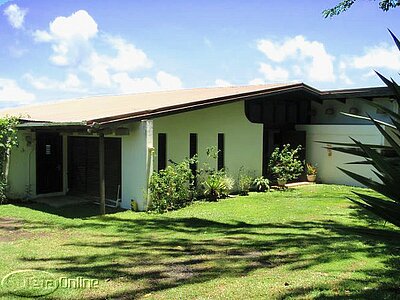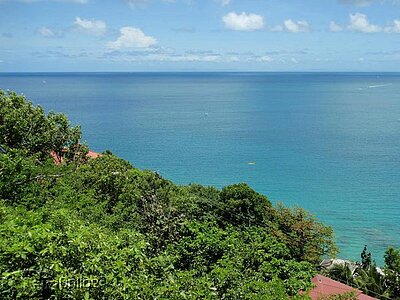 Martinique in the distance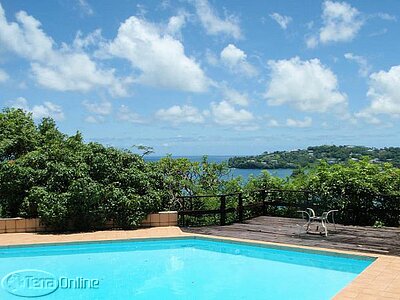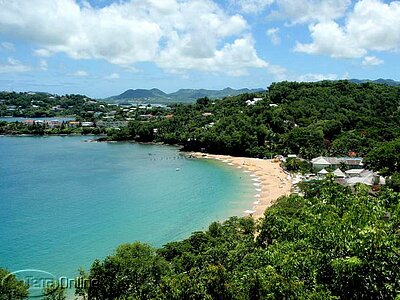 Nearby beach