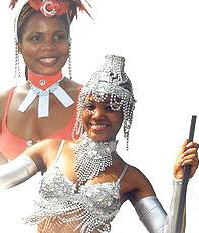 OCTOBER 1-31
Creole Heritage Month:
The Folk Research Centre, a non-governmental organization established in 1973 to preserve and promote the cultural heritage of St. Lucia, holds a series of events throughout the month. A number of communities are chosen each year to host the occasion which culminates at the end of October with International Creole Day or Jounen Kweyol, a worldwide celebration by all of the countries that speak the Creole language. Call the Folk Research Centre at 452-2279 for the full programme that includes the election of the Creole Queen, cultural and theatrical presentations and the Feast of La Marguerite, one of St. Lucia's floral societies.
NOVEMBER & DECEMBER 27-2
Legends Tennis Week:
A permanent fixture on the local sporting calendar, Legends Tennis Week is held at the St. Lucia Racquet Club at Cap Estate. Retired tennis champions who still have what it takes to play a good match host tennis clinics and participate in exhibition matches.
DECEMBER 13
Festival of Lights & Renewal:
Traditionally known as our Discovery Day. St. Lucians now look forward to what has become the annual switching on of the Christmas lights in the capital Castries and the accompanying Lantern Competition. This has become an arena for intense creativity and local artistic expression.
DECEMBER
ARC 2001
St. Lucia is now well-known as the arrival site for the world's largest trans-Atlantic Rally for Cruisers. The boats leave Gran Canaria about November 25th and the first one should complete the crossing in the first week of December. If you are a sea-faring person, consider this a fun group activity and dock in Simply Beautiful St. Lucia for a couple of glorious weeks of yachties' entertainment.
DECEMBER 25-31
St. Lucia Open
The St. Lucia Racquet Club at Cap Estate hosts this event that is open to all amateur tennis and squash players. The competition attracts the best regional and international players. There is also a tournament for professionals. Call the St. Lucia Racquet Club at 450-0106.
FEBRUARY 21
Independence Day
In 2002, St. Lucia celebrates 23 years of independence from Great Britain. The day is a national holiday. There is usually a programme of special events that encompass the whole island in one way or other. Feel free to ask your hotel for more information.
FEBRUARY
Lions Club Independence Charity Tournament
A one-day tournament held at the St. Lucia Golf and Country Club at Cap Estate. The event is open to everyone who wishes to compete for the Prime Minister's Cup. Proceeds are donated to charity.
APRIL 22
International Earth Day
This homage to the earth is celebrated throughout St. Lucia. If you miss the Soleil Lévé (sunrise) ceremony, then there is always the Soleil Couché (sunset) ceremony. The St. Lucia National Trust organises this very beautiful and moving occasion. Call them at 452-5005.
MAY 4-12
St. Lucia Jazz Festival
The eleventh annual Jazz Festival will blow you away with its solid package of old jazz, new jazz, Creole jazz and Latin jazz. Plans are well on target for this year's musical event, which acts as a major unifier of all people. With the opening up of new sites like Fond d'Or (Valley of Gold) alongside the traditional venues of Pigeon Island, Balenbouche Estate and Derek Walcott Square in Castries, the festival (organized by the St. Lucia Tourist Board) can be counted on to continue to dazzle patrons.
MAY
Festival of Comedy
Caribbean storytellers and comedians entertain local audiences. This festival is the annual fundraiser of the St. Lucia National Trust.
JUNE
St. Lucia Golf Open
This two-day golf tournament is held at the St. Lucia Golf and Country Club. It is open to all amateurs. Players come from all over the Caribbean to participate. The OECS (Organisation of Eastern Caribbean States) team will be selected at this match. This team goes on to play at the Caribbean championships. This is a handicap event with prizes for gross and net scores.
JULY
Carnival
Calypsos, costumes, steel bands, parties and all the activities that go with carnival celebrations take place in St. Lucia during the month of July. Visit the calypso tents and try to guess which calypsos will make it to the finals; jump up on J'ouvert morning; wear a carnival costume and 'whine and grind' behind a band. The full programme is available from the Ministry of Culture and at www.luciancarnival.com.
JULY
Kids Golf Camp
The St. Lucia Golf and Country Club offers a week-long coaching programme for children between the ages of 6 and 13. Golf lessons take place in the morning and lunch is included. The places are limited to 20 children, so sign up early.
AUGUST
Emancipation Day and National Heroes Day
August 1st is an international holiday when St. Lucians, along with certain other former British colonies, celebrate the Abolition of Slavery in 1838
AUGUST
La Rose Festival
Named after St. Rose de Lima, this local flower society celebrates its patron saint's feast day with folkloristic songs and dancing. Activities are held in the different communities and there are special concerts in Castries.
AUGUST
Market Feast
Held at the Castries Market, the fruit and vegetable vendors 'fete' their special day. There is musical entertainment and plenty of food and drinks.
SEPTEMBER
St. Lucia Bill Fishing Tournament
Anglers from all over the Caribbean come to participate in this three-day competition. The Blue Marlin is the most sought-after fish and everyone is out looking for one that breaks the 1000 lb. barrier. Undersized fish, weighing less than 250 lbs., are tagged and returned to the sea. The weighing station is at Rodney Bay and all are invited to see the catches at the end of each fishing day.