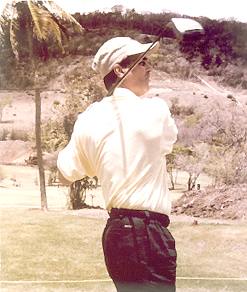 GOLFING IN ST LUCIA
St. Lucia is fast gaining a reputation as a top golfing destination in the Caribbean - thanks to the vision and initiative of Dennis Nardoni, CEO of the St. Lucia Golf & Country Club.
Since assuming ownership of the island's main golfing facility just over two years ago, Nardoni has pumped millions into his new pet project. The first step was upgrading and expansion of the 9-Hole facility to a fully professional 18-Hole Golf Course. A state-of- the-art irrigation system keeps the Course green year-round. The last two years have also seen the staging of major tournaments, key among them the Annual Celebrity Golf Tournament organized in collaboration with the Multi-Cultural Golf Association of America - MGAA.
This year's tournament attracted some of the stars of television film and the entertainment industry. Among the big names were Dennis Haskins of Saved By the Bell, Ron Masak of Murder She Wrote, Ken Kerman of NYPD Blue and his wife Lisa Dalton, Kevin Dobson of Knots Landing, retired NBA Player Charles Smith, Actor/Director Tony Lo Bianco and veteran actor Stack Pierce.
The legends of West Indies Cricket were also out in force in the persons of Sir Vivian Richards, Gordon Greenidge, Desmond Haynes, Jeffrey Dujon, Peter Lashley, Willie Rodriguez, Maurice Foster and Franklyn Stevenson.
he programme also has a charitable side to it. This year, EC$10,000.00 from proceeds of the tournament went towards rehabilitation of the old Gros Islet Police Station (in the North of the island) into a Youth Recreation Centre.
In August, EC$5000.00 was presented to a Dr. Brigette Schuling for a Summer Camp for children with multiple disabilities. Last year organizers gave EC$15,000.00 to the St. Lucia Sickle Cell Association for its Hip Replacement Programme for sickle cell patients on the island.
The next few months will see increased activity at the St. Lucia Golf & Country Club as a plan to develop a full-fledged Golf Resort gets underway. Chief Operating Officer at the St. Lucia Golf & Country Club, Richard Michelin explained: "This is a new market, but we believe that with the Golf Course we will be able to attract persons with the disposable income and passion for the game of golf and the love for a destination like St. Lucia."