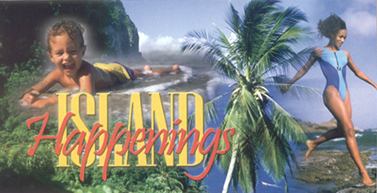 PRESERVING THE FUTURE
Tourism is the fastest-growing industry in our hemisphere and pivotal to the survival of St Lucia also. More and more, the need to harness the sector's benefits and safekeep its resources is becoming clear. A central role in the move to diversify the various facets of tourism in St. Lucia is played by the St. Lucia National Trust. Having just celebrated 25 years of dedicated service in preserving and restoring our natural and cultural heritage, the Trust is gearing up to continue to monitor and protect areas that have the potential to be developed into eco-tourism sites.
Some of the great nature sites vested in the National Trust are Fous Islands, Lapins Islands, L'Islet a Ramier, Rouche Island, Des Bateaux Rocks, Dennery Island, Frigate Islands, Morne Fortune (powder magazine), Morne Fortune (guard cells, stables), Morne Fortune (Apostles battery, Morne battery), Liverpool Rocks, Maria Islands, Choc Park, Marigot Bay Nature Reserve, Savannes Bay, Morne Fortune (Prevost Park), and Morne Fortune (Iniskilling monument).
Perhaps the best-known and most turbulently historical site is Pigeon Island. This 44 acre-plot of sloping grassland, dry tropical forest, beaches and twin peaks was restored by the St. Lucia National Trust as a National Landmark, encompassing all aspects of its rich heritage for the educational, cultural and recreational benefit of all.
The National Trust depends in large measure on the public's assistance to make its work a success. Visiting any one of these protected sites is not only guaranteed to bring you tremendous enjoyment but will also give you a greater awareness of the history of the island. Help the National Trust by enjoying these sites in a responsible manner because our future depends on the sustainable development and use of our beautiful environment.
GOLFING PARADISE
If golf is your game, then the St. Lucia Golf and Country Club should be your lime. Heck, even if golf is not your game: dropping in at the Country Club just might make it that. Situated in the extreme north of the island in the scenic, rolling hills of Cap Estate, St. Lucia's one and only 18-hole championship golf course already is home to many a golfer, both resident and visiting.
Well-known as the venue for the Air Jamaica Celebrity Golf Tournament which is hosted by the St. Lucia Golf and Country Club, this course has seen the likes of retired NBA basketball player Charles Smith of the New York Knicks and retired National Football League player Jerome Henderson. Other over
seas celebrities include Kiki Vanderwait (coach of the Dallas Mavericks), Lee Elder, who was the first African American to play in the Golf Masters and Rudy Duran, who taught Tiger Woods the game in his early years.
You may want to consider timing your vacation in early May, which in St. Lucia happens to be the jazz season. If you are around then, you might like to experience Jazz on the Green. The proceeds of this lovely mixture of golf and jazz benefit the Youth Empowerment Foundation and the Sickle Cell Association. If you're here outside of the Jazz Festival period, then be sure not to miss Breakfast on the Greens: an ideal occasion to meet other golf-loving members and visitors in a casual atmosphere.
CELEBRATED CHEF
St. Lucian born "Chef" Edward Joseph Harry is one of the authentic characters that cooking is made of. His love for food dates back to his early childhood, a legacy left to him by his mother and later his aunt.
Chef has a personality that transcends normal people. His spirit is magnanimous and he enjoys every minute that he is alive. And his cooking mirrors that essence. He cooks with love. He decorates the rooms at his beloved Green Parrot Hotel with love. Each room radiates with his flambouyant character.
Chef Harry of the Green Parrot is no ordinary man. He has dedicated his life to country, and has been involved in the hotel industry for some 29 years. Each of these years has been a celebration, as Chef has accumulated numerous awards for his skill and ingenious approach to cooking. He has contributed to the success of many young people in the industry, as he has passed on valuable skills to them.
In 2001 he was the guest of the Caribbean Festival USA 9th Annual Caribbean American Family Day Festival, and received the Business Expo & Job Fair 2001 Award in recognition of and appreciation for outstanding and dedicated service. The Rotary Club of St. Lucia has recognized Chef Harry as a Paul Harris Fellow and he has recently been inducted into the local Tourism Hall of Fame, through the Crystal Awards. On your next visit here, ask anyone about Chef Harry and the Green Parrot Hotel.
EXQUISITE DINONG AT THE COAL POT
So you're thinking about visiting this wonderful island in the Caribbean, St. Lucia, and naturally your thoughts turn to experimenting with beautiful island cuisine. The Coal Pot is just the place. The burning embers will add a certain luster to your evening, particularly if what you want is to relax in a warm, intimate setting with family and friends.
There is a promise of personalized service, and a striking, festive ambiance. The Chef will spoil you with his exotic recipes, combining his French heritage with a Mediterranean flavour. The Coal Pot will give you an experience with food that will last for a long time. Even as he is liberal with his secret sauces, so too will your creative juices flow as you are surrounded by gorgeous hand paintings and authentic pottery designs.
Tempt your taste buds with exciting Caribbean food, and once the lobster season is open, remember to ask for the lobster special. The Coal Pot offers a soft sophistication that you can enjoy for lunch as well as dinner, by reservation only.
For a truly rustic experience with glorious food, ask about the Coal Pot. Whether you're a visitor or a local, ask about the Saturday Special - traditional local lunches. And for dinner, The Coal Pot is the perfect place to wind down, in the supple glow of the moonlight.
CABLE & WIRELESS in touch
When visiting St. Lucia, there is no need to lose touch with the rest of the world. Cable & Wireless can provide you with just about any mode of telecommunications of your choice.
Stay in touch with any of our convenient services:
1. Payphone calling – phone cards are available both at Cable & Wireless and other local vendor locations
2.1-800-CALL-USA (225-5872) for US visitors calling back home with their credit cards, US calling cards or calling collect.
3.1-800-744-2000 for International credit card calling.
4.Easy Access Internet service for sending e-mails
And if you would like to be in touch on the move, St. Lucia also has a digital mobile network providing superior call quality. Visitors from North America can ROAM in St. Lucia – just turn on your TDMA or analogue phone and make and receive calls just like you would at home. For visitors from other countries or visitors who did not bring their phones and would like to have a mobile phone on a short-term basis, you can rent one.
Whether you are in the comfort of your hotel room, on the road or on the beach we make it possible to stay in touch with the rest of the world from St. Lucia. That is, if you want to!
For more information on any of these services, ask at your hotel or at Cable & Wireless locations for details.
ISLAND WONDERS
If you are daring enough to drive along our winding west-coast highway, keeping the sea to your right, you will eventually discover a beautiful tropical haven called "Soufriere". Once in the town of Soufriere follow your map or ask anyone for directions to the Diamond Botanical Gardens, Mineral Baths & Waterfall which can truly be described as one of St. Lucia's many wonders. Diamond Botanical Gardens is part of the historical Soufriere Estate, which is one of the oldest plantations on the island, once a portion of the original 2,000 acres of land granted to three Devaux brothers by King Louis XIV in 1713 in recognition of their services to Crown & Country.
Within the confines of this beautiful property lies the essence of French and British history in St. Lucia. At one time, the estate produced sugar, cotton, tobacco, coffee, cocoa and limes. Toward the end of the 18th century, forces of natural disaster as well as man-made upheaval devastated the island, including Soufriere Estate. Following this, the old sugar mill and waterwheel (built in 1765 to crush sugar cane) was transformed and subsequently used to crush limes. Later, the waterwheel was adapted to generate the very first electricity to the village of Soufriere. In more modern times, the Soufriere River water brought through the estate via the aqua-duct system, which supplied the water to the waterwheel, was extended and supplied the water to the first hydro-electricity plant. This old sugar mill underwent a massive restoration in 1996 and with the huge wheel still turning is now a beautiful reception and group luncheon facility (reservations required). This restoration has received international acclaim, being the recipient of the 1996 American Express Caribbean Preservation Award.
Call the Soufriere House at 459-7565 to book your personal tour.
QUALITY DIALYSIS CARE
Island Dialysis, a division of Atlantis Healthcare Group Inc. based in Canada, provides international-quality dialysis care for international visitors and local residents in several Caribbean islands including right here, in St Lucia.
The experience of End Stage Renal Failure (ESRF) limits individuals in many ways, one of them being the loss of freedom to travel. Unfortunately, it is the growing middle-aged and elderly segment of our society which accounts for a rising majority of patients with kidney failure. At the same time, these are the same people who more often have the time and resources to enjoy vacationing and travel.
As though in answer to a prayer, several types of travel opportunities are now being developed to help these individuals realise their vacation dreams despite their illness. Visits to exotic and tropical destinations are high on their list.
Potential travelers to St. Lucia who suffer from kidney failure now have one major thing less to worry about, with the advent of Island Dialysis' high-quality treatment facility that is problem free and offers flexibility and safety.
Island Dialysis is located at the Tapion Hospital in Castries and guarantees the best-qualified personnel found anywhere. The centre brings into the realm of the possible, a lifestyle that once seemed out of reach for people needing dialysis treatment. With the establishment of Island Dialysis, persons with ESRF can now enjoy a great tropical vacation without in any way compromising their dialysis care. The dialysis treatment schedule during the holiday is simply adapted to your vacation plans.
Staff of Island Dialysis can assist with transportation arrangements to Tapion Hospital and can also provide information on tourist sites in St. Lucia. For more information, contact info@island dialysis.com
ST LUCIA Folk Party
An excitingly authentic cultural programme with great audience participation: that is the unique package put together by the Folk Research Centre, featuring performances by folk singers, folk dancers, traditional drummers, masqueraders and a steelband.
A traditional storyteller relates in an entertaining mixture of English and St. Lucian Kweyol the story of our rich folk heritage, which is aptly played out by seasoned folk performers. Guests become folk singers, folk dancers, masqueraders and costumed carnival revelers in this unique hour and a half-long cultural festival.
The Folk Party is available for bookings. Its composition is flexible and can be made to fit anything from a stage performance to a cocktail party or evening dinner meet. The performances can take place at a venue of your choice or at the premises of the Folk Research Centre itself, which are beautifully located on Mount Pleasant, boasting magnificent views of the city of Castries and the Castries harbour.
For bookings, call the Folk Research Centre at (758) 452-2279/453-1477, fax (758) 451-9365 or email: frc@candw.lc
VACATIONING FITNESS FEVER
As people become increasingly absorbed in their careers and families, there seems to be less and less time for relaxation. The result is a buildup of stress and stress-related illnesses. Luckily, there has been a coinciding thrust towards participation in health programmes and maintaining healthy lifestyles so as to arrive at a more balanced approach to living.
In the past, holiday-makers often had to be concerned that even though they needed a break, they were sure to put on a few extra pounds whilst enjoying their well-deserved "R&R". Fear no more! Almost every hotel nowadays realises the importance of offering a healthy lifestyle as part of the ideal vacation package.
Enjoying your holiday no longer means compromising your health plan. Even before booking your vacation, you can log on to the various hotel web sites to find out more about their gyms and fitness programmes. Some hotels even offer morning and evening power walks, for those of you who want more from your healthy workouts!
And why not sample the local appetite for fitness by taking part in a workout session at one of the top-class local gyms on the island? Whether you are a fan of dance aerobics, kick-boxing or step classes, your needs will surely be met. So that even after your sojourn in paradise with its gloriously seductive island cuisine, you really need not worry about putting on those extra pounds. You can now work them just as hard as you work your appetite!
BEAUTIFUL ISLAND JAZZ
St. Lucia's Jazz Festival turned ten this year. Not many music festivals can equal such a level of consistency and success. So much so, in fact, that the festival today stands as a benchmark in the region against which other music festivals are judged. Whereas the St. Lucia Tourist Board spends an estimated $2 million on promoting and organizing the festival, the country benefits some $47 million in return, spent by the 12,000-odd visitors who arrive and literally take Castries by storm for ten days.
More recently, the introduction of fringe jazz has taken the festival out of the boundaries of its traditional locations and widened its appeal as an affordable celebration of music. Tea-time Jazz at La Place Carenage (St. Lucia's duty free shopping complex) is excellent.
For the first time this year the jazz festival was brought to the east coast: to a quaint little fishing village called Dennery. The strains of the music caught within the Mabouya Valley, at the Fond d'Or (in English 'Valley of Gold') Nature and Historical Park. A new addition to this year's event, this location proves to have the potential to become one of the strongholds of St. Lucia Jazz, steeped as it is in ancient Caribbean and Central-American mythology. Even in the south of the island, in the towns of Soufriere and Vieux Fort, the sweet sounds of Jazz in the South leave you breathless and full of anticipation.
BIG CHEF STEAKHOUSE IN RODNEY BAY
Well-known TV chef "Big Chef" has opened a new steakhouse in Rodney Bay. It's easy to find: take the first right corner after JQ's Mall, and presto! Big Chef Steakhouse features the biggest, most juicy, succulent and tender USDA pure Angus steaks plus a variety of pasta, seafoods (the mussels are out of this world) and salad.
There are strip loin and rib steaks cut at 16oz, 24 oz and 32 oz, plus the ladies' favorite: 8oz tenderloin which is used for fillet steak, pepper steak, surf & turf and jasmine royal.
If 32 oz is not enough for you, Big Chef will cut a 40 oz or bigger: as big as you can handle. Order the Steak Challenge and if you consume the 32oz rib or strip steak in full, you will be awarded a certificate and enter the rank of " Big Steak Master", and be given a free one pound rib or strip steak.
Big Chef is famous for his outstanding sauces, such as the Au Poivre with green pepper corns, bourgogne and cognac/foie gras. All steaks are seasoned with his unique secret spice and after the main course, Mrs. Chef is sure to tempt you with her heavenly home-made cheese cakes.
Big Chef is present every day except Sundays (when the restaurant is closed) to make sure everything is well-marinated including, as he likes to joke, the chef himself. Bottles of wine start at EC$25 and you will find that everything else, too, is very reasonably priced. This is a very small, cozy place with lots of atmosphere and soothing soft dinner music. Open from 6 pm every day except Sundays. For reservations: 450-0210.
MORE DUTY-FREE...
St. Lucia is on the verge of revealing its newest duty-free shopping complex: a brand new facility that will add fun, flavour and variety to the city of Castries and is widely expected to further enhance St. Lucia's appeal as a quality tourist destination.
While the existing two-story building at La Place Carenage reflects the era of Castries in the 1940s and '50s - with its nostalgic gable roof and lattice balconies - the extension will be three stories high and boast contemporary Caribbean architectural design.
The new shopping complex will be the home of a number of additional duty-free shops as well as an international-cuisine restaurant. A totally new idea is the inclusion of a Promenade of Artisans where visitors can observe local craftsmen and -women creating a wide range of arts and crafts, from portraits to pottery. Close by is the arcade where the delectable results of St. Lucia's local cottage industries - jams, sauces, confectionery, and so on - can be seen and sampled.
The most thrilling feature however is the Interpretation Centre. Here, the island's turbulent history will be brought to life through the use of cutting-edge animation technology and unexpected sound and lighting effects. On a gigantic map of St. Lucia, the famous fourteen times that the island changed hands between France and England before it finally being ceded to Britain in 1814 will be replayed in graphic detail. Other major upheavals in the island's history are also featured, such as the torpedoing of two ships (the Lady Nelson and the Umtata) by a German U-boat in the harbour of Castries in 1942, and the Great Castries fires of 1927 and 1948.
The new duty-free complex is scheduled to officially open in the second half of 2002, well in time for the new cruise ship and tourist season.
CONSERVATION SUCCESS STORY
What could mobilize a tiny nation to rally to the cause of conservation? A parrot: the St. Lucia parrot Amazona Versicolour, known locally as "Jaquot." Estimated to number less than 100 in the wild in the mid 1970's, its plight was so grim that some ornithologists predicted that by the turn of the century the St. Lucian parrot would have sunk into oblivion. But today, its population numbers around 800 in the wild. This is a remarkable achievement, made possible by a three-pronged approach: education, law enforcement and the creation of a parrot sanctuary.
In 1979 the St. Lucia parrot was chosen to become the national bird of St. Lucia. The Wildlife Conservation Act replaced the Wild Bird Ordinance and fines for infringements were increased from $45 to $5000. A mass media campaign was carried out using television, radio, newspapers, calypso and popular theatre to educate St. Lucians on the plight of the parrot and other St. Lucian wildlife.
A parrot sanctuary was created on approximately three square miles in the heart of pristine rainforest to preserve the core parrot habitat. All the government forest reserve boundaries were demarcated and maintained. Additional forest grounds adjacent to the government forest reserve were bought to increase this parrot habitat.
Today, parrots can be seen again in many areas that were once part of their historical range. St. Lucians are proud of their national bird and have become self-appointed guardians of "Jaquot." The success story of St. Lucia has been replicated in other Caribbean islands and elsewhere around the world to save other wildlife in peril.
HIGH AS A KITE ON A SURFBOARD!
St Lucia's newest kid on the block when it comes to high-excitement sports tourism is the kite- and windsurfing centre Club Mistral St Lucia located at The Reef beach cafe and restaurant at Anse de Sable beach in Vieux Fort. Being the first place on the island to offer kitesurfing courses and equipment rental as well as high-tech windsurfing gear, Club Mistral is world-renowned for its unparalleled high standards and quality. That reputation for class and style has now been extended to St Lucia, where a meeting of minds with The Reef has resulted in the establishment of the newest branch of Club Mistral in the world: Club Mistral St Lucia, right on the beach in little ole' Vieux Fort.
Kitesurfing is quite arguably the most exciting new development in the sports industry, attracting not only windsurfers but also thousands of skiers, snowboarders and other challenge-minded people. Combining the art of flying a large kite with the speed and agility of maneuvering a small board, kitesurfing allows for stunts previously unheard of or thought impossible. The best and latest equipment and the safest instruction by qualified, all-round surf instructors (all of whom are stars on the water themselves) are now on offer at the coolest hang-out spot on the island: Club Mistral St Lucia at The Reef. Check out their websites at www.slucia.com/reef & www.slucia.com/windsurf.
kitesurfing, windsurfing & watersports
CROWNE PLAZA COMING
The newest jewel in the crown of St. Lucia is the all-inclusive seven-storey Crowne Plaza Hotel which is due to open its doors in August 2003. The hotel's management promises to set new standards by which the rest of the tourism sector will be judged. Certainly, by adding room capacity, product variety and employment opportunities for some 500 people, the Crowne Plaza Hotel will support the anticipated continuing growth of St. Lucia's tourism sector.
The $100 million, seven-storey hotel is the brainchild of local entrepreneur William Charles. Incorporated in the design are a non-all-inclusive casino, three top-of-the-line restaurants, a duty-free shopping complex that will occupy the entire ground floor level, a beach club facility on the ramp and market grounds for twenty vendors.
While the Crowne Plaza Hotel primarily targets overseas visitors, local guests are of course as much welcomed to its premises as St. Lucians themselves have welcomed the Crowne Plaza Hotel initiative to their shores.
AIR JAMAICA: THE REGIONS FLAGBEARER
Air Jamaica continues to operate as the Caribbean's flag bearer with services to new destinations in North America. Air Jamaica is not only expanding services to the US but also to the Eastern Caribbean with more seats dedicated to St. Lucia, Grenada, and Barbados on a daily basis.
Now with its popular champagne flights, Air Jamaica serves 26 destinations including Atlanta, Baltimore, Barbados, Bonaire, Boston, Chicago, Curacao, Dulles, Fort Lauderdale, Grand Cayman, Grenada, Havana, Houston, London, Los Angeles. Miami, Nassau, Newark, New York, Orlando, Panama, Philadelphia, Phoenix, St. Lucia, Kingston and Montego Bay.
For the future, Air Jamaica is seeking to expand to additional routes in this part of the world, moving to Santo Domingo and providing same day connections to Nassau Cayman using Air Jamaica express.
Air Jamaica operates 14 services into St. Lucia each week, by far the most by any carrier into the Hewanorra International Airport. Its reputation speaks for itself, as the airline has won the coveted Best Airline to the Caribbean award four years in a row, copped the prestigious Five Star Diamond award designated by the American Academy of Hospitality Sciences and named Best Honeymoon Airline by Modern Bride Magazine.
ROTARY AT WORK
The Rotary Club of St. Lucia is serious about providing service to the community. For the last three years, the club has successfully hosted a Rotary Club Charity Motor Treasure Hunt. This activity is usually held in March so if you are on island vacationing around that time, this is a great opportunity to travel around St. Lucia, enjoy the countryside and meet the people in the communities whose quality of life the Rotary Club tries to improve.
Once you arrive, contact the President of the Rotary Club of St. Lucia, Leathon Khan, at tel. 453 7613. He will be happy to fill you in on how you can become a part of the treasure hunt activity, which is Rotary's main fundraiser. Throughout the year the club provides financial assistance to a number of projects such as the Victoria Hospital Blood Bank Unit, the Arthritis and Lupus Association, the ongoing Rotary International Polio Eradication Project, Career Guidance programmes for secondary schools, the Anti Drug Camp, Meals on Wheels for the Salvation Army and many others.
If you would like to extend a helping hand to the Rotary Club of St. Lucia whilst on vacation (or even before you come down to the island) then contact The Rotary Club of St. Lucia at P.O. Box 818, Castries, St. Lucia. You can also e-mail to rotaryslu@geocities.com or visit the website for more up-to-date information on club activities: www.rotary4t.com.
SIMPLY LAID BACK
An even more unforgettable experience awaits holidaymakers at Sandals Halcyon, as the resort continues to improve its laidback and romantic ambiance. Hailed as the ultimate beach resort in St. Lucia, in recent times Halcyon has spent nearly two million US dollars in upgrading and refurbishing.
Close to half of this budget was spent on refitting the resort's entertainment forum, making it the most outstanding of its kind in the Sandals chain. The new state-of-the-art forum at Halcyon is designed to boast features such as a DVD movie theatre, projection screens for viewing sports events, first-class entertainment facilities, high-tech lighting, a discotheque and conference accessories.
Already the scene of some of the most romantic atmospheres to be found, Halcyon recently refurbished its 150 ft Pier Restaurant, rendering the view from this elegant seafood dining place even more prominent following improvements to its beloved jalousie windows. At night, the Pier Restaurant is surrounded by chain lights caressing its colonial roof and glittering in the crystal clear waters.
As if its popular wedding gazebo tucked away in a tropical garden did not already woo the fancy of romancing couples, the resort has now added a second viewpoint to its assortment. Overlooking the Caribbean Sea, both wedding gazebos possess the most romantic backdrops, with the wide blue sea and sky being interrupted only by the lush, uninhabited Rat Islet just off the Choc beach, to add a touch of depth and drama to the occasion.
Totally in line with its laidback ambiance, Sandals Halcyon also happens to have the most incredibly friendly staff. For a number of guests, the chance to meet up with friends made on previous vacations has become a big reason in itself for coming back year after year.
SANDALS ST LUCIA GEMS
Sandals St. Lucia Golf Resort & Spa has gone over the top to bring you luxury on the grandest scale. Previously known as Sandals La Toc, the hotel recently repositioned itself to become an ultra-dedicated Golf & Spa resort, catering liberally to the discerning traveler who aspires to more than just a sun, sea and sand vacation.
Playing golf at Sandals St. Lucia is just one of a wide range of pleasures to choose from, and the resort offers the kind of relaxed atmosphere in which you will really learn to perfect your game - whether or not you ever aspired to becoming a pro. The glamorous yet intimate lover's hideaway is home to one of only two golf courses that exist on the island, with the Sandals golf course being a par 33 nine-hole eleven-green course. The entire course is superbly maintained by a highly qualified golf superintendent and tee off's are daily from 7:45am to 4pm, all year round. Sandals guests are entitled to complimentary green fees.
Having recognised that while one person is grooming his golfing skills, their non-golf-playing Significant Other might perhaps like to be pampered in other ways, Sandals St. Lucia has introduced the European-style spa as part of its signature spa collection. Beyond doubt, a visit to Sandals is incomplete without a rendez-vous with this ultra-luxury facility where you can revel in a range of treatments, from Swedish massages to hydrotherapy treatment, reflexology, body wraps, skin treatment, facials and many more. Sandals St. Lucia Golf Resort & Spa has taken the ordinary holiday and turned it into a grand luxury affair, adding world-class golf and scintillating massage treatments to an already unforgettable experience.