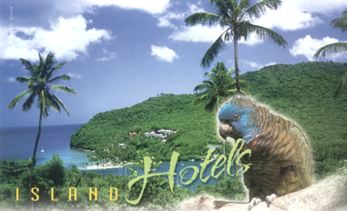 AUBERGE SERAPHINE
P.O. Box 390
Castries, St. Lucia
758-453-2073/4/7;
Fax: 758-451-7001

Auberge Seraphine is a 22-room hotel overlooking Vigie Yacht Marina and nestled in a mangrove where wild birds roost. Standard and superior rooms are air-conditioned with patios and most look out onto the marina.
All rooms have cable television and direct dialing telephone. Centrally located, Auberge Seraphine is five minutes from the island's capital, Castries and Duty Free Pointe Seraphine.
This small hotel is particularly popular with travellers who have business in the city and want to be near to the airport. The service is impeccable and the tariffs are reasonable. Facilities include a restaurant, bar and swimming pool.
BAY GARDENS HOTEL
P.O. Box 1892, Castries
St. Lucia
758-452-8060; Fax: 758-452-8059
E-mail: baygardens@candw.lc
This award-winning, small, intimate hotel is situated on the south side of Rodney Bay, within easy reach of Reduit Beach, shopping centres, restaurants and night clubs. The hotel has 71 air-conditioned rooms each with terrace or balcony, bathroom, cable television, direct dial telephone with Voice mail, data ports, radio, 110/220 power outlets and refrigerator.
Bay Gardens is popular with corporate travellers. The hotel has two conference rooms with a new, fully- equipped business centre.
For guests who want to relax, in addition to the restaurant and bar, there are two swimming pools, a jacuzzi, ice cream parlour and library.
The Bay Gardens has established a reputation for providing excellent value for money service. Seventy-five percent of Bay Gardens' guests are repeat clients.
GLENCASTLE RESORT
P.O. Box 143 Castries, St. Lucia
758-450-0833; Fax: 758-450-0837
Glencastle Resort, a St. Lucian owned and operated hotel, opened in 1994 with just 17 rooms. Since then the property has not stopped growing. To keep pace with the demand from European, Caribbean and French West Indian clients, twenty new rooms were recently added.
The resort has two swimming pools and an air-conditioned restaurant that specialises in Creole and European cuisine. Children under 12 stay for free.
Glencastle accommodates business clientele as well. There are two conference rooms and the catering sector at Glencastle is well-equipped to take care of conferences and business functions.
Glencastle Resort is situated at Rodney Bay. It is near all of the popular night spots and restaurants. Some of the best beaches in St. Lucia are minutes away and the hotel provides a free beach shuttle service. Tennis and golf are all easily accessible and the hotel will help with arrangements.
Glencastle Resort is reasonably priced. The fact that the hotel is locally-owned and managed gives guests the impression that they are staying with a St. Lucian family.
GREEN PARROT HOTEL
P.O. Box 648; Chef Harry Drive
Morne Fortune; Castries, St. Lucia
758-452-3399; Fax: 758-453-2272
e-mail: greenparrot@candw.lc
The Green Parrot Hotel is a 55-room resort, tucked away on the hillside of the famous Morne Fortune, commanding a superb panoramic view of the capital city of Castries, the Vigie coastline and the turquoise waters of the Caribbean Sea.
Rooms are air-conditioned, each with private bath, shower, telephone, and cable television. The restaurant offers local and European dishes, served by Chef Harry who trained at Claridges, London, UK.
Green Parrot is proud to offer unique conference facilities for business conferences, seminars, workshops, meetings and other social events. The conference facilities can accommodate 100 persons in theatre style or 60 persons in a classroom setting. Ask about the special business person's lunch or the "free" lunch given to all business people who celebrate their birthday during the use of one of the conference facilities.
In addition to great entertainment, our guests enjoy swimming pool, bar, pool table and darts.
HYATT REGENCY
Box 2247, Gros Islet
451-1234; 450-9450
The Hyatt Regency St. Lucia is an EP hotel boasting the largest beachfront area in St. Lucia as well as extensive conference facilities. The hotel offers some 9,180 square feet of meeting space and an additional 11, 484 square feet of outdoor function space.
An elaborate system of pools interlace the hotel and some rooms have direct access into one of the freshwater pools.
The Hyatt Regency St. Lucia - designed for the fun-lover in you, because you want to relax next to a never ending beach front area, or soak your soul in forever depths of water. With two large swimming pools, and endless water sports, your days under the sultry Caribbean sun will leave you begging for more.
Complete your evenings with savoury gourmet cooking from one of three unique restaurants reflecting island specialties and flavours of the world. Or you can always pop into Admiral Rodney's Rum Bar, Jacquot's Lounge, or Aqua's Pool Bar for a drink or a nightcap.
Feel free to bask in the 4000 square feet of the full service Spa Coyaba with outdoor treatment rooms and a complete health club.
Hyatt Regency in St. Lucia has certainly helped to establish the island's image as a quality destination.
SANDALS ST LUCIA GOLF RESORT & SPA
P.O. Box 399, Castries
758-452-3081/9; Fax: 758-452-1012/453-7089
E-Mail: sandals@candw.lc
Fifteen minutes from Vigie airport and the city of Castries, Sandals St. Lucia is situated on 210 acres of tropical greenery, edged by the Caribbean Sea. The hotel is part of the growing Sandals chain that offers excellent service and top class facilities at an all-inclusive price.
Guests who want their own private plunge pool can stay in any one of the 16 magnificent villas on the Sunset Bluff facing the Caribbean sunset, or in one of 30 luxurious suites at the resort.
The hotel boasts the Caribbean's largest freshwater pool, with a waterfall, swim-up bar and bridges. A new 5,000 square foot swimming pool has also been added. Sandals St. Lucia has a nine-hole golf course, five tennis courts, six gourmet restaurants, a health spa, fitness centre with a new cardio-vascular facility, beauty salon, gift shop and an array of water and land sports.
Sandals St. Lucia has also built a new conference facility with business centre. Guests at Sandals St. Lucia have full access to the facilities at Sandals Halcyon St. Lucia.
SANDALS HALCYON ST LUCIA
P.O. Box GM910, Castries
758-453-0222; Fax: 758-451-8435
E-mail:sandalshc@candw.lc
A short drive from Castries and Vigie Airport, Sandals Halcyon St. Lucia is the sister resort to Sandals St. Lucia Golf Resort and Spa. For couples only, this all-inclusive beachfront property has 170 rooms with patios or balconies overlooking the ocean, gardens, swimming pools and jacuzzis.
Facilities include three gourmet restaurants, tennis courts, watersports and a variety of great entertainment. Guests have full exchange privileges and dining at the nearby Sandals St. Lucia Golf Resort and Spa.
WYNDHAM MORGAN BAY RESORT
Choc Bay, P.O. Box 2167
Gros Islet, St. Lucia
758-450-2511
Fax: 758-450-1050
E-mail: wyndham@candw.lc
Website: www.wyndham.com
Located along Choc Bay at the northern end of the island, this four-star all-inclusive hotel features 238 rooms in eight 3-story buildings, set in 22 acres of landscaped gardens.
Accommodations range from garden-view to oceanfront rooms, all with private balconies, marble bathrooms with shower and tub, Cablevision, air-conditioning, radios, hairdryers, iron and ironing board, coffee makers and safety deposit boxes.
There's a lot to do at the Wyndham and the hotel facilities include watersports activities, a health club and gym, tennis on four floodlit tennis courts, volleyball, croquet, badminton and table tennis.
The two restaurants feature buffets and à la carte French and Caribbean cuisine. There is nightly entertainment and the hotel's Kids Klub has a full range of activities for children.