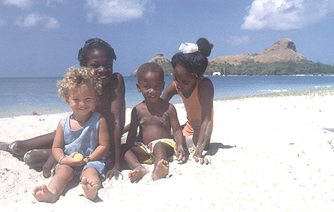 WHERE WE ARE
St. Lucia, "the Helen of the West Indies," lies roughly between 60° and 61° West longitude and 13° and 14° North latitude. It is approximately 1,300 miles southeast of Florida, in the Windward Islands. The Windwards are part of the Lesser Antilles, which are in turn part of the West Indies. The 238-square-mile island is 21 miles from its nearest neighbour, the French island of Martinique. It is just 24 miles north of St. Vincent and 100 miles northwest of Barbados.
HOW TO GET HERE
If you're coming from North America, BWIA flies weekly from Miami and New York. American Eagle flies daily to and from Puerto Rico into George Charles Airport. US Airways flies twice weekly direct to and from Philadelphia. Air Canada has direct flights to and from Toronto and Montreal. Virgin Atlantic, British Airways and BWIA fly direct between London and St. Lucia. Air Jamaica offers weekly services to and from New York. Connecting services to at least seven other American destinations are also part of Air Jamaica's itinerary. This carrier also flies to the United Kingdom via its Montego Bay hub. During the peak season, between mid-November and mid-March, a number of tour companies operate charters from Frankfurt, London, Toronto and various Caribbean destinations. Inter-island travel is well serviced by LIAT, BWIA, Caribbean Star and Air Caraibes. By sea, L' Express Des Isles runs a hydrofoil service between Martinique and St. Lucia.
Cruise ships tie up daily at Port Castries and Soufrière. All the major lines call in and are represented in St. Lucia by Cox and Company Ltd. or Minvielle and Chastanet Ltd.
For visitors arriving by private or chartered yacht, moorings are available at the fully serviced Rodney Bay Marina, a picturesque lagoon on the northern tip of St. Lucia, at the Moorings Marina at Marigot Bay (a famous hurricane hide-out) or at Castries Yacht Centre, located at the entrance of Castries Harbour.
When entering St. Lucia, American and Commonwealth citizens need to carry proof of citizenship, a birth certificate or passport, and a return or onward ticket. Other visitors need a passport along with return or onward tickets. A handful of countries do require visas. Valid vaccination certificates are required of travellers entering from infectious areas. When leaving St. Lucia, non-nationals are required to pay a departure tax of EC$54 (US$21) per person (credit cards not accepted).
FINANCIAL MATTERS
St. Lucia's currency is the Eastern Caribbean dollar. Currency exchanges can be made at banks, most major hotels and Pointe Seraphine, one of two duty-free shopping complexes at Castries. The exchange rate is about $2.70 EC to $1.00 US. The rate is around $2.60 EC if you purchase local currency at stores or hotels.
Banking hours are generally from 8 am to 3 pm, Monday through Thursday, and Friday from 8 am to 5 pm. Banks are closed on weekends and holidays, however, Bank of Nova Scotia, Barclays Bank, Bank of St. Lucia and the Royal Bank of Canada have Saturday morning hours at their sub-branches in and around Rodney Bay Marina. Most major credit cards are accepted at St. Lucia's shops and restaurants. Royal Bank of Canada has ATM machines that accept major credit cards also.
PRACTICAL MATTERS
While the main language in St. Lucia is English, a French-based Creole is also spoken because of St. Lucia's dual British-French heritage.
The climate is tropical, with temperatures ranging from the mid-sixties to the mid-eighties (25 to 30 Celsius). During the hottest time of the year, from June through August, temperatures can reach the mid-nineties (32 Celsius). Things are kept pretty cool though by the constant trade winds. Average rainfall ranges from 60 inches in the coastal regions to 160 inches in the interior rain forests. The rainy season is from June through October, but even then, showers tend to last a short time.
Electricity is available for the most part at 220 volts, 50 cycles AC. Unless you're coming from Europe, you will need an adapter for your travel appliances.
Cable and Wireless (West Indies) Ltd. fulfills the telecommunications needs of the island with several services including USA Direct and overseas direct dialing with pre-paid phone cards. Cable and Wireless has 40,000 telephone lines with modern digital dialing and offers Internet access, informatics, mobile phone and paging services, facsimile, telex, telegraph, and data services. If visitors need help, they may visit the Cable and Wireless office on Bridge Street in Castries or Gablewoods Shopping Mall in Sunny Acres. There is a public fax bureau available for those who need it. Cable and Wireless also provides cable television service to most hotels. St. Lucia lies in the Atlantic Standard Time zone - four hours behind Europe, five during daylight savings time. It is one hour ahead of North American Eastern Standard Time all year.
STORE HOURS
Store hours vary, but are generally from 8:30 am to 12:30 pm, and 1:30 am to 4:30 pm Monday through Friday, and from 8 am to 12:30 pm on Saturday. Stores at Gablewoods Shopping Mall are open from 9 am to 7 pm. Stores at J.Q. Charles Shopping Mall are open from 9 a.m. to 8 p.m. Julian's Supermarket at Gablewoods North also has extended shopping hours and stays open seven days a week. Most are closed on Sunday.
CHURCH SERVICES
Most St. Lucians are Roman Catholic, but other denominations include Anglican, Methodist, Baptist, Seventh Day Adventist, Pentecostal, Christian Science, and the Salvation Army. Services are held early every Sunday, and larger churches hold services early on Saturday as well. Information on services is available at most hotels.
SERVICE CLUBS
Rotary International: St. Lucia Clubs meet at 12:30 pm on Tuesdays at the Rex St. Lucian Hotel in Rodney Bay; on Wednesdays at Juliette's Lodge in Vieux Fort; on Fridays at Sandals Halcyon St. Lucia at Choc Bay.
Lions Club: 1st and 3rd Thursday each month at Lions' Den in Sans Souci; 2nd and 4th Thursday each month at Glencastle Resort in Gros Islet.
Kiwanis: 8 pm on Thursdays at Green Parrot Hotel in Castries; 5:30 pm on Tuesdays at Green Parrot Inn in Castries; 7:30 pm at Chak Chak Restaurant in Vieux Fort.
WHAT TO WEAR
Due to the tropical climate, summer clothes are worn all year round, cottons being prevalent. During the cooler evenings, you might need a wrap or pullover. Casual resort wear is the norm for men during the day, however some restaurants require jackets and trousers in the evening. Usually the rule is cool and casual. Swimwear should be reserved for the beach and is not appropriate on the street or in town.
GETTING AROUND
Taxis are a popular means of getting around. Drivers are well-informed and friendly and know nearly all the points of interest. Before you hire a taxi for a day, settle on the price. Nearly all St. Lucian taxis belong to a cooperative and are recognizable by the letters TX on a red number plate. Fares are standard to all destinations.
There are several reputable car rental companies on the island. Drivers need to purchase a local driving permit which is issued on the presentation of a foreign or international license. Local permits are obtained from the immigration offices at Hewanorra and George Charles Airports and issued by the major car rental agencies.
St. Lucia has about 500 miles of roads. All towns and villages are connected to major roads. It takes roughly one hour to drive from Castries to Vieux Fort along the east-coast road, fifty minutes from Vieux Fort to Soufriere, and forty-five minutes from Soufriere to Castries along the west-coast road. Further inland, some roads are unpaved and can be difficult to negotiate. Remember to drive on the left.
OUR HISTORY AND PEOPLE
The Amerindians were well established in St. Lucia long before the first European set foot on the island. First came the Ciboneys, hunters and gatherers who left little trace of their presence. The Arawaks, adept potters, weavers, builders, agriculturists and shipwrights followed them. They enjoyed nearly 800 years of peace before a new group overcame them. The Kalinago, also known as Caribs, were warriors. They soon dominated the Arawaks, doing away with the males and keeping the females as wives. 'Ioüanalao' and 'Hewanorra,' meaning "there where the iguana is found", was the island's Amerindian name.
When the sails of the first European ships were sighted, the Kalinago were supreme rulers of the Windward Islands. Even though historians credit the Spaniards for giving the island her modern-day name, ("Santa Alousie" was first used in the late sixteenth century), they gave the island a wide berth and never bothered to colonise it. They did not want to take on the Kalinago and St. Lucia was not known to have gold deposits. But the Europeans were inexorable and their coming finally put an end to Amerindian supremacy.
The first European to settle in St. Lucia was François Le Clerc, known as Jambe de Bois or Wooden Leg. He was a pirate who set himself up on Pigeon Island from where he attacked passing Spanish vessels.
The English first landed in 1605, having been blown off course on their way to Guyana aboard their vessel, the Olive Branch. Sixty-seven settlers landed and purchased huts from the Kalinago. One month later only 19 were left and these were forced to flee the Kalinago in a canoe.
The French arrived in 1651 when representatives of the French West India Company bought the island. Eight years later, ownership disputes between the French and English ignited hostilities that would endure for 150 years. During this time, the island changed hands fourteen times. St. Lucia was finally ceded to the British in 1814.
From the 1760s onwards, St. Lucia developed into a sugar-producing economy, based on African slave labour. However, the endless conflicts between the French and English colonial powers over St. Lucia's strategic military value impeded the development of its plantations. The island possesses some of the finest natural harbours in the Caribbean and is centrally located within easy reach of the rest of the region. Then, in the late 18th century, the French revolutionary cry of 'Liberté, Egalité, Fraternité' reached St. Lucia.
Under Revolutionary law, slavery was abolished in 1794 and the political equality of the coloured man was officially recognised. Freed slaves proceeded to wipe out the plantation infrastructure. Resistance against British attempts to retake the island was orchestrated by the Maroons: renegade ex-slaves who lived in secret hideouts in inaccessible parts of the island. The Maroons joined forces with the French Revolutionary army to form L'Armée Française des Bois.
St. Lucia became Ste. Lucie la Fidèle and all of the towns were given revolutionary names such as La Patriote (Laborie), La Revolution (Gros Islet), and Le Republicain (Dennery).
The Revolutionaries held St. Lucia for fifteen months against the British. The Maroons finally surrendered arms in 1797 but refused to accept slavery, which the British insisted on reinstating. According to British records, these brave men were returned to Africa.
The British finally abolished slavery in 1834. After Emancipation, many former slaves were unwilling to stay on as labourers at the plantations and the colonial powers sought alternatives. In 1882, the first Indian immigrants arrived from the provinces of Uttar Pradesh and Bihar. About half of them returned home at the end of their indenture while the others settled permanently in St. Lucia, enriching the island's cultural diversity.
St. Lucia's economic base has traditionally been agricultural. Sugar, the first monocrop was eventually abandoned in the 1950s. Bananas then became the largest export crop. Recently, monopolies enjoyed by the West Indian banana in Europe have ended and St. Lucia finds itself having to diversify into other areas. Tourism is now the most important source of foreign exchange. St. Lucia is also one of the largest transhipment points for containerised cargo in the Eastern Caribbean. The colonial motto "statio haud malefidia carinis" — a safe haven for ships, still applies to the island.
In 1842, English became the island's official language but St. Lucia retains a strong French heritage. The majority of the island's place names are French and the Creole language, born of St. Lucia's Amerindian, African and European roots, is widely spoken.
St. Lucia moved towards independence in 1951 when suffrage was granted to all citizens over twenty-one. In 1967, England granted the island full self-government and St. Lucia became an independent nation on February 22, 1979. The island retains the Westminster-based parliamentary system but a Senate made up of government and opposition appointees debates house bills. St. Lucia is also a member of the British Commonwealth.
St. Lucia has about 150,000 inhabitants, half live in and around the capital, Castries.