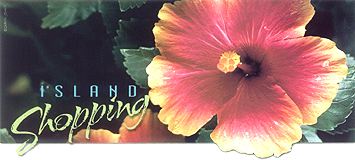 A Spot of Shopping
St. Lucia's stores are a lot smaller than commercial centres overseas, nevertheless they do offer exquisite things that shoppers won't find anywhere else. Colombian Emeralds and Harry Edwards Jewelers, two fine international stores located at Pointe Seraphine and La Place Carenage duty-free shopping centres, sell the finest in timepieces, china, crystal and jewellery, all at tax-free prices. Pointe Seraphine and La Place Carenage are also home to other local shopping attractions.
Hippo's Duty free liquor store is unique to La Place Carenage. Bagshaws, a St. Lucian company, creates clothing and household items using original silk-screen print designs. Islanders clothing is also made in St. Lucia. The Islanders' label is synonymous with high quality casual wear. Stores like Natur Pur and the Sea Island Cotton Shop specialize in clothing made from natural fibres. The Wear House at Rodney Bay offers a selection of apparel by Esprit and Guess.
St. Lucia is a true haven for art lovers. There are many Art Galleries including Alcina's Art Gallery & Studio, Caribbean Art Gallery, Eudovic's Art Studio, Ron's Atelier, St. Lucia Fine Art and West India Art Company. These are all exhibit grounds for the beautiful works of our St. Lucian artists, among them, Dunstan St. Omer, and Arno Tolon. The Coal Pot Restaurant carries works by Michelle Elliott and Daniel Jn. Baptiste exhibits some excellent pieces at Sandals St. Lucia Golf Resort & Spa.
From the North to the South, the island is well serviced with a series of malls. J.Q. Charles, St. Lucia's largest local corporation, has three supermarkets in Castries and two comprehensive shopping malls: one in Vieux Fort and the other conveniently located at Rodney Bay with 54 high quality stores. Other shopping malls include Gablewoods Mall at Choc, Gablewoods South in Vieux Fort and Gablewoods Rodney Bay.
Caribbean styles of jewellery are sold at Y de Lima on the William Peter Boulevard in Castries.
If you are looking for local craft, go to the Castries craft market. Pottery, wood carvings, hand woven straw items and aroma-rich spice baskets are just some of the finds at the local market. Across the road is the vendors' market where a wealth of T-shirts, leather goods and jewellery, most of it made locally, are on sale. One of the most pleasurable aspects of these two markets is their colourful atmosphere.
Noah's Arkade, with three outlets islandwide, stocks a large variety of local and Caribbean-made handicraft items. Made In St. Lucia, at the Gablewoods Mall on the outskirts of Castries, sells local craft items. Eudovic's Studio on the Morne specializes in wood carvings. Choiseul, on the south-west coast, is St. Lucia's major craft region. Local artisans all seem to come from here and the Choiseul Arts and Crafts Centre at La Fargue stocks many of the items produced in the area. Further along the road, between Choiseul and Soufrière, is the Livity Art Studio. Look for fabulous carvings by Uptight, a wood sculptor whose work appears in hotels such as Ladera and Anse Chastanet.
Sunshine Bookshop at the Gablewoods and J.Q.'s Malls sells the work of St. Lucia's Nobel Laureate, Derek Walcott and other books by Caribbean writers. Valmont's bookshop in the centre of Castries also carries West Indian literature.
Stamp collectors can pick up beautiful first day covers and mint editions from the Philatelic Bureau at the Central Post Office in Castries.
Record shops are a music lovers' delight and reggae, calypso and traditional music make excellent souvenirs.
Perhaps you have been admiring the island's flora. Garden Gate Flowers at Hewanorra Airport conveniently boxes bouquets of vibrant gingers, heliconias and anthuriums for export.
The island's fragrances are captured by Caribbean Perfumes. Their Perfumery at the Green Parrot on the Morne has been creating tropical scents for more than thirty years. They use exotic fruits, flowers, precious woods and spices in all of their scents.
An equally heady St. Lucian reminder is the local rum. Bounty Rum is made right here and if you would like to sample the spirit before buying it, a tasting session is part of a guided tour to the Roseau distillery just south of Castries.
Perhaps you would like to take home a taste of the island. Hot sauces, spices and condiments produced by Baron Foods and Viking Traders have earned excellent reputations (and won numerous awards) both locally and abroad. Their goods are sold as packaged souvenir items while the entire product range is available at local supermarkets.
And then, of course, there are T-shirts. The designs get more and more imaginative and colourful and are available from boutiques and beach vendors throughout St. Lucia. So, should all of our shopping suggestions leave you uninspired, you will find at least one T-shirt design to fit.