SOMETHING FISHY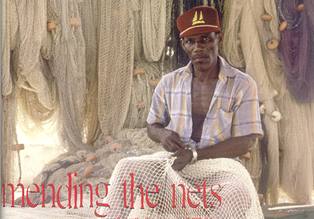 When on holiday in Saint Lucia, you're never too far from the beautiful crystal blue sea, so… dreaming of eating some succulent, local seafood comes quite naturally to most! Traditionally, even as far as the era when the peaceful Arawak Indians inhabited this fair island, the people of Saint Lucia have depended heavily on the sea both as a source of sustenance and livelihood. In those days, eating queen conch, lobster, grouper and snapper for breakfast, lunch and dinner must have seemed quite the norm! Nowadays, visitors and locals alike seek out these same marine delicacies as a special treat for the modern palette.
Until relatively recently, the modus operandi for "bringing in the catch" involved heading out in a wooden dugout canoe fashioned from the local gommier tree; the same forest tree that provides an important home for our national bird, the Saint Lucia Parrot. Such early days usually involved trips close to shore, thus boats were powered by sail or oars. Even today, many older fishermen venture out to raise their fish traps, or "fish pots", using small shaloops, fashioned from wooden planks and rowed to the nearby reefs.
Fish pots were traditionally woven from local bamboo. Saint Lucian fishermen have developed a preference for the Z-shaped fish pot, rather than the S-traps and arrowhead traps which reign supreme in many other parts of the Eastern Caribbean. Nowadays, bamboo has been largely replaced by the more durable "chicken wire" and pots are now made using pliers and wire cutters rather than a skillful twist of the fingers. Fish pots can be used to catch an array of colourful reef fishes including Snappers, Grunts, Groupers, Triggerfish, Parrotfish and even the menacing Moray Eel. A pot fisherman may bring in over 50 different species of fish for you to choose from, reflective of the incredible variety of the coral reef. But, more importantly, this is the main fishing gear used to trap those succulent spiny lobsters! Our lobsters don't boast the large claws found on North American lobsters, but they taste just as good, whether roasted, boiled with butter or cooked up in a Creole sauce!
Other traditional fishing gears include a variety of nets. The seine is a large, encircling net usually operated by two canoes aided by a number of skin divers in the water. The technique involves enclosing passing schools of coastal pelagic fish such as sardines, jacks and the ballyhoo. If lucky, a large catch can be made, sufficient to fill several boatloads. The fish can be sold in nearby villages, but is also taken to the main urban centers such as the capital Castries and the southern town of Vieux Fort.
Although the local fishing industry may appear artisanal compared to the large, industrialized fisheries in more developed countries, this important economic sector has in fact undergone substantial change over the past 20 years. Not only has the local wooden canoe been largely exchanged for a more stable, larger fiberglass open pirogue, but present day catches mainly comprise a number of offshore migratory fish species that pass through the Eastern Caribbean region each year, usually between the month of November and June. In fact, nearly 70% of present-day catches are made up of various types of tuna, wahoo (kingfish) and dolphinfish (known elsewhere as mahi mahi). At the local restaurants you may also come across shark, swordfish or marlin, as these are also landed on occasion.
Certain parts of the island are known for particular types of fishing. The communities of Vieux Fort and Dennery land the most fish and their focus, along with communities such as Micoud Gros Islet and Castries, is predominantly on offshore fishing. In contrast, West Coast communities such as Choiseul, Soufriere, Anse la Raye and Canaries place a lot of emphasis on "bottom fishing". Choiseul lands large amounts of red snapper, captured using a traditional vertical long line with hooks called a palange. Soufriere, Canaries, Anse la Raye and Gros Islet all engage in seine fishing and supply much of the island with jacks and sardines. Pots are a common gear island-wide, particularly during the low season from June to November, when the migratory fish are swimming free somewhere off in the Atlantic Ocean.
Presently, there are over 2000 fishermen in Saint Lucia, with over 1000 registered fishing craft. Fish is often sold at the boat-side at the various landing sites, sold directly to customers. Many a fisherman's wife plays an important role in selling the catch, performing a role of "financial manager" for the hard-earned money. Some of the earnings are used to recuperate on expenditures such as gas and bait. The rest is divided among the vessel owner, captain. Improved marketing facilities at the main fish landing sites and the presence of the Saint Lucia Fish Marketing Corporation now allow for substantial volumes of fish to be bought at central locations, then processed and frozen for distribution around the island to supermarkets and hotels. This has greatly helped to ensure that locally caught seafood is available throughout the year, despite natural fluctuations in supply.
A variety of management measure and laws are in place to regulate this important local industry, all aimed at ensuring that fishing is carried out in such a way as to be environmentally and economically sustainable. Minimum sizes for certain species such as lobsters and for the meshes to be used in making local fish pots and the various types of nets are measures designed to "leave the babies in the water" long enough to grow and breed. A close season is in place for lobster, from May to August each year, protecting this heavily fished species during part of its breeding season. Saint Lucia has also set up a number of marine reserves where no fishing is allowed at any time of the year. Some of the islands best coral reefs, mangroves and turtle nesting beaches are protected in this way. If you are a visitor to the island, only certain types of fishing are allowed and only by special permit. Recreational spear-fishing has been banned for several years, as part of the effort to help the recovery of reef areas. A recreational fishing license can allow you to enjoy towing a line offshore if sailing on a yacht or powerboat, and allows you to use a rod and reel along non-protected parts of the shoreline.
It is important to us that we do whatever it takes to ensure that our marine heritage is always available for tantalizing the taste buds of locals and visitors alike, with enough being left behind to keep healthy reef and ocean systems going. After all, what would a visit to a tropical isle be like if you couldn't relax and enjoy the freshly prepared bounty of the sea, especially after you have experienced a day out on the blue… Enjoy!