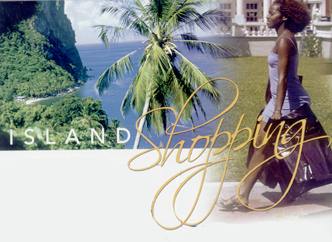 Duty-free shopping is now quite pleasurable in downtown Castries, with the new look La Place Carenage Shopping Mall. The shops are rather exquisite, maintaining the traditional flavour, but with a contemporary twist that makes them very unique. Newly equipped with an Animation Centre, a Promenade and a Vendors Arcade, La Place Carenage is really more than a shopping experience… Tastefully re-done, La Place Carenage now offers more new shops in contemporary Caribbean architectural design, an upscale expansion to the existing two-storey building that reflects the era of Castries in the 1940's and 1950's with its nostalgic gable roof and lattice balconies. You can walk along the Promenade and visit with local craftsmen and women, and revel in their exhibits, from portraits to pottery.
Additionally, with the introduction of internationally recognized names such as Colombian Emeralds International, Harry Edwards Jewelers; and now Diamonds International, we guarantee that once you are here in St. Lucia, there is a little bit of something for everyone. From the finest in timepieces, china, crystal and jewellery, when you shop in St. Lucia, you come home to local shopping attractions galore.
An equally heady St. Lucian reminder is the local rum. Bounty Rum is made right here and if you would like to sample the spirit before buying it, a tasting session is part of a guided tour to the Roseau distillery just south of Castries.
St. Lucia offers a truly island shopping experience!
La Place Carenage: A must see for persons visiting St. Lucia! A delightful experience in the old, tastefully re-decorated with the new. This is the new look La Place Carenage.
Drop in to the Animation Centre, the only one of its kind in the Southern Caribbean. Or, walk through the Promenade of Artisans & Vendor Arcade of Indigenous Products. At the Promenade of Artisans, while you purchase great pieces of locally made arts and craft items, you also have the exciting opportunity to see local artists working on a wide range of pieces from self portraits to pottery.
A visit to St. Lucia is incomplete without a taste of some of the local delicacies of the island. The Arcade of Indigenous Products will feature items from the local cottage industry such as jams, jellies, sauces, local confectionary and pure chocolate sticks. Here, visitors can sample such delights before buying and perhaps take home a secret recipe - A taste that's truly St. Lucian!
Columbian Emeralds International - not just an emerald expert. They offer best buys on Diamonds, Tanzanite, Rubies, Sapphires and other precious and semi precious Gem-stones. They also fashion 14kt and 18kt gold and watches. Columbian Emeralds International is one of the largest duty free jewelers in the world, with over 50 stores on 14 Caribbean Islands, Bahamas, Key West and Alaska, and now with stores on board cruise ships too. They currently hold the award of "Duty-Free Retailer of the Year 2000" from Caribbean World Magazine. This award represents the reader's choice for the best overall duty-free shopping experience. Customers receive genuine savings all year round, as Columbian Emeralds International buys directly from the Emerald cutters in Colombia, the source of the world's most valuable emeralds. Their buyers travel the globe selecting the finest quality jewelry direct from the source, providing even greater value on your duty-free shopping. They carry a number of Watch brands including Breitling, Ebel, Tag Heuer, Raymond Weil, Tissot and Jaeger Le Coultre.
Diamonds International: "The Diamond Specialists of the Caribbean." Diamonds International has grown to become the largest loose diamond and diamond jewelry duty free center in the Caribbean. There are thousands of tourists cruising to the Caribbean and Alaska as well as the hotel guests on our many islands each year and Diamonds International recognizes their needs. From those who save a lifetime to cruise once, to those who dock their private yachts in Rodney Bay, our customers know that they will find quality, value and complete customer satisfaction under our awnings.
Diamonds International has never deviated from those basic business principles. It has earned us an established customer base of individuals who will only trust the Diamonds International name for all their fine jewelry purchases.
First class selection of loose diamonds (from 0.1ct to 10ct)
Finest selection of Sapphires, Emeralds, Rubies and Tanzanite
We custom design your own unique piece (stone setting in one hour)
Proficient Sales Associates and GIA Gemologists to assist you
All diamonds graded and certified to ensure accuracy and value
Lifetime upgrades and Trade-ins on diamonds
Exquisite selection of designer jewelry
Choice timepieces
Customer Service 1-800-51-JEWEL
Harry Edwards Jewelers: St. Lucias premier fine duty free Jewelry, watches, crystal, china and accessories Stores are located at Pointe Seraphine, the best duty-free facility in the Caribbean and at La Place Carenage in the city of Castries.
Since its establishment in 1999, Harry Edwards has grown in leaps and bounds, winning the coveted title of the Best Duty-Free Retailer of the year 2001-2002. At Harry Edwards we can boast to having the widest selection in watches and jewelry being the official agents for world-renowned brands such as ROLEX, BREITLING, CARTIER OMEGA and among others, MOVADO, RAYMOND WEIL, TAG HEUER AND GUCCI.
Our stores are decorated to enhance the elegance of market leading brand name jewelry such as DAVID YURMAN, ASH GROSSBARDT AND KABANA, including a large collection of 14 and 18 Karat Gold Jewelry.
In our well-ordained stores our range of branded products expands to include our China Crystal and accessories collection second to none as we carry leading brand names such as LLADRO, WATERFORD AND MONT BLANC Pens.
Our long-standing staff with experience of 10 years and more will make shopping at HARRY EDWARDS JEWELERS simply magnificent.
Caribbean Perfumes: Capture the romance forever! Located in the tropical gardens of Froggie Jack's Gourmet Restaurant, the Perfumery has been creating exquisite aromas of exotic flowers, fruits, precious woods and spices for over 30 years. You can purchase ladies' fragrances available in 50ml Eau de Toilette and 75ml Eau de Parfum natural spray. Alternatively, a selection may be purchased as a gift set of miniatures.
Anju Silvers: Truly a shoppers delight. With three excellent locations, in the J.Q. Charles Shopping Mall at Rodney Bay and at the Pointe Seraphine Duty Free Shopping Complex, Anju Silvers offers a world of silvers to choose from.
Roseau Sugar Factory: Situated in the Roseau valley amidst a vast banana plantation, Roseau Sugar Factory is just 20 minutes from Castries, and close to the famous Marigot Bay, on the road to Soufriere. Among the biggest highlights is The Rhythm of Rum Tour, a fantastic journey through the history of rum complete with a detailed distillery tour and a chance to sample some of our rums and liquers. For more information and bookings, please contact your rep or contact us on: Tel - (758) 451 4315/4258; Fax - (758) 451 4221; email - tour@sludistillers.com.