WEDDING BLISS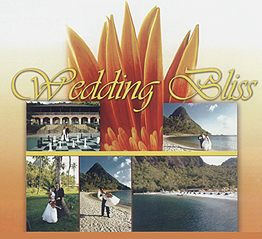 Looking for a great vacation getaway is one thing. Looking for a great vacation spot for a wedding of a lifetime is something else altogether. Make it easy on yourself and consider St. Lucia. Voted several times as "Caribbean Wedding Island of the Year" and "Honeymoon Island of the Year" by readers of the Caribbean World Magazine, St. Lucia is truly the idyllic spot for your wedding of a lifetime. Having made the decision to tie the knot here, there are many romantic locations that are available for your wedding. The traditional church wedding is always popular, however, there are a number of new spots that are emerging, sparking a different level of interest. Consider a waterfall or forest location; or even a theme wedding, with cuisine to match.
While many of our hotels on island offer wedding packages, our research reveals that Bay Gardens and Bay Gardens Inn, both situated in Rodney Bay, offer an intimate package to satisfy your needs. Now sometimes when there is choice, the decision becomes much harder, because each site has a little of the something you desire. We will not pin it down specifically for you, but we can suggest that you check out this short list. There is Cara Suites, not just perfect for businessmen and women, but 5 minutes from the Capital Castries, offers beautiful vistas of this city. Or there is the Ginger Lily Hotel in the north of the island, surrounded by exotic beaches and a fine array of restaurants. Green Parrot Hotel tucked away on the hillside of the famous Morne Fortune, commanding a panoramic view of the capital city Castries offers another fabulous choice for your wedding of a lifetime. Jalousie Hilton Resort & Spa St. Lucia, nestled between the Majestic Pitons, is a playful secluded get away in the south of the island that just might be the place you are looking for, with dramatic settings overlooking the Caribbean Sea. But why limit yourself, when there is still Ladera Resort, described as "the high point of St. Lucia," and as "one of the loveliest, most idyllic spots in the Caribbean," another excellent choice for your lifetime wedding. We are not done with you yet. Back in the north there is the Rainbow Hotel, in a charming and relaxing environment, it might be the one – "the ideal location for your vacation in the sun." Sandals Resorts - Sandals St. Lucia Golf Resort & Spa; Sandals Halcyon St. Lucia; Sandals Grande St. Lucian Spa & Beach Resort - Properties well known for beautiful weddings of a lifetime, where loves comes to stay. For a limited time, Sandals offers a Free Wedding Package with stays of 5 nights or longer. Feel free to ask the Wedding Co-ordinator or the Sales Office, about additional services that may be of interest to you, that will certainly enhance your wedding experience. You may want to consider the stunning backdrop at St. James Club Morgan Bay located along the Choc Bay, and set in 22 acres of landscaped gardens. Another wonderful option is Tropical Villas. You choose to stay at an exclusive and luxurious private home or condominium, and all of your wedding needs are taken care of.
The Pigeon Island National Landmark, a unique mixture of tropical flora, windswept coastlines and historic sites, is certainly among the most sought after wedding sites on St. Lucia. Although it is a public park, the Pigeon Island Landmark provides the serenity and privacy needed for such a memorable occasion. In this serene setting, your wedding will also have the added bonus of total tranquility, with a backdrop of blue seas, garden flowers and historic ruins, perfect for capturing your wedding memories on film or video. Do not hesitate to contact Pigeon Island if you have any questions. Kind and courteous staff are always willing to help. If you decide to choose this location, the staff at the St. Lucia National Trust are committed to making sure that all your dreams for that big day come out exactly the way you pictured it, with all the frills attached. Finally, we offer Windjammer Landing Villa Beach Resort & Spa, a five star resort on 55 acres of landscaped hillside, accommodating families, couples, honeymooners and single travelers.
Come home to St. Lucia, land of green hills and friendly people. Say your I Do's in a perfect setting of sand, sea, sun, or whatever your fancy! And we'll see you at your wedding.
While each resort offers a unique package, these are some of the services you may ask about: Preparation of Documents; Certified marriage license; Justice of the Peace; Bestman, Maid of Honor or Witness; Wedding announcement cards; Wedding Coordinator who will advise you on your pre-wedding arrangements; Flower bouquets; wedding Cake; wedding photographs and videography; Candlelit dinner for bride and groom; Taped musical accompaniment; "Just Married" T-shirts; Decorated wedding area and Limozine service. Once you have made your choice, ask for more specifics at the resort that will produce your dream wedding of a lifetime.
Be aware that the Application for Marriage must be made to the Governor General of St. Lucia after two days on the Island. The following original documents are to be produced, which should all be originals: Birth Certificate; Passport; Proof of decree absolute, if divorced; If a widower/widow, death certificate of former spouse is required; If under 18, evidence of consent in the form of an affidavit stamped by the Notary Royal is required.
By the way, feel free to contact Travel Concepts for more intimate information regarding your travel plans as well as your wedding and honeymoon itinerary. Travel Concepts Inc. is your convenient way to information. Email at tci@candw.lc.