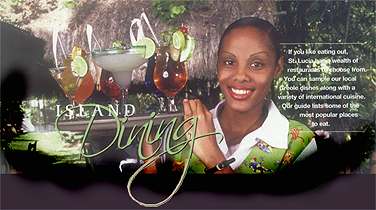 BUZZ SEAFOOD & GRILL
Rodney Bay (opposite the Royal St. Lucian Hotel) 458-0450
After reading the review of BUZZ in "Destination Caribbean," I felt compelled to quote it as it gave the perfect description of BUZZ.
"Buzz is one of the newer restaurants in Rodney Bay, but the owner, Pat Bowden, has many years of experience in the business and, combined with her chef of many years, Marie, together they have created a delightful and innovative menu which will not disappoint you. The food is beautifully presented on dishes of varying shapes, sizes and colours, all of which will contribute to making your evening at Buzz extra special. The restaurant has indoor and outdoor seating and, as the name implies, is abuzz with activity – reservations are recommended."
House specialties include Lobster & Crab Cakes, Homemade Raviolis (e.g. Spinach or Lobster) and to follow Moroccan Lamb Shanks, Pecan Crusted Chicken or for something more local West Indian Pepperpot and Seafood Creole. There are succulent Char-grilled Steaks and BBQ Baby Back Ribs for the meat lovers and a great selection of pastas, salads and vegetarian dishes. Fresh fish is delivered daily; Seared Tuna, Potato Crusted Red Snapper, Grilled Dorado and Fresh Lobster are only a few examples. The Wine List is simple but extensive enough for all tastes. The House Wines are excellent. Desserts are a must and all made on the premises. What about Caribbean crème Brulee or Chocolate Brandy Ginger Cheesecake? How can you resist?
Now that Pat is into her fourth year at Buzz she is once again ready for a change! No, not a new restaurant – a fresh new look for Buzz. (As we all know, this is her fifth successful restaurant on the island!) When discussing this with her, she was not forthcoming about the details! Sounds exciting and quite drastic – no choice, but to see for ourselves, but Pat assured us that diners will still be able to choose the cozy intimate restaurant or dine under a fairy lit marquee in the garden.
Buzz is open daily from 5:00pm. OPEN 7 DAYS A WEEK FROM DECEMBER 1 TILL MARCH 31. CLOSED FOR SUNDAY BRUNCH. Reservations are a must. Telephone: 458-0450 Credit Cards accepted.
BASILS RESTAURANT
Rodney Bay 758-452-8756
Basils Restaurant - where you can dine right at the waters edge of gorgeous Rodney Bay, while you gaze across the tranquil waters and truly unwind. The whole restaurant is open on three sides, gazebo style and surrounded by water and beautiful gardens.
Basils Restaurant is decorated in casually elegant Caribbean style with clay pots, Spanish tiles, and white linen. Our highly qualified British Chef changes the menu weekly. Only the best seasonal and freshest ingredients are used to create incredible Caribbean fusion cuisine - absolutely the cutting edge in Caribbean Gastronomy.
Cocktales Bar in the centre of Basils, features a hilarious list of over 30 cocktails and shooters, some of which are named after local personalities, Politicians and events. Ask about our daily jokes and specials or guess the answer to the daily riddle and win a free "concoction of the day."
Cocktales also has a Great bar lounge with cozy sofas, games, book swap, TV, Video, and free Internet Access. Open every day from 7:00 am to 11:00pm. Daily happy hour from 5-7pm and TGIF (thank God it's Friday) happy hour from 5:00pm until. Tel: 452-8711.
BIG CHEF STEAKHOUSE
Rodney Bay 450-0210
Visit well known TV chef "Big Chef" at his new Steak House in Rodney Bay by the first corner after the mall. The steakhouse features the biggest juiciest succulent tender USDA pure Angus Steaks plus a variety of pasta, seafood (the mussels are out of this world) and salad. There are strip loin and rib steaks cut at 14oz, 22oz, & 32oz plus the ladies favourite, 8oz tenderloin, which is used for fillet steak, pepper steak, surf & turf and jasmine royal, served with fresh seared fois gras.
If 32oz is not enough Big Chef will cut a bigger one, as big as you can handle. Order the steak challenge and if you consume a 32oz rib or strip steak in full, you will get a certificate and enter the rank of "Big Steak Master", plus get a free one pound rib or strip steak.
Big Chef has created outstanding sauces like Au Poivre with green pepper corns, bourgogne and cognac/foie gras. All steaks are seasoned with Big Chef's unique secret spice, a flavour never matched. He is there every day except Sunday (closed) to make sure everything is well marinated, including the chef. Everything is very reasonably priced.
After the main course, Mrs. Chef will tempt you with the most heavenly home made cheesecakes.
A very small cozy place with lots of atmosphere and soothing dinner music, acclaimed by guests as best dinner value and quality in the world. Open from 6 pm except Sunday. Visa/Mastercard & American Express accepted. Reservations call 450-0210.
THE CHARTHOUSE
Rodney Bay 452-8115
The Charthouse is one of the longest established restaurants on the island. It has always maintained its reputation for excellent food, combined with impeccable, friendly service with staff virtually unchanged since its inception 17 years ago. Situated on the waterside in Rodney Bay, The Charthouse is naturally air-conditioned by the trade winds blowing through the open-plan building. The food is simple, honest-to-goodness cooking and everything is prepared to order. Specialties are charcoal broiled US prime steaks, fall-off-the-bone hickory smoked baby back spare ribs, roast prime rib of beef and the freshest seafood on the island, including local lobster (delivered daily by the fisherman who caught it). There is a large selection of wines and a wide choice of Cuban cigars. All major credit cards accepted.
THE COAL POT
Vigie Marina 452-5566
The Coal Pot has been a fine dining experience for the last forty years. Michelle Elliot and her French husband, Xavier, own and manage the restaurant - voted Restaurant of the Year in 1999. Michelle is the elegant hostess, Xavier is the chef sans pareil.
New World cuisine, the marriage of the freshest Caribbean ingredients with simple yet exquisite, French cooking methods is The Coal Pot's trademark. At lunch, a daily special is served alongside dishes like Greek and shrimp salads. Fresh, local fish prepared in a variety of excellent sauces is an ideal lunch choice. Dinner, with linen service, is a relaxed affair. Coquilles St. Jacques and smoked salmon add a continental flair to local delicacies, such as curried chicken served in a coconut shell. There is also a selection of fine wine.
The Coal Pot's ambiance is as special as the cuisine. The walls of the wood and stone open-air structure are decorated with colorful Caribbean art. These acrylic and water designs are Michelle's imaginative creations. Just a few feet away from the dining tables, the waters of the Vigie marina lap against the coral stone beach. On full moon nights, tables are set under the stars. The Coal Pot is not only a food lover's delight but an intimate place to lunch and dine.
An extension of The Coal Pot is the Café au Lait. Open for breakfast and all day for light meals, Café au Lait serves French pastries, ice creams and specialty coffees. Ferry service available from Pointe Seraphine.
DASHEENE
Ladera, Soufriere 459-7323
The cuisine at Dasheene has been created by world-renowned Caribbean chef Orlando Satchel, who makes Ladera his winter home (in his absence, St. Lucian chef Nigel Mitchell runs things in the kitchen). Menus change every six months but the golden rule for Dasheene's cuisine is to combine St. Lucian ingredients with modern cooking styles.
The restaurant, overlooking the Pitons, has one of the best views in St. Lucia.
Lunch is an uncomplicated yet tasty menu with appetisers like Jazzy Ti-Zel (the manager's favourite) marinated chicken wings, a Cajun Caesar Salad and a selection of main courses.
The dinner menu is described as "St. Lucia's Peak Experience." Appetisers start with lobster and seafood sausages and include the signature Dasheene Palm Tree salad.
The main course menu makes decisions difficult. Choose from Shrimps Dasheene, a gold-medal winning dish, to "What the Fishmen Catch Today," all served with fresh vegetables. The desserts are positively delightful: Ladera Coco, a chocolate rum mousse served with coconut waffle, and Paw-paw Créme Brulée are just a couple of suggestions.
There is also a menu du jour. Every Sunday, Dasheene throws a Sunday lunch party with a barbecue buffet and live music. Dinner reservations are requested. American Express accepted.
FROGGIE JACQUES TROPICAL BISTRO
Vigie Marina 458-1900
During the last 20 years, Jacky Rioux, the restaurant's owner and chef, has travelled all over the world. His voyages have given him a great appreciation for indigenous ingredients and he has developed his own style of fusion cuisine that combines fresh ingredients with French cooking methods.
Jacky Rioux specializes in fish and seafood (fishermen are always bringing him unusual delicacies) and he shops personally for fresh produce.
The result is meals cooked to perfection. Colourful appetizers and entrées have "Eat Me" written all over them. Chef Rioux mixes his own spices and seasonings and, like most French chefs, he is a talented sauce maker. He also smokes his own meats.
The restaurant's extensive wine list carries vintages from just about every wine-producing country in the world. The cocktail list contains old favourites and some seductive new concoctions.
Cathy Rioux, the chef's wife, is the hostess at Froggie Jacques Tropical Bistro and the service is excellent. The restaurant is set in a tropical garden overlooking the Vigie Marina. Every evening the water is lit up to enhance the dinnertime ambiance.
The lunch menu is a set selection written up on a blackboard. Dinner is à la carte and each dish is prepared to order. Popular selections include starters like octopus and conch in curried coconut sauce and main courses of boneless chicken breast stuffed with smoked salmon in a citrus butter sauce or oven baked kingfish with a white wine and sweet pepper sauce. Froggie Jacques Tropical Bistro is open Monday to Saturday for lunch and dinner. Reservations are advised. Visa, MasterCard and American Express accepted.
THE GREEN PARROT RESTAURANT
Morne Fortune 452-3399
The Green Parrot Hotel is a prestigious resort with an excellent restaurant. The property is tucked away on the hillside of the famous and historic Morne Fortune, commanding a superb panoramic view of the capital city of Castries, the Vigie coastline and the turquoise waters of the Caribbean Sea.
The internationally acclaimed Green Parrot offers an excellent St. Lucian Caribbean and European cuisine. An impeccable service awaits guests and visitors alike, in an equally delightful and pleasant atmosphere, so much so in fact, that many have had the benefit of Chef Harry's glorious food. His Green Parrot Hotel has been home to Royalty and world famous people, from The Pope's entourage (1980's) to Princess Marguerite, to Alexander Haag and Pierre Trudeau. If you have not had the privilege of visiting the Green Parrot and St. Lucia's Chef Harry, then your taste buds have not yet been excited or tantalized by his heavenly delights.
Chef Harry is world-renowned for his culinary expertise, backed by his 10 year cooking experience and professional training at the most exquisite and renowned Claridges Hotel in London. To experience the Chef's wonderful cooking creations, for lunch or dinner, call 452 3399 to make reservations. Parking is available.
THE MANDOLIN RESTAURANT
Castries (Cara Suites) 758-452-4767
The Mandolin is a delightfully elegant open-air restaurant and bar on the front verandah of Cara Suites, just five minutes from Castries and the airport, and 15 minutes from Rodney Bay. With serene and refreshing views of the surrounding lush hillsides, brilliant tropical flowers in the hotel garden, the city of Castries below and the Caribbean Sea beyond, the restaurant offers the perfect escape from the hustle of the city at lunchtime, and the perfect venue for a business dinner, a family celebration or a romantic tryst in the evening. The Mandolin buffet lunches have been described as the tastiest on the island. In addition, our chef has developed a delicious and extensive a la carte menu of traditional European cuisine with a Caribbean flavour which is available for both lunch and dinner. And of course, you can expect it all to be delivered with the Cara trademark of excellent service.
Bring along your copy of Visions Magazine for a 10% discount on your meal at the Mandolin.
OCEANA SEAFOOD RESTAURANT
La Toc Road 456-0300
Capture the taste of the Ocean and tantalize your taste buds with the fresh harvest of our local fishermen. Oceana Seafood Restaurant offers the best quality dining experience in a friendly down home atmosphere with a breath-taking view of Castries and the Caribbean Sea. We offer the finest quality Seafood, Poultry Steaks, Pork and 'Vegan' Culinary delights done in a trendy Carib-American style cuisine capturing all the flavours of the Islands, simmered with quality service.
Located in the historical Ridgeway House (160 acres) on La Toc Road, Oceana Restaurant captures the rich history of the British and French colonial era. Dive into our Ocean of culinary excellence and savour the joys of fine top quality dining at very affordable prices. Open daily for lunch and dinner.
Monday to Thursday, 11:30am to 10:00pm. Friday and Saturday, 11:30am to 12:00 midnight. Sundays, 11:30am to 8:00pm. Fax: (758) 453-2102. E-mail: bayridgecuisin@hotmail.com
SANDALS REGENCY ST LUCIA GOLF RESORT & SPA
La Toc 452-3081
The Pitons. Specializing in Caribbean cuisine, The Pitons is open for West Indian dinner every night of the week. The restaurant also opens for breakfast and lunch everyday except Mondays. The dress code is casually elegant.
La Toc. This is Sandals' authentic French restaurant featuring fine European dining with white-glove service. La Toc is open for dinner every night. The dress code is formal. Reservations required.
Kimono's. This restaurant serves exotic oriental cuisine. The setting is theatrical Teppanyaki style and due to Kimono's popularity, reservations are required. There is a no-smoking rule at Kimono and the dress code is casually elegant. Reservations are required.
Arizona. This outdoor restaurant at Sandals St. Lucia specializes in every type of grilled meat and fish. A magnificent salad bar awaits diners and the Sandals' staff are appropriately dressed in ten gallon hats and cowboy boots. The ambiance is casual.
Armando's. The newest specialty restaurant at Sandals Regency St. Lucia. This restaurant will leave your palate begging for more Italian cuisine. Perched beautifully on the Sunset Bluff, the dining experience is perfected by the ambiance.
SANDALS HALCYON ST. LUCIA
Choc Bay 453-0222
Mario's. This Italian restaurant offers a typically European setting. Excellent Italian specials are the order of the day and there is a good wine selection. Reservations are required and the dress code is formal.
The Pier Restaurant. As the name indicates, this restaurant is situated on a pier right over the calm waters of the Caribbean Sea. The setting is quite unique. The cuisine at The Pier pays tribute to the best in West Indian cooking traditions. The dress code is elegantly casual.
SANDALS GRANDE ST. LUCIAN SPA & BEACH RESORT
Pigeon Island Causeway 455-2000
Bayside. The International Bayside Restaurant, differentiated by an extensive menu, is open for buffet breakfast and lunch and A La Carte dinner.
Barefoot By The Sea Restaurant. This restaurant specializes in Latin Caribbean cuisine, offering a beach side grill atmosphere for lunch and dinner, in a casual well-designed setting.
Olde London Pub & Restaurant. The specialty is British cuisine. You can savour your choice of English cooking, enjoying steaks or chops, in a genuine old English setting, topped off with pool tables and darts.
Toscanini's. Culinary magic unfolds with signature white glove service in this elegant Northern Italian Restaurant.
Josephine's Creperie. For outstanding crepes, sweet and savoury, as well as your favourite coffee.
SCUTTLEBUTTS BAR & GRILL
On the Waterfront in Rodney Bay Marina 452-0351
Relax and watch the world sail by as you cool off with an ice-cold beer and take a dip in our private swimming pool. Breakfast, lunch, or dinner, the Scuttlebutts crew will provide good service while you enjoy our friendly atmosphere and waterside ambience.
Gather your shipmates and join us for dinner in the main restaurant, or on deck beneath the stars. Our menu has a favourite for everyone including Deck and a Half for hungry sailors, and Half-Deck portions for children.
Sample our excellent wines, speciality drinks and cocktails, including a wide choice of Caribbean rums and shooters. So come-alongside and share a story in Scuttlebutts, we are open everyday until late.
We have easy access for car parking and ample mooring facilities for dinghies. We also provide Internet access, daily weather-watch, crew-news, plus delivery service from restaurant to boat. For more information call 452 - 0351 or VHF Channel 68. Tie-up at Scuttlebutts.
WINDJAMMER LANDING VILLA BEACH
RESORT & SPA Labrelotte Bay 456-9000
Four Excellent Reasons to Dine at Windjammer Landing
Dining leaves guests spoilt for choice. From our nouvelle Caribbean Cuisine; breakfast, barbeque and Caribbean buffets; Italian pasta, pizza and Mediterranean Cuisine or exquisite fine dining Asian/Caribbean Cuisine at our newly open Dragonfly Restaurant.
DRAGONFLY - 'Euro Caribbean Cuisine with an influence of Asia'. The very best of the 'East' merges with the finest of the 'West', in a great fusion of Caribbean and Asian Cuisine. The Restaurant is carefully appointed with the finest in Asian teak furniture and tastefully decorated with some of St. Lucia's most beautiful flora.
PAPA DON'S - This intimate Mediterranean style Taverna is located above the Island Pool. Its mountain side terrace offers spectacular views of Martinique. This restaurant offers great pizza from our wood burning ovens, fresh pasta and a selection of Italian and Mediterranean dishes.
JAMMER'S BAR - The place for exotic cocktails and mid-day lunch. Everyday, our Bartenders create new tropical drinks and the beer is always ice cold. Happy Hour is from 5:00pm - 6:00pm
THE UPPER DECK - Fine 'Sunshine Cuisine' within a nautical feel in this alfresco style restaurant. Diners can choose from the evening A La Carte menu offering sumptuous seafood delicacies, grilled steaks, kebabs, salads sandwiches and much more. Our daily 'Captains Table Menu' for the adventurous guest is also available.