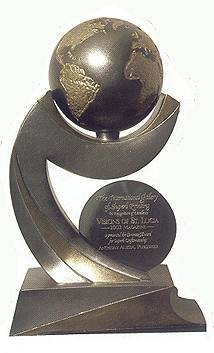 VISIONS of St.Lucia Tourist Guide
Wins Prestigious Award
This is our 14th anniversary and Visions Magazine is ready for a celebration. We have come a long way since the beginning. Having been officially endorsed by the Ministry of Tourism and the St. Lucia Tourist Board, and having been acclaimed as the official publication of the St. Lucia Hotel and Tourism Association, Visions of St. Lucia Tourist Guide has just recently received the bronze award for Superb Craftsmanship from The International gallery of Superb Printing.
This award was bestowed by the International Gallery, which is a premier competition rewarding excellence in the arts and science of printing and graphic design, and enticing entries from around the world - Australia, China, Germany, New Zealand and Switzerland. Visions managed to cap the Bronze award from among 3000 other entrants who were received and judged in 18 different categories, all vying for Gold, Silver or Bronze awards.
Visions of St. Lucia Tourist Guide continues to position St. Lucia as a desirable world-class destination in a concise and colourful representation of all that is the best of St. Lucia. This is one of the reasons why Visions has become a trusted marketing tool, enjoying worldwide distribution.
Over the years, persons have come to view Visions of St. Lucia Tourist Guide as a souvenir piece that has excellent shelf value. There is consensus too that it has been designed to showcase St. Lucia, and can stand its own on an international playing field, with other glossy print publications. Visions Magazine is a first class quality publication, and we are proud to be associated with it. Our recent award more than testifies to the strength of Visions of St. Lucia Tourist Guide.
CABLE & WIRELESS (C&W) MEETS THE COMPETITION HEAD ON
Earlier this year, St Lucia was introduced to competition in the telecommunication sector with the launching of two new mobile phone companies.
Even before the onset of the competition, Cable & Wireless (St Lucia) had been preparing itself to meet the new challenge by embarking on a bold restructuring programme aimed at making the company better able to satisfy the needs of its customers. The changes were spearheaded by a new management team which, for the first time, is composed entirely of St Lucians, headed by General Manager Rudy Gurley. The main focus of the team is to ensure that the company's customers are delighted with impeccable customer service and state of the art products and services. C&W has also embarked on an extensive cell site installation program to ensure that its mobile customers receive adequate coverage.
The past few months have been an exciting time for C&W customers who now enjoy huge reductions in mobile rates and numerous other incentives and discount packages. The recently launched C&W monthly $2,000 cash or BMW draw has become quite popular. C&W also increased its sponsorship of local projects and launched C&W Star Quest, a new talent competition designed to help St Lucian youth showcase their musical talents.
As a result C&W has enjoyed numerous successes, including an increase in its customer base, renewed customer confidence in its mobile products and the maintenance of high morale among its staff.
As the challenges in the market continue, the goal of Cable & Wireless (St Lucia) is to develop the company into a world-class organization that would make it a model of economic success throughout the region.
GPRS MOBILE ON THE MARKET
The business traveler and vacationing executive will welcome the news that high-speed wireless service is available in the St. Lucian market through AT&T Wireless' next generation solutions for communications and general business enterprise.
AT&T Wireless subscribers can take advantage of its Global System for Mobile Communications (GSM) and General Packet Radio Service (GPRS) networks for faster data transmission. This service is already available in St. Lucia, on the Research In Motion (RIM) 5810 (RIM Blackberry) and the Siemens SX 56 Pocket PC phone and the Sierra Wireless Aircard 710 handheld devices.
GPRS technology allows mobile phones to be used for sending and receiving data over an Internet protocol based network. In addition to improving the rate of data transmission, AT&T Wireless' next generation network allows for data-rich content to be viewed more easily on a wireless device. As such GPRS facilitates continuous wireless connection to data networks and access to information and entertainment services of choice. The applications using GPRS are WAP, MMS, SMS, Java and the PC dial-up (for example Internet and email).
GPRS stands for General Packet Radio System. GPRS data is an "always on" packet data service, which allows an end user's device to stay connected to the network without tying up a dedicated circuit, thus eliminating the time consuming dial-up connection process, common to fixed line. Customers are charged only when data is sent or received.
GPRS equipment chops up information, audio, data text, still or moving images into compact little packets for faster transmission. Because they are compressed, they use up less space on the network. GPRS transfers data at up to 42 kbps, instead of the 9.6 kbps that Non-GPRS mobiles can manage.
GSM/GPRS network is considered a 2.5-generation network. The addition of GPRS makes GSM an interim evolution towards the third generation of wireless technology, known as UMTS. UMTS technology, while still being developed and tested, promises to offer very high data transmission speeds bringing the world of the Internet to the mobile device.
AT&T Wireless is also exploring additional enhancements to its data network through EDGE (Enhanced Data Rates for GSM Evolution) technologies, prior to the full deployment of UMTS.
AIR JAMAICA MOVES TO TERMINAL 4 AT JOHN F. KENNEDY INTERNATIONAL AIRPORT, NEW YORK
Air Jamaica has now moved its operations at John F Kennedy International Airport (JFK) to the spacious and more easily accessed Terminal 4.
Opened in May 2001, the 1.5 million square-foot facility is JFK's only 24-hour terminal. It serves 48 other airlines and is capable of processing up to 3,200 passengers per hour. It features 16 gates, 50 immigration inspection stations, 144 check-in desks (of which Air Jamaica will use 18) and a baggage system that can handle as many as 8,500 bags per hour. Terminal 4 also offers more than 40 retailer outlets, including duty free shops and theme bars and restaurants. For passengers' future convenience, by year's end the terminal will feature an Air-Train light rail connection, by which travelers can connect directly to Manhattan.
Terminal 4 is ideally suited to Air Jamaica's operations. It's mandate to be the "Terminal of Choice" along with its commitment to both the airlines it serves and their passengers puts it ahead of the competition. Like Air Jamaica, it holds service excellence and efficiency as its number 1 priority and through its airline support network, and superior service levels it can only enhance the efficiency of our New York operations.
"We are thrilled to be able to offer our passengers the added convenience of this state of the art terminal," said Sarah Young, Air Jamaica's Director of Customer Service, North East USA and the Eastern Caribbean. "Terminal 4 offers all the amenities that will ensure that our passengers receive the same exceptional service on the ground as they do in the air." Air Jamaica, has had scheduled flights to JFK for the past 34 years, and has operated out of Terminal 2 since 1998.
DIAMONDS SPARKLE BRIGHTER IN ST. LUCIA
In the beginning...there was one small store... Since then Diamonds International has taken on an underutilized and shopworn shell and with the engineering guidance and enthusiastic support of the NDC has transformed the entrance of Pointe Seraphine into two new retail outlets of grand style and elegance.
With the inception of its first store in St.Lucia on January 28, 2002 Diamonds International, the largest diamond enterprise in the Caribbean with a sterling reputation, has been steadily growing on the island. What began as one small but exquisite jewelry store at Duty Free Pointe Seraphine, soon became two, with the second carrying exclusive and choice time pieces. 2002 also saw the birth of our first clothing outlet for children on the island; KIDS International. Within 12 months Diamonds International had crossed the Castries Harbour to La Place Carenage, giving Cruise ship passengers the convenience of creating their own unique piece of jewelry while shopping duty free at both terminals at port Castries.
In sixteen months Diamonds International has brought over 40 new jobs to St Lucia and created new tourist and local shopping environments through the guidance and support of NDC and SLASPA. Diamonds International has built not only eight new retail shops but also completed a renovation of the JAZZ shop at Pointe Seraphine and a new store in the main terminal for the Sunshine Bookshop.
The excitement does not stop there as Diamonds International is pleased to announce the finalization of an agreement to lease/ purchase an NDC factory Shell at Union. This 20,000sq.ft. facility will house a new manufacturing operation that at the outset will employ over 100 St Lucians, with a total of 300 new jobs when in full production. Diamonds International will also provide these new employees with certified training courses, to equip them in the manufacturing trade.
Diamonds International has found an ambitious partner in St Lucia and sees great projects ahead in the future.
DIGICEL - NEW TO ST. LUCIA
Digicel entered the Eastern Caribbean with the launch of its services in St. Lucia on March 24th, 2003. The Digicel network is based on superior GSM technology. Global System for Mobile Communications (GSM) is a European standard that is now widely adopted worldwide. It provides much better quality than existing systems in St. Lucia and ensures a crystal clear, secure mode of communication. GSM is used by over 70% of the world's mobile customers.
By entering the local market, Digicel introduced state-of-the art technology, smart new handsets, innovative and competitive rate plans, to a then monopolized mobile communications market.
Digicel has within its tenure, become ingrained in the economic, cultural and social aspects of St. Lucia's development. Digicel directly employs over 60 local staff members at its OECS headquarters in Massade Industrial Estate, Gros-Islet and has paved the way for 5 local entrepreneurs, who now manage between them, a total of 21 outlets. Digicel also commissions a total of over 700 DigiFlex card dealers island-wide. Just look for the Digicel sign outside various business places on the island.
Digicel just launched the General Packet Radio Service (GPRS) system in St. Lucia. The GPRS Service is a value added non-voice service that allows information to be sent and received across a GSM mobile telephone network. Digicel customers will now be able to access the Internet, browse the Web, check and send emails, take and send picture messages, download music and ring tones and play unlimited games.
SUCCESSFUL BEAUSEJOUR CRICKET GROUNDS
No longer spanking new, the National Cricket Grounds at Beausejour in St. Lucia have been broken in by some of the finest players in the world during seasonal one days and test match cricket. Cricket enthusiasts from around the region have been treated to first class cricket right here at home as St. Lucia launched its first successful test match between West Indies and Sri Lanka. This one is definitely heading for the history books.
The grounds were sold out not just to local and regional spectators, but to international cricket lovers as well, who, in addition to the thrill of the game, were "wowed" by the beauty of St. Lucia, renowned for its twin mountain peaks, Petit and Gros Piton.
The giant telecommunications entity Cable & Wireless continues to support West Indies cricket. In addition to consistent team sponsorship, charities in St. Lucia benefited from the first test match played at Beausejour as for every 6 that was scored during the match $100.00 was donated and proceeds given to service clubs that support charity on island.
With the investment in this sporting facility, St. Lucia can certainly expect to benefit from the combined effects of Sports and Tourism. Already, the hosting of this first test match has been pivotal in positioning the National Cricket Grounds at Beausejour as a venue for World Cup 2007.
In the meantime, if you are planning to vacation in St. Lucia during the cricket season, listen for scoops on bargain rates for airfare and accommodation.
BERTHIA PARLE
Local Woman of Substance
Berthia Parle has been involved in the business of tourism for over 29 years. Her defining qualities in the industry include her tenacity, passion, professionalism, and a high level of motivation. Berthia has done tremendous work at all levels of the industry which has not only resulted in the development of people with whom she has worked, but also in her own advancement. She has resiliently held the position of President of the St. Lucia Hotel and Tourism Association for two consecutive terms. Under her leadership, the Association enjoys new buoyancy.
In addition to her work to assist in strengthening St. Lucia's tourism industry, Berthia has contributed to the development of the industry across the region in the capacity of 1st Vice President of the Caribbean Hotels Association (CHA), having started in that area of service as 4th Vice President to this august body. Presently she sits as President Elect for the 2003-2004 period after which she will assume the Presidency for 2004-2005.
Having won the prestigious Hotelier of the year Golden Conch Award (2003), this certainly crystallizes her sterling contribution to the industry overall. Meanwhile, Berthia Parle serves as General Manager of the Bay Gardens Hotel. Without a doubt she recognizes the part that her staff play in her own successes, and she in turn ensures that they receive the necessary training that will continue the pattern of excellence that has been established at Bay Gardens Hotel.
LAVA FLOW
With her vibrant colours and distinct personal style and a touch of fantasy, Michelle Elliott's paintings capture the essential spirit of St. Lucia. Her naïve style, loose brush strokes and intense saturated colours reveal the wonderful sunny ambience of the Caribbean.
Michelle, a native St. Lucian resides on the island, where she paints from her home in the quaint Vigie Cove tucked away in the heart of the Castries harbour.
Michelle has recently ventured into developing a fabulous line of hand painted Ceramics: Pitchers, Vases, among others, as well as souvenir items displaying her artwork, all available at Lava Flow Stores.
Lava Flow with its volcanic theme and fresh look carries Signature items, a wide range of volcanic and precious stones, sea glass, hand painted glass-ware and beautiful hand made shell decorations. Lava Flow is one of a kind. Shops are located at Pointe Seraphine and La Place Carenage.
WORK STARTS ON ST. LUCIA'S MOST EXCITING NEW WATERFRONT DEVELOPMENT
Described by international yachtsman Sir Chay Blyth as "the jewel of the Caribbean", St Lucia's Marigot Bay is set to become the backdrop for the island's newest and most exclusive five star apartment resort, Discovery at Marigot Bay. Construction of this luxurious spa and marina resort, designed by award winning international architects Denton, Corker, Marshall, is set to start in October this year with completion scheduled for early 2005.
Configured for indoor/outdoor living and the ultimate in privacy and comfort, the apartments have been designed to blend into their waterfront setting with all natural timber exteriors and roofing sympathetic to the local environment.
The interiors will be a stylish blend of city chic and Caribbean charm, with high quality furnishings, fixtures and fittings, state-of-the-art kitchens and careful attention to every detail.
The apartments, which are being snapped up by purchasers for their lucrative investment potential, convert into 118 hotel units, comprising a mix of two bedroom suites, one bedroom suites and conventional hotel rooms.
Discovery at Marigot Bay is the brainchild of Judith and John Verity who first fell in love with Marigot Bay back in 1981. Twenty years later, they returned to the bay where they purchased the old Hurricane Hole Hotel site and laid out plans for its transformation into a luxury resort with a wide range of top flight facilities and services.
Included in the development are plans for a five star fitness centre and spa using local products such as seamoss and bananas in addition to the latest treatments from Europe and the US, a fine dining restaurant, a dockside café, and special facilities for yacht-based visitors.
ST LUCIA VOTED SECOND BEST Undiscovered Caribbean Destination!
More and more reasons keep popping up to reinforce why you should vacation on Simply Beautiful St. Lucia. Why you ask? Readers of Caribbean Travel and Life Magazine voted St. Lucia the Caribbean's Second Best Undiscovered Destination in their annual readers' pick survey. The magazine conducts the survey as part of its efforts to keep readers informed about the Caribbean's tourism product.
Besides this accolade, readers of the magazine also singled out other well-known hotels for awards. Among them, Ladera Resort located in Soufriere, one of the most picturesque and dramatic areas of the island won the top prize for the Best Hotel With A View.
Other hotels stood out as they captured prizes such as the Caribbean's Most Romantic Small Hotel, Best Hotel With A View and the Caribbean's Best Spa Resort.
Caribbean Travel and Life Magazine is a publication which keeps visitors, travel agents and others interested in the Caribbean's travel and tourism industry informing them of changes in the product.
ST LUCIA SNAGS MAGAZINE COVER!
St. Lucia, because of its dramatic natural beauty, is the focus of the fall/winter issue of the prestigious travel magazine Islands Weddings and Honeymoons. The island is the backdrop for the magazine's well-known Bridal fashion file showcasing the latest in bridal fashions.
The series of photographs feature wedding couture from designers such as Vera Wang and Claire Pettibone, and were photographed in the picturesque town of Soufriere and at other major resorts in the south of the island.
Islands Weddings and Honeymoons magazine arrived in St. Lucia earlier this year to conduct the shoot along with camera crew, stylists and models. The magazine, which is one of the most prestigious in the travel industry, delivers information on planning dream weddings in destinations around the world with a heavy slant toward tropical weddings.
At last year's World Travel Awards St. Lucia received the honour of being named the "World's Leading Honeymoon Destination". Over the years the island has developed a thriving niche market in the area of weddings and honeymoons. Visitors from St. Lucia's two major markets, the United States and the United Kingdom are increasingly interested in tropical weddings and honeymoons. This area of the tourism market is expected to grow even further in 2003.
THE MANDOLIN AT CARA SUITES
Business lunch, family gathering or romantic tryst - this dining gem has the perfect combination of location, ambience and cuisine for any occasion. Just a few minutes from downtown Castries and even less from the Vigie roundabout, the new road offers startlingly easy and rapid access to Cara Suites. The private car park offers the first glimpses of the stunning birds-eye views from the hotel. The restaurant is on a verandah 500 ft above Castries so your lunch or dinner can be punctuated by cool, gentle breezes and a panoramic view of the Morne, the huddled rooftops of Castries, the Caribbean Sea and faded hills of Martinique in the distance.
The Mandolin menu, developed by British chef Mark Eden, boasts a blend of international cuisines with a Caribbean flair which have become traditional for Cara Hotels across the region. Chef Eden's specialties have a definite fine-dining feel - Mille Fuilles of Green Fig and Saltfish with Honey Roasted Pumpkin and Topped with Crème Fraîche, Trio of Jumbo Shrimp finished with a Sauce Vierge and completed with Balsamic Vinegar, Oven Roasted Loin of Lamb with Coriander and Lime Cous-Cous finished with a Rosemary Jus...add your favourite drinks and you have a meal made for the gods!
The Mandolin Restaurant and the Poolside Restaurant at Cara Suites are the perfect spots to beat the Friday afternoon traffic. Come and enjoy a Cara welcome for a few afternoon drinks, or stay a little longer and treat yourself to a dinner that you won't forget. Not much of a detour, and sooo much more enjoyable than an hour in the car! Think cool, green, spacious - come up and watch the sun set from this oasis in the hills above Castries.
KITESURFING, THE LATEST HIGH-EXCITEMENT SPORT HAS TOUCHED THE SHORES OF ST. LUCIA
With the Club Mistral Windsurfing Centre & Sky-riders Kite-surfing Centre (located at The Reef Beach Cafe in Vieux Fort), St Lucia has gained a leading edge over other Caribbean holiday destinations. Nowhere else can one learn the high-thrill sport of kite-surfing in more perfect, un-crowded and safe conditions than at Sandy Beach (a.k.a. Anse de Sable Bay) where the wind is steady and cross-onshore and there is ample space for uninhibited enjoyment of raw speed and daring stunts.
Fully qualified instructors and state of the art equipment guarantee a safe, fun-filled and affordable introduction to the wild, wet world of kiting. Already, windsurfers the world over know of the south of St Lucia for its excellent combination of wind, water and fun. Dozens of watersports lovers travel to St Lucia specifically to enjoy and perfect their wind and kite-surfing skills while many others vacationing in the north take a ride down to Sandy Beach to spend a day on the water and the island's most natural beach. Check out www.slucia.com/windsurf and www.stluciakiteboarding.com and book online! Sky-riders kite-surfing Centre: Tel 454 3418.
BIG CHEF STEAKHOUSE WINS AGAIN - Puts St. Lucia on the World Beef Map
United States Meat Export Federation holds an annual Competition for the entire Caribbean and Mexico area to find the best Chefs who use U.S. meat products. They scour hundreds of hotels and restaurants to find the most innovative and competent Chefs.
Big Chef Steakhouse was targeted due to its very high reputation of serving top quality proper sized juicy succulent Angus Steaks. All Big Chef Steakhouse meat is imported fresh from U.S. and is certified Angus Beef. The cuts used are Strip loin, Rib Steak and Tenderloin for Fillet Steak.
Even before Big Chef was informed that he was a potential Candidate for the competition, the Steakhouse was secretly inspected. Prior to the Competition, Big Chef had to produce unique winning recipes, for beef, pork and lamb.
After being selected as a finalist for the Grand event held in Mexico City, Big Chef was treated like Royalty by US Meat Export Federation, receiving an airline ticket to Mexico with airport transfers. Accommodation was arranged at a top class hotel and there was continuous dining and wining (lots of red wine, as we know Big Chef loves) in the finest restaurants plus a bit of interesting sightseeing during the five-day trip.
In one very exotic restaurant Big Chef was adventurous enough to try some outrageous specialties like deep fried worms and ant caviar (fresh ant eggs). It was quite tasty and not too bad when washed down with tequila. However Big Chef still prefers a Big Juicy flavorful Steak with red wine.
The competition was held at the famous Ambrose Culinary Center and ended with a prestigious Gala Dinner for over 500 dignitaries where Big Chef, representing Saint Lucia was called on stage to receive his plaque as a Finalist. This treasure is now displayed at Big Chef Steakhouse.
TELECOMMUNICATIONS OPENS UP
St. Lucia, like many countries in the Caribbean, has enjoyed a long relationship with the telecommunications mogul Cable & Wireless. The sole provider of telecom services for well over 40 years, Cable & Wireless has recently had to make adjustments to its business processes as the telecommunications landscape across the region has been dramatically transformed.
Users of the system, already pre-disposed to a lack of competition in that sector, have been very open to possibilities that would bring greater benefits to them. Now there is more choice for locals as well as potential visitors, as liberalization of the telecommunications sector has allowed entry to two competitors, Digicel and AT&T.
While Cable & Wireless is still the major provider of land phones and other telecom services, the introduction of two other players has made the cell phone very accessible and affordable to more people. This has impacted on business as well as domestic users as more and more, people have access to immediate communication tools.
In the aftermath of this trade liberation effort sanctioned by other countries in the Organization of Eastern Caribbean States (OECS) and St. Lucia, the ensuing cell phone revolution now means that locally, regionally and internationally, consumers have been brought a step closer to technological advancements in first world countries and are on par with the whole concept of instant communication at the press of a button.
ST. LUCIA JAZZ 2003
St. Lucia Jazz in 2003 has exceeded the expectations of spectators as well as organizers. While spectators particularly at the week end shows held at the Pigeon Island National landmark were ever so pleased by the likes of Earth Wind & Fire, Ashford & Simpson, the Herbie Mann Quintet and others, organizers of this year's festival were satisfied that in terms of revenue generation and the benefits to the broader economy, exit surveys conducted by the Research and Statistical Department of the St. Lucia Tourist Board show that the spending habits of patrons had increased significantly over last year's festival.
St. Lucia Jazz is the greater unifier. People come from the Caribbean, the U.S. and the U.K. to enjoy two weeks of music, atmosphere and pure unadulterated fun. This is why Jazz in St. Lucia has become so popular and has lasted through time. From north to south, the entire country pulsates with rhythm - at the Pigeon Island National Landmark; on the Derek Walcott Square; at La Place Carenage; at the Fond DÓr Nature Heritage Park; at Balenbouche Estate and at hotels, island wide. There is truly something for everyone. And if you want more than music, our mountains and beaches will add that extra touch.
Now from surveys conducted, we know that the line up in 2003 received a rating of 8.2 out of a possible ten. What's left to say? Come home to Jazz in St. Lucia - May 2004.
LOCAL TOURISM GURU RETURNS HOME
Former Tourism Director here Allen Chastanet has returned to St. Lucia after serving the regional hospitality and aviation sectors for over a decade. After eight years of directing Air Jamaica's Sales and Marketing efforts, his most recent outpost, Allen opted to head back home to set up and commandeer his own business.
He will dive straight into the hospitality sector and oversee the operations of a recent acquisition, the twenty-room Coco Kreole, formally the Candyo Inn. With a theme and design similar to an operation in Miami's South Beach, the renovated facility with rooms equipped with TV/VCR and other modern electronic accessories, cost only US$75 a night.
Allen, although sorry to have had to leave Air Jamaica and the aviation industry at this time is nonetheless "ecstatic" about his return home where he hopes to oversee an eventual major tourism investment on his four acre lot at Rodney Bay, to the back of the Coco Kreole property.
When Chastanet joined Air Jamaica, to head its marketing and sales efforts in North America, Jamaica and the Eastern Caribbean, he had already accumulated ten years of experience in the Caribbean tourism industry.
Prior to joining the airline, he opened up Windjammer Landing in St. Lucia and then went on to serve as Director of Tourism where he was credited with bringing the island into the forefront of the Caribbean's tourism industry, especially with the introduction of the St. Lucia Jazz Festival.
SCUTTLEBUTTS WATERSIDE BAR AND GRILL - RODNEY BAY MARINA
Scuttlebutts Waterside Bar & Grill, recently anchored in Rodney Bay Marina and opened for business in October 2003. The extensive refurbishment programme was designed to appeal to yachting visitors, tourists, and the local community.
The aim was to provide a focal point for the marina and increase the number of services available for yachting visitors such as, Internet access, weather-watch, crew communications, and provisioning.
Scuttlebutts introduced a delivery and catering service to provide yachtsmen with an alternative to cooking on board. The boats call in the order by phone or VHS, the order is then delivered by dinghy directly to the boat. On-board functions and party catering, pre-prepared menus for day trips and charters, also make life much easier for yachtsmen anchored in and around the marina.
Scuttlebutts, is an ideal spot to enjoy the ambience and bustle of marina life, and is open daily for breakfast, lunch, and dinner.
The name itself is derived from an old nautical term meaning 'a place where sailors meet to drink and gossip', and as it suggests is a friendly and welcoming bar that serves good food all day.
There is ample parking for cars and mooring facilities for dinghies. Sports enthusiasts can take part in the lively 5-A-Side league (who play regularly on the lawn every weekend) There are also plenty of activities and events such as BBQs and evening dinner offers. Call 452 - 0351 for more information or Channel 68 VHS.
Pointe Seraphine Duty Free Shopping Centre: "St. Lucia's Biggest Duty Free Shopping Mall"
Pointe Seraphine is a first class Duty Free Shopping Complex for cruise ship passengers, long stay visitors and St. Lucian residents. This top quality Spanish style facility is an extension of the port facilities, conveniently located within walking distance of the city of Castries and George F.L Charles Airport.
Duty Free Pointe Seraphine consists of thirty nine shops providing a full range of high class merchandise at bargain prices, silk screened items, porcelain and china, cigarettes, liquor, jewellery, watches, electronic equipment, fine leather goods and a wide selection of arts and crafts. Our restaurant and Café provide visitors with fresh local juices, as well as local and international cuisine. Caribbean style braiding can also be done right here on the compound.
Prices are quoted in US and EC dollars and most shops accept credit cards.
If you wish to go sightseeing and enjoy the beauty of St. Lucia, there are the services of tour operators, rental agencies and taxis. In addition, a helicopter service is available offering sightseeing tours. Our water taxi service also shuttles persons to and from Pointe Seraphine and the City of Castries.
From your Hotel or Guesthouse, you may ask any taxi driver to take you to Pointe Seraphine. If you hire a car, then Pointe Seraphine is off the John Compton Highway right opposite the City of Castries.
Pointe Seraphine is the most modern and extensive Duty Free Shopping Complex in the Caribbean. A must for every visitor, but do remember to bring along your Airline ticket and passport so you can take advantage of the duty free bargains.
Our shops are opened from 9a.m - 4p.m Mondays-Fridays, and from 9a.m - 2p.m on Saturdays. However shopping hours are extended during special occasions for added shopping convenience. For further information, please contact National Development Corporation at Tele- # 1-(758) 452-3036, Fax 1-(758) 458-1088. Or visit our website at www.stluciandc.com.
Sandals Regency St Lucia Golf Resort & Spa Receives Diamond Award
The American Academy of Hospitality Sciences has bestowed upon Sandals St Lucia Golf Resort & Spa what is perhaps the most prestigious award in the hospitality industry.
The "International Five Star Diamond Award" is the only international award program offered by the American Academy of Hospitality Sciences which honours establishments with this most prestigious symbol of excellence.
General Manager of Sandals St Lucia Golf Resort & Spa, Baldwin Powell was pleased to receive the Five Star Diamond Awards on behalf of the Resort. As a result of this award, Sandals St Lucia has been renamed Sandals Regency St Lucia Golf Resort & Spa at La Toc, a name that reflects the re-positioning of the hotel in the market place. The La Toc Restaurant and The Spa of Sandals St Lucia Regency have also received Five Star Diamond Awards. Mr. Powell, on receiving the award described it as the greatest honour to be bestowed upon the Resort and accepted on behalf of the 587 team members employed by the Resort whose dedication and service par excellence made this achievement possible.
In St. Lucia, the Sandals Grande St Lucian Spa & Beach Resort has also received the Five Star Diamond Award. Only 180 hotels worldwide are the recipients of this prestigious award. This latest achievement has placed the Resort in the company of such world-renowned hotels such as the Ritz Calton - Cancun, Mexico, Waldorf Towers - New York and Shangri-La Hotel - Singapore.