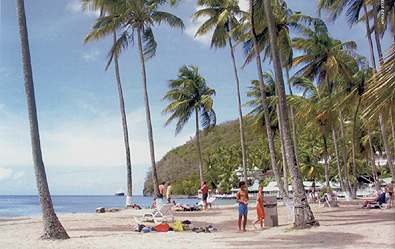 From resort hotels to intimate inns and guest houses, St. Lucia has a wealth of accommodations to choose from. Visitors will find the perfect place to suit their taste and budget. Our "Island Hotels" features some of the most popular places to say on the island.
AUBERGE SERAPHINE
P.O. Box 390 Castries, St. Lucia
758-456-3000/453-2073/4/7
Fax: 758-451-7001
E-mail: auberge@candw.lc
Website:www.aubergeseraphine.com
Auberge Seraphine is a 28-room hotel overlooking Vigie Yacht Marina, nestled in a mangrove where wild birds roost. Standard and superior rooms are air-conditioned with patios and most look out onto the marina.
All rooms have cable television and direct dialing telephone. Centrally located, Auberge Seraphine is five minutes from the island's capital, Castries and Duty Free Pointe Seraphine.
This small hotel is particularly popular with travellers who have business in the city and want to be near to the airport. The service is impeccable and the tariffs are reasonable. Facilities include a restaurant, bar and swimming pool.
There is access to a fitness centre, which is five minutes away from the hotel.
BAY GARDENS HOTEL
P.O. Box 1892, Castries
Tel: 758-452-8060; Fax: 758-452-8059
E-mail: baygardens@candw.lc
Website: www.baygardenshotel.com
This award-winning, small, intimate hotel is situated on the south side of Rodney Bay, within easy reach of Reduit Beach, shopping centres, restaurants and night clubs. The hotel has 71 air-conditioned rooms each with terrace or balcony, bathroom, cable television, direct dial telephone with Voice mail, data ports, radio, 110/220 power outlets and refrigerator.
Bay Gardens is popular with corporate travellers. The hotel has three conference rooms with a new, fully- equipped business centre.
For guests who want to relax, in addition to the restaurant and bar, there are two swimming pools, a jacuzzi, and library. The Bay Gardens has established a reputation for providing excellent value for money service. Seventy-five percent of Bay Gardens' guests are repeat clients.
BAY GARDENS INN
P.O. Box 1892 Castries
758 452 0255/8200; Fax: 452-8002
E-mail: baygardensinn@candw.lc
Website: www.baygardensinn.com
This very personable hotel is new and complements the elegant Bay Gardens Hotel. Literally just a couple of minutes away from the beautiful Bay Gardens Hotel, the Bay Gardens Inn has its own personality. Its 32 rooms are all air-conditioned. All rooms have radio alarm clock, cable television and direct dial telephone. Superior rooms come with tea and coffee facilities.
The Bay Gardens Inn, though still young, is your ideal haven for privacy, intimacy and relaxation. Equipped with restaurant, bar, pool bar, lounge bar, swimming pool and conference room, the Bay Gardens Inn can put you in the right mood.
CARA SUITES
P.O. Box 1109, La Pansee Rd., Castries
Tel: 758-452-4767; Fax: 758-453-1999
E-mail: carasuiteslc@carahotels.com
For the best in comfort, cuisine, conference services and convenience, Caribbean Style, Cara Suites is the only choice in St. Lucia. Perched on the lush hillside above the city of Castries, Cara Suites is the ultimate choice for convenient access to the airport and the city, both a mere 5 minutes drive away. For the business traveller, Cara Suites offers serenity and superlative services - views out over the city and the dazzling blue waters of the Caribbean Sea and, among other things, free access to the Business Centre. Computers, high speed internet access, colour printing, fax and photocopying services, extensive conferencing facilities and services, and capable, efficient and attentive staff - what more could you ask for? And whether on business, or just on the island to relax and enjoy the Helen of the West, our carefully designed rooms each with the views for which the hotel is renowned, choice of two bars, the swimming pool and poolside with a view, and last but not least - the superlative Mandolin Restaurant will all combine to ensure a visit you won't forget.
GREEN PARROT HOTEL
P.O. Box 648; Chef Harry Drive
Morne Fortune; Castries, St. Lucia
Tel: 758-452-3399 Fax: 758-453-2272
E-mail: greenparrot@candw.lc
The Green Parrot Hotel is a 55-room resort, tucked away on the hillside of the famous Morne Fortune, commanding a superb panoramic view of the capital city of Castries, the Vigie coastline and the turquoise waters of the Caribbean Sea.
Rooms are air-conditioned, each with private bath, shower, telephone, and cable television. The restaurant offers local and European dishes, served by Chef Harry who trained at Claridges, London, UK.
Green Parrot is proud to offer unique conference facilities for business conferences, seminars, workshops, meetings and other social events. The conference facilities can accommodate 100 persons in theatre style or 60 persons in a classroom
setting. Ask about the special business person's lunch or the "free" lunch given to all business people who celebrate their birthday during the use of one of the conference facilities. In addition to great entertainment, our guests enjoy swimming pool, bar, pool table and darts.
COCO KREOLE
CP 5664 Tel 452 0712 and 452 0943
Fax 452 0774
The result of a recent acquisition, the twenty-room Coco Kreole, formally the Candyo Inn, is well positioned to help catapult the Rodney area into a tourist haven. With a theme and design similar to an operation in Miami's South Beach, the renovated facility with rooms equipped with TV/VCR and other modern electronic accessories, cost only US$75 a night.
Coco Kreole, located in the up-market Rodney Bay area, will place you in the heart of the tourism business in St. Lucia. So if you want to feel the pulse of our night life, this is where you want to be, at Coco Kreole.
LADERA RESORT
P.O. Box, 225 Soufriere
Tel: 758-459-7323/459-5448, Fax: 758-459-5156,
Email: ladera@candw.lc
Website: www.ladera.com
Discover Ladera...You will discover one of the reasons why Ladera is known as "the high point of St. Lucia" as soon as you walk into this truly exceptional property. The view is the most breathtaking in the Caribbean and arguably in the world. Beyond the far railings, the land falls away into a steep hillside carpeted in rainforest. St. Lucia's signature peaks, the Pitons, rise massively out of the glittering sea over 1,000 feet below. To visit St. Lucia and not catch this panorama would be remiss indeed.
Ladera's collection of 6 villas and 19 suites are literally wide-open to the view and the fresh hilltop breezes. Spacious interiors, rich with polished woods, lead into terraced gardens with plunge pools surrounded by lush gardens. All other parts of the property, from the swimming pool to the resort's award-winning restaurant, Dasheene, also make the most of this exceptional location. Open to non-guests as well (reservations recommended), the restaurant serves a delicious menu of local and international specialties at both lunch and dinner. Many guests are so captivated by the resort that they never leave the grounds. Those who make the effort are rewarded with a lovely nearby beach (served by shuttle service) and an array of nearby sites and towns, pleasantly reminiscent of the way the Caribbean used to be.
RAINBOW HOTEL
Reduit Beach, Rodney Bay, Gros Islet
Tel: 758-452 0148; Fax: 758-452 0158
E-mail: rainbow@candw.lc or
reservations@rainbowstlucia.com
Website: www.rainbowstlucia.com
The Pot of Gold at the end of the Rainbow is truly the Rainbow Hotel. This newly renovated 76-room hotel is the perfect spot to get away on the beautifully lush island of St. Lucia. The Rainbow Hotel in Rodney Bay offers the ideal location in a charming and relaxing environment.
It will fulfill your every expectation for pleasure, romance and relaxation. On the beautiful sun-drenched island of St. Lucia between the soothing Caribbean Sea and the picturesque Rodney Bay Marina, this great getaway provides all the convenience and comfort you desire.
Dine at our enticing Emeralds Restaurant where the taste of authentic Caribbean cuisine combines with international flare in a unique garden ambiance, accompanied by the soothing sound of waterfalls. Enjoy tropical concoctions and a fantastic view in our intimate Emeralds Lounge.
Rainbow Hotel will give you great memories, blazing sunsets, pleasant hosts and a service specially tailored to suit your specific needs, especially if what you want is a hedonistic escape from the rigours of routine and ritual.
The Rainbow Hotel - The ideal location for your vacation in the sun, located across from the gorgeous Reduit Beach and just minutes away from the restaurants and entertainment of the popular Rodney Bay area.
SANDALS REGENCY ST. LUCIA GOLF RESORT & SPA
P.O. Box 399, Castries
Tel: 758-452-3081/9; Fax: 758-452-1012/453-7089
E-Mail: sandalslu@candw.lc
Website: www.sandals.com
Fifteen minutes from George F.L Charles airport and the city of Castries, Sandals Regency St. Lucia is situated on 210 acres of tropical greenery, edged by the Caribbean Sea. The hotel is part of the growing Sandals chain that offers excellent service and top class facilities at an all-inclusive price.
For those who want to put themselves on the leading edge of luxury, lavish one and two story suites perched atop a magnificent coral bluff with panoramic ocean views, 24 hour room service and some suites with private plunge pools are available on Sunset Bluff.
The hotel boasts the Caribbean's largest freshwater pool, with a waterfall, swim-up bar and bridges. A new 5,000 square foot swimming pool has also been added. Sandals Regency St. Lucia has a nine-hole golf course, five tennis courts, six gourmet restaurants, a health spa, fitness centre with a new cardio-vascular facility, beauty salon, gift shop and an array of water and land sports.
Sandals Regency St. Lucia has also built a new conference facility with business centre. Guests at Sandals Regency St. Lucia have full access to the facilities at all other Sandals Resorts on island.
SANDALS HALCYON ST. LUCIA
P.O. Box GM910, Castries Tel: 758-453-0222
Fax: 758-451-8435
E-mail: sandalshc@candw.lc
A short drive from Castries and George F.L. Charles Airport, Sandals Halcyon St. Lucia is the island's ultimate beach resort with its classic Caribbean architecture and tropical gardens. For couples only, this all-inclusive paradise has 170 rooms with patios or balconies overlooking the calm waters of the Caribbean Sea, gardens, swimming pools and Jacuzzis.
Facilities include three gourmet restaurants, tennis courts, watersports and a variety of great entertainment. Guests have full exchange privileges and dining at all other Sandals resorts in St. Lucia.
TROPICAL VILLAS
P.O. Box 189, Castries, St. Lucia
Tel: 758-450-8240/450-0349 Fax: 758-450-8089
E-mail: tropvil@candw.lc
Website: www.tropicalvillas.net
Tropical Villas offers St. Lucia's most exclusive and luxurious private homes for holiday rentals, from condominiums in Rodney Bay to spectacular beach and hillside retreats in Cap Estate, Vigie and Soufrière. Villas range in size from 1-6 bedrooms and all have private pools (condominiums share a pool), landscaped grounds, and are fully staffed. All villas in Cap Estate are near to an 18-hole golf course, the St. Lucia Racquet Club, two beaches and are close to Rodney Bay with its varied shops and restaurants.
The villas at Vigie are close to Vigie Beach and the Pointe Seraphine Duty Free shopping facilities. Soufrière offers peaceful surroundings in the lush rainforest. There is something for everyone. Prices for an entire villa start at US$158 per night in the summer to US$190 in the winter.
SANDALS GRANDE ST. LUCIAN SPA & BEACH RESORT
Pigeon Island Causeway P.O. Box G.I. 2247, Gros Islet
Tel: 758-455-2000; Fax: 758-455-2001
E-mail: sglmail@sgl.sandals.com
Approximately 6 miles northwest of the town of Castries on a causeway between Pigeon Island (National Landmark) and Rodney Bay, this is the newest resort to join the chain of Sandals resorts in St. Lucia.
A 284 room resort sitting on 17 acres of land that combines historic British and French flavour with the unparalleled service of Sandals, Sandals Grande St. Lucian is a magnificent new Four Diamond resort on its very own spectacular peninsular, surrounded by the Caribbean sea, where beautiful parks and historic monuments like Pigeon Island and Fort Rodney are within walking distance. It offers the Sandals world-class brand, renowned for every exclusive amenity from golf to scuba diving, an elaborate spa, sumptuous gourmet dining, ocean view accommodations, and the creative lagoon pool where guests can swim right up to their rooms. Culinary magic unfolds at 5 specialty restaurants, from signature white gloved service in a classic Italian bistro and casual beachfront dining at the Latin/Caribbean restaurant to the International Bayside Restaurant and an authentic British pub restaurant.
The hotel will provide transfers from both the Hewanorra International Airport 40 miles (1 hr. 30 min) away, and the George F.L. Charles Airport 6 miles (20 minutes) from the resort. Guests at this resort have full exchange privileges and dining at all other Sandals resorts on island.
Situated in Rodney Bay, the premier resort area in St. Lucia, Tuxedo Villas offers unmatched amenities in a perfect spot in the sun! Superb restaurants, boutiques, pubs, night-clubs, watersports, and tours are just a few of the many attractions in the area which are all within walking distance from Tuxedo Villas. We offer four one-bedroom and six two-bedroom villa suites with air conditioning, cable television, telephone, maid service, and fully furnished living/dining area and kitchenette - all across the road from the islands most beautiful stretch of golden sand beach. If you are looking for fine accommodations with that added touch of genuine care for your needs as a vacationer, Tuxedo Villas is the perfect resort for you - the most important person in the world!