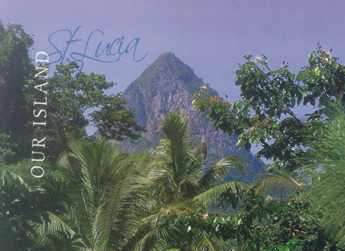 WHERE WE ARE
St. Lucia, "the Helen of the West Indies," so called because of its natural beauty, lies roughly between 60° and 61° West longitude and 13° and 14° North latitude. It is approximately 1,300 miles southeast of Florida, in the Windward Islands. These Windward Islands are part of the Lesser Antilles, which are in turn part of the West Indies. This 238-square-mile jewel is 21 miles from its nearest neighbour, the French island of Martinique, just 24 miles north of St. Vincent and 100 miles northwest of Barbados. The island possesses some of the finest natural harbours in the Caribbean and is centrally located within easy reach of the rest of the region and North America.
HOW TO GET HERE
If you're coming from North America, BWIA flies weekly from Miami and New York; American Eagle flies daily to and from Puerto Rico into George Charles Airport; US Airways flies twice weekly direct to and from Philadelphia; Air Canada has direct flights to and from Toronto and Montreal; Virgin Atlantic, British Airways and BWIA fly weekly between London and St. Lucia; Air Jamaica offers twice daily services to and from New York, as well as 23 US and Caribbean destinations.
Additionally, since its code share alliance with Delta, it serves several cities throughout the US. Air Jamaica also flies to London and Manchester via its Montego Bay Hub.
During the peak season, between mid-November and mid-March, a number of tour companies operate charters from Frankfurt, London, Toronto and various Caribbean destinations.
Inter-island travel is well serviced by LIAT, BWIA, Caribbean Star and Air Caraibes. By sea, L' Express Des Isles runs a hydrofoil service between Martinique and St. Lucia. Cruise ships tie up daily at Port Castries and Soufrière. All the major lines call in and are represented in St. Lucia by Cox and Company Ltd. or Minvielle and Chastanet Ltd.
For visitors arriving by private or chartered yacht, moorings are available at the fully serviced Rodney Bay Marina, a picturesque lagoon on the northern tip of St. Lucia, at the Moorings Marina at Marigot Bay (a famous hurricane hide-out) or at Castries Yacht Centre, located at the entrance of Castries Harbour.
When entering St. Lucia, American and Commonwealth citizens need to carry proof of citizenship, a birth certificate, some form of photo ID and or passport, and a return or onward ticket. Other visitors need a passport along with return or onward tickets. Some countries do require visas. Valid vaccination certificates are required of travellers entering from infectious areas. When leaving St. Lucia, non-nationals are required to pay a departure tax of EC$54 (US$21) per person (credit cards not accepted).
FINANCIAL MATTERS
St. Lucia's currency is the Eastern Caribbean dollar. Currency exchanges can be made at banks, most major hotels and at Pointe Seraphine, one of two duty-free shopping complexes at Castries. If you are operating with US funds, then the exchange rate is about $2.70 EC to $1.00 US. The rate is around $2.60 EC if you purchase local currency at stores or hotels. On the other hand, if you plan to use the Euro dollar, then the exchange rate is about $2.53 EC to $ 1.00 Euro.
Banking hours are generally from 8 am to 3 pm, Monday through Thursday, and Friday from 8 am to 5 pm. Banks are closed on weekends and holidays, however, Bank of Nova Scotia, FirstCaribbean International Bank, Bank of Saint Lucia and the Royal Bank of Canada have Saturday morning hours at their sub-branches in and around the Rodney Bay Marina. Most major credit cards are accepted at St. Lucia's shops and restaurants. Royal Bank of Canada has ATM machines that accept major credit cards also.
PRACTICAL MATTERS
While the main language in St. Lucia is English, a French based Creole is also spoken because of St. Lucia's dual British-French heritage.
The climate is tropical, with temperatures ranging from the mid-seventies to the mid-eighties (25 to 30 Celsius). During the hottest time of the year, from June to August, temperatures can reach the mid-nineties (32 Celsius). Things are kept pretty cool however, by the constant trade-winds. Average rainfall ranges from 60 inches in the coastal regions to 160 inches in the interior rain forests. The rainy season is from June to October, but even then, showers tend to last a short time.
Electricity is available for the most part at 220 volts, 50 cycles AC and unless you are coming from Europe, you will need an adapter for your travel appliances.
Telecommunications services in St. Lucia have become recently revolutionized since the marketplace has become more liberalized. Consequently, services are provided by Cable & Wireless (WI) Ltd., Digicel and AT&T Wireless. What this means is that communications between family and friends the world over, and for business executives, has become easier and more affordable.
Cable & Wireless offers a range of services including international direct dialing to over 180 countries worldwide; mobile cellular services; credit card calling and among others, public payphones.
Digicel's network, based on superior GSM technology, has introduced state-of-the art technology, smart new handsets, innovative and competitive rate plans, to an otherwise ailing mobile communications market.
AT&T Wireless subscribers can take advantage of its Global System for Mobile Communications (GSM) and general Packet Radio Service (GPRS) networks for faster data transmission.
So if you are on island, or planning to vacation here, now you have many options to satisfy your telecommunications needs.
St. Lucia lies in the Atlantic Standard Time zone - four hours behind Europe, five during daylight savings time. It is one hour ahead of North American Eastern Standard Time all year round.
STORE HOURS
Store hours throughout the Castries circuit vary, but are generally from 8:30 am to 4:30 pm Monday through Friday, and from 8 am to 12:30 pm on Saturday. Stores at the Gablewoods Shopping Mall at Sunny Acres are open from 9 am to 7 pm. Stores at J.Q. Charles Shopping Mall in Rodney Bay are open from 9 a.m. to 7 p.m. Mondays to Thursdays and 9 a.m. to 8 p.m. Fridays and Saturdays. Most are closed on Sunday.
MAJOR SUPERMARKETS
Julian's Supermarket outlets are located island wide, but the Rodney Bay facility has extended shopping hours and stays open seven days a week. J.Q.'s Supermarket branches are also located island wide, and the outlet at the Rodney Bay Mall also offers extended shopping hours and stays open seven days a week.
CHURCH SERVICES
Most St. Lucians are Roman Catholic, but other denominations include Anglican, Methodist, Baptist, Seventh Day Adventist, Pentecostal, Christian Science, and the Salvation Army. Services are held early every Sunday, and larger churches hold services on Saturday evenings as well. Information on services is available at most hotels.
SERVICE CLUBS
Rotary International: St. Lucia Clubs meet at 12:30 pm on Tuesdays at the Royal St. Lucian Hotel in Rodney Bay; on Wednesdays at Juliette's Lodge in Vieux Fort; on Fridays at Sandals Halcyon St. Lucia at Choc Bay.
Lions Club: 1st and 3rd Thursday each month at Lions' Den in Sans Souci; 2nd and 4th Thursday each month at Glencastle Resort in Gros Islet.
Kiwanis: 8 pm on Thursdays at Green Parrot Hotel in Castries; 5:30 pm on Tuesdays at Green Parrot Inn in Castries; 7:30 pm at Chak Chak Restaurant in Vieux Fort.
GETTING AROUND
Taxis are a popular means of getting around. Drivers are well informed and friendly and are familiar with the points of interest. Before you hire a taxi for a day, settle on the price. Fares are standard to all destinations. For your comfort, all taxis are specially marked.
There are several reputable car rental companies on the island. Drivers need to purchase a local driving permit, which is issued on the presentation of a foreign or international license. Local permits are obtained from the immigration offices at Hewanorra and George F. L. Charles Airports and issued by the major car rental agencies.
All towns and villages are connected to major roads. It takes roughly one hour to drive from Castries to Vieux Fort along the east-coast road, fifty minutes from Vieux Fort to Soufriere, and forty-five minutes from Soufriere to Castries along the west-coast road. Further inland, some roads may be difficult to negotiate. It is important to remember that in St. Lucia we drive on the left.
WHAT TO WEAR
Due to the tropical climate, summer clothes are worn all year round, cottons being prevalent. During the cooler evenings, you might need a pullover. Casual resort wear is the norm for men during the day however in some restaurants the dress code stipulates jackets and trousers in the evening. Otherwise, the rule is cool and casual. Swimwear should be reserved for the beach and is not appropriate on the street or in town.