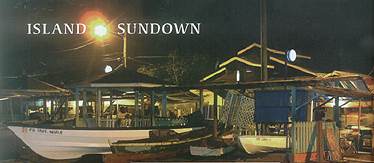 Even after the sun goes down the fun does not stop. The first order of business is to ask what's on after dinner at your hotel. Once you have confirmed that you have some hours to kill after 10:00pm, then you can plan to do the traditional restaurant or nightclub lime, in which case you would beat the circuit primarily in the Rodney bay area, which is in the north of the island.
You have many choices that promise good food and happy hour all night long; Indies Night Club, for the hottest mix of Caribbean and international music; The Late Lime restaurant for live music, karaoke, and great food. Further more, Visions has learned that some of the newer restaurant flavours include Scuttlebutts. These all provide great opportunities to relax and let your hair down while you feel the island pulse.
But: if you are a little more daring, and want a taste of the not so ordinary, then you can rendezvous along the east or west coast, or travel down to the southern town of Vieux Fort, for All the Fish you can eat. You should not leave this paradise before you have tasted of the island fish...
FRIDAY SEAFOOD Anse la Raye
This village, just south of Castries, on the West Coast, offers a Friday night fish feast as you like it. This is really what St. Lucians would describe as a nice lime. More than that though, it is a showcase of our culture, our food and how we can have a good time. The streets pulse with life and you can try to bargain for the best price on your juicy piece of fish, but the vendors have it down to pat! Just chill with a snapper or lobster, or any other fish in season, and remember it does not happen like this anywhere else in the world!
In the most natural setting, you can browse, chat, and certainly enjoy our fish, our way, with your friends and family. You can enjoy a soft sea breeze, or you can shake a leg or two once the music starts and for a split second you will think that you should have been born here, because all this is too good to be true. The atmosphere is festive yet casual and relaxing and offers an authentic taste of island life.
FISH FIESTA Dennery
On the East Coast, about 45 minutes from Castries, in the village of Dennery, the promise of delectable, home cooked fish-on-the-beach comes alive. Check it out, weekends. You will have more fun if you go with friends.
SWARE Vieux Fort
The newest hottest street party moves to the south of the island. Every Friday, it is eat all the fish you can, in true island style, to the beat of rhythmic Caribbean music. If you are in the north and you want to explore, feel free to hop on a cab with friends and take either the east coast or the west coast down. Whichever way you travel, you will have a whale of a time.
STREET PARTY Gros Islet
The original street party lime. Gros Islet Night on Friday evenings - just goes on and on. Think of it as your favourite song and you can let the beat go on and on. Every Friday night the barbecue grills come out onto the sidewalks and glowing coals sizzle beneath chicken and conch kebabs. All the bars down Gros Islet's main street are a hive of activity with visitors and St. Lucians. Speakers set up on street corners keep the audience hopping with a variety of Caribbean rhythms. One word of advice before you go: dress casually and remember there is always safety in numbers.
Now if you are still not satisfied, then ask about J.J.s PARADISE in Marigot Bay, a great place to party. On weekends you can party to a live band, while you enjoy food and a fun atmosphere out of town. Seafood Night at J.J.'s Paradise is not to be missed. To top it off, all night is happy hour. Enjoy all you can drink at very affordable rates, while you enjoy your snacks overlooking the sea. Due to the popularity of Seafood Night on Wednesdays, J.J. recommends that diners make reservations. Call 451-4076 or VHF 16 if you are coming by boat.
SUNSET CRUISES
This is where you ask the all important question - is this the beginning of the end or the end of the beginning ... You can spend the day in abject fun, and you can still choose an original way to continue the evening with a Sunset Cruise which departs at 5 pm and sails the west coast while the sun disappears beneath the horizon. Depending on the vessel, you might enjoy champagne, rum punch and soft drinks. The most popular sunset cruises are offered right here in Simply Beautiful St. Lucia. Ask your tour operator or at your hotel tour desk for more information.