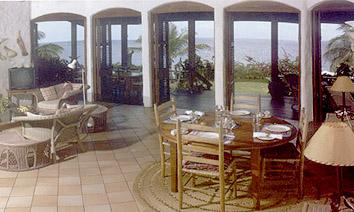 HOMES AND LOTS
There is no doubt that St. Lucia is a beautiful place. Having come on vacation once, or twice, the passion for this great land may just become unbearable and you cannot get rid of thoughts about purchasing a home. For those seeking the privacy of a home or vacation villa, many well-established areas still have lots available or homes for resale in some very scenic spots.
CAP ESTATE
Once a sprawling sugar estate, Cap Estate is now in a mature stage of development. Land prices vary according to the location within its 1,500 acres. The views range from the Caribbean side and Pigeon Island, to centre island looking toward the Pitons, to the wide expanse of sea northward toward Martinique, to the wind-swept beaches of the Atlantic. Many lots on the hill overlooking the old plantation portion have sweeping panoramic views. Most are a generous half- or one-acre in size. Although some of Cap Estate's roads leave a lot to be desired, the lots on sale are good value for money.
Special amongst these is the newest sub-division called Mount Hardy. Here, at a higher elevation, and enjoying the best of the cooling trade winds, the views are quite spectacular including both Atlantic Ocean and Caribbean Sea, and also North across the channel to Martinique. The first section has 27 plots, most averaging around 1/3rd acre, in a price range of US$55,000 to US$130,000 per plot. A few homes are usually available for resale, so check with one of the island's real estate agents.
RODNEY BAY
Conceptualized in the early '70's for residential living, Rodney Bay, regarded as St. Lucia's premier leisure community has over the years re-defined the nature of developments to include a wider cross section of living, shopping and entertainment.
Expected to come on stream during the next twelve months is Rodney Estates. This 45 acre development sits alongside the main highway and entrance to the Causeway Bay and Pigeon Point. According to the Master Plan, this development will include large plantation style homes looking down on the sparkling blue waters of the Caribbean Sea, while along the perimeter a mix of business and entertainment will also be a part of this development.
BONNE TERRE
This development lies to the east of Rodney Bay. It offers wonderful views of the Caribbean side, including the marina, and the Atlantic coastline. Lots here are of a reasonable price and size. Again, existing homes are sometimes available for sale.
MARIGOT BAY
Marigot Bay's setting epitomizes the word "tropical." The quiet bay is surrounded by lush, green, undisturbed nature and is a favourite with yachtsmen because of its seclusion and safe anchorage. The recently resurfaced highway makes the site just a 10 to 15 minute drive south of Castries. Contact a local estate agent for help.
DISCOVERY AT MARIGOT BAY
If you have fallen in love with St. Lucia, you can now have a place of your own in one of the most beautiful locations on the island, stunning Marigot Bay.
Discovery at Marigot Bay is St. Lucia's newest and most luxurious spa, marina and apartment resort. Even before the start of construction, buyers have been snapping up the beautifully appointed one-, two- and three-bedroom apartments for their hassle free investment potential.
A total of 58 apartments will be built each designed with special lock-off facilities which allow them to be converted into around 118 hotel units offering a range of options including one bedroom suites, two bedroom suites and conventional hotel rooms.
In a unique arrangement, the net profits from lettings to hotel guests will be shared between apartment owners and the hotel on a 50/50 basis. There are absolutely no management fees to be paid. In addition, the developer, Doubloon International Ltd, guarantees owners a minimum 6% cash return per annum for the first two years - a clear reason the project has proved so popular with international investors. Other benefits include up to seven weeks free use each year for owners generating a composite return of around 11%, half in cash and half in fun!
Discovery at Marigot Bay is also part of World's Finest Resorts which means owners can enjoy their weeks in their own apartment in St. Lucia or at a number of other affiliated resorts around the world.
Scheduled for completion early 2005, the project, which was designed by international award-winning architects Denton Corker Marshall, will include a fully equipped fitness centre, top notch spa, yacht mooring facilities, a fine dining restaurant and a dockside café.
To view a site model and detailed plans for Discovery at Marigot Bay, visit the Discovery Information Centre on the ground floor of the Scotia Bank Building in Rodney Bay or telephone (+1) (758) 458 0790.
CONDOMINIUMS & TOWNHOUSES
If a private home is more than you're looking for, St. Lucia has several condominium and townhouse developments. These have proved to be good investments. Most are located near beaches and on the lagoon and marina-front in Rodney Bay. The benefits of common management appeal to many. Re-sales are sometimes available, check with your real estate agent. The following are new developments that are either planned or under construction.
BAYVIEW
The Latest Marina-front development in Rodney Bay by experienced local developer Bernard Johnson, the last twelve (of 18 total) townhouses are now approaching completion. Every unit faces out over the Marina, and dock space is available. All units will be fully air-conditioned. There are nine 2 bedroom, 2 and one half bathroom units, and three very spacious 3 bedroom, 3 and one half bathroom units in this last phase. Prices from US$275,000.00.
ST. LUCIA GOLF & COUNTRY CLUB
The northernmost point of the island of St. Lucia is occupied by one of the prime and exclusive real estate areas in St. Lucia, Cap Estate. This is the perfect place to build a dream home for the World Cup 2007 Cricket matches taking place in St. Lucia.
Major attention was given to this area when the existing 9-hole course was skillfully enlarged to produce a superb 18-hole championship layout through mature wooded slopes and valleys. The St. Lucia Golf & Country Club is the island's only fully irrigated 18-hole Par 71, 6829 yd facility with a complete Restaurant, Bar and Pro-Shop. The course is a beautiful and challenging one that accommodates players of all skill levels.
The areas around the golf course are surrounded by rich natural beauty and stunning views. There are many phases of exclusive residential communities now in development. Imagine owing a home with views of the Atlantic Ocean and the neighbouring French island of Martinique. Imagine being part of an exclusive community that offers amenities and recreational services such as a new championship golf course, beaches, a health spa, luxury golf clubhouse, scuba-diving, snorkeling, volley-ball, kayaking, hiking, biking, tennis and big game fishing.
The developments of Cap Estate Properties offer residents and visitors a variety of choices in land and home ownership. The new developments include Villas on the Green, Sea Breeze Hills, Sea Breeze Heights, Sea Star Residential, Sea Spa Hotel and a Jack Nicklaus Golf Course, Clubhouse and Residential development. Two of these amazing communities are now in development; Villas on the green and Sea Breeze Hills.

The 'Villas on the Green', which is a part of the existing St. Lucia Golf & Country Club, is an exclusive residential community with only fifteen lots available with breathtaking views of the golf course and the Atlantic Ocean. These villas will be conveniently located within the course and residents of this community will have the special privilege of having a superb golf course right on their door-step! These awe-inspiring lots range in size from 49,956 to 67,576 square feet.

Sea Breeze Hills is a gated community with exceptional views of the Atlantic Ocean and neighbouring French island of Martinique. This development offers its residents the convenience of prime real estate that are fully serviced and twenty-four hour security. One of three options for homes is the four-bedroom/four bath dream house with a swimming pool and green gardens.
In the near future, the other exclusive subdivisions will begin their transformation to become ideal residential or vacation communities with exceptional recreational and entertaining amenities. These areas are also within minutes of St. Lucia's social and cultural center, Rodney Bay. The world-renowned Pigeon Island National Park; where the St. Lucia Jazz festival is held, the Beausejour Cricket Stadium; home of World Cup 2007 matches and the Rodney Bay Marina; the final destination of the Atlantic Rally for Cruisers (ARC) are all near 'Villas on the Green' and Sea Breeze Hills.
For more information on the limited offer for the luxury home sites in and around the golf course, please contact the Cap Estate Offices in St. Lucia or in the US.
Cap Estate St. Lucia Ltd, P.O. Box 328, Castries, St. Lucia, Tel: (758) 450 8522. Cap Estate Corp., 1159 E. North Street, Bradley, Illinois, 60915. USA, Tel: (815) 936 4006. Or visit our website www.Cap-estate.com
RESORT DEVELOPMENTS
A growing trend for those who may not visit every year, or only for one or two weeks when they do come, is to buy/lease into a resort complex. Some (like Marigot) are small and intimate; others are much larger hotel-type complexes.
PURCHASING PROCEDURES
Persons from overseas require a government license in order to purchase property in St. Lucia. Each license is for a specific property so purchasers must secure their land or house with a deposit. License applications are handled by a local lawyer who also carries out title searches and draws up the deed of sale. A government license fee of 10% is payable and other charges such as legal fees and stamp duties amount to 6 - 7% of the property price. Land must be developed within two years of purchase. Thereafter, there are no restrictions on renting or selling.
REAL ESTATE AGENCIES
Home Services Ltd., in Rodney Bay, an independent real estate agent, offers a variety of services, including property management, real estate sales, appraisals, rentals and property development. Twenty years' experience in the real estate business in St. Lucia. 452-0450; Fax: 452-0071.
VILLA SALES AND RENTALS
Tropical Villas Ltd. Property management, sales and rental. 450-8240, Fax: 450-8089.
The developments listed here are not meant to constitute a complete listing of the properties available in St. Lucia. To make sure you have the opportunity to explore all the options, contact a local real estate agency to assist you in selecting your St. Lucian home.