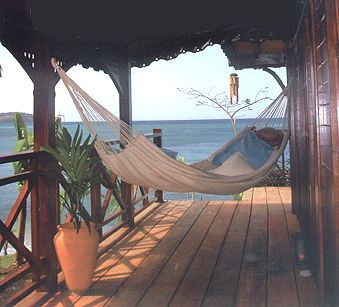 From resort hotels to intimate inns and guest houses, St. Lucia has a wealth of accommodations to choose from. Visitors will find the perfect place to suit their taste and budget. Our "Island Hotels" features some of the most popular places to say on the island.
AUBERGE SERAPHINE
P.O. Box 390 Castries, St. Lucia
758-456-3000/453-2073/4/7
Fax: 758-451-7001
E-mail: auberge@candw.lc
www.aubergeseraphine.com
Auberge Seraphine is a 28-room hotel overlooking Vigie Yacht Marina, nestled in a mangrove where wild birds roost. Standard and superior rooms with patios are air-conditioned and most look out onto the marina. All rooms have cable television and direct dialing telephone. Centrally located, Auberge Seraphine is five minutes from the island's capital, Castries and Duty Free Pointe Seraphine.
This small hotel is particularly popular with travellers who have business in the city and want to be near to the airport. The service is impeccable and the tariffs are reasonable. Facilities include an excellent restaurant, bar and swimming pool. There is access to a fitness centre, which is five minutes away from the hotel.
CARIBBEAN JEWEL RESORT
P. O. Box GM503, Castries
Tel: 758-452-9199
Fax: 758-452-9198
Email: caribbeanjewel@candw.lc
www.caribbeanjewelresort.com
Nestled on an unspoiled mountainside sloping to scenic Rodney Bay, The Caribbean Jewel Beach Resort is a secluded and idyllic Caribbean retreat. With picturesque views of Rodney Bay including Pigeon Island and neighboring Martinique, this small resort offers one of the finest views in St. Lucia.
In addition to being secluded and private, it is located right next to all of the island's leisure and vacation amenities. Shops, restaurants, and international marina and the island's best beach are all at the foot of the property. The intimate setting of the Caribbean Jewel is complete with spacious rooms, which are luxuriously appointed, each with a dramatic view of the bay and the Caribbean Sea. A holiday in our tropical paradise is truly an unforgettable experience at the Jewel of the Caribbean.
THE BODY HOLIDAY AT LE SPORT
P. O. BOX 437, CASTRIES
758-457-7800; FAX: 758-450-0368
Reservations: UK and Europe 0870 220 2344
USA and Canada 1 800 544 2883
Website: www.thebodyholiday.com
If you're like hundreds of people each year, you're searching for a memorable holiday that combines an active beach holiday with your favourite sports, great food, exercise programmes and personal service.
Your holiday price includes an hour of body treatments daily and activities not included in any spa in the world. The body treatments are designed to rejuvenate you from your scalp to your toes and include an array of therapies designed by Elemis and using Elemis products.
You'll enjoy a variety of activities, from an 18-hole championship golf course, where even the green fees are included, the new tennis courts, scuba diving on the visually breathtaking coral reef, to Master Class programmes – value that can't be matched. The BodyHoliday at LeSPORT proves over and over again that they are one of travel's best gems and one of travel's best values.
Best of all The BodyHoliday has a unique interactive website that allows you to totally customize your holiday experience before you arrive.
Once your day is complete, or even for a mid-afternoon nap, you'll enjoy your luxurious room, most with four-poster beds but all with the amenities of a first-class resort. With only 154 rooms and suites available, all their rooms get booked quickly. Give us your body for a week…we'll give you back your mind.
BAY GARDENS HOTEL
P.O. Box 1892, Castries
Tel: 758-452-8060
Fax: 758-452-8059
E-mail: baygardens@candw.lc
www.baygardenshotel.com
This award-winning, small, intimate hotel is situated on the south side of Rodney Bay, within easy reach of Reduit Beach, shopping centres, restaurants and night clubs. The hotel has 71 air-conditioned rooms each with terrace or balcony, bathroom, cable television, direct dial telephone with Voice mail, data ports, radio, 110/220 power outlets and refrigerator.
Bay Gardens is popular with corporate travellers. The hotel has three conference rooms with a new, fully- equipped business centre.
For guests who want to relax, in addition to the restaurant and bar, there are two swimming pools, a jacuzzi, and library. The Bay Gardens has established a reputation for providing excellent value for money service. Seventy-five percent of Bay Gardens' guests are repeat clients.
BAY GARDENS INN
P.O. Box 1892 Castries
758 452 0255/8200
Fax: 452-8002
E-mail: baygardensinn@candw.lc
www.baygardensinn.com
This very personable hotel is new and complements the elegant Bay Gardens Hotel. Literally just a couple of minutes away from the beautiful Bay Gardens Hotel, the Bay Gardens Inn has its own personality. Its 32 rooms are all air-conditioned. All rooms have radio alarm clock, cable television and direct dial telephone. Superior rooms come with tea and coffee facilities.
The Bay Gardens Inn, though still young, is your ideal haven for privacy, intimacy and relaxation. Equipped with restaurant, bar, pool bar, lounge bar, swimming pool and conference room, the Bay Gardens Inn can put you in the right mood.
For a relaxing getaway, or a corporate retreat, Bay Gardens Inn offers the amenities for any occasion.
GREEN PARROT HOTEL
P.O. Box 648; Chef Harry Drive
Morne Fortune; Castries, St. Lucia
Tel: 758-452-3399 Fax: 758-453-2272
E-mail: greenparrot@candw.lc
Website: www.greenparrotinn.com
The Green Parrot Hotel is a 55-room resort, tucked away on the hillside of the famous Morne Fortune, commanding a superb panoramic view of the capital city of Castries, the Vigie coastline and the turquoise waters of the Caribbean Sea.
Rooms are air-conditioned, each with private bath, shower, telephone, and cable television. The restaurant offers local and European dishes, served by Chef Harry who trained at Claridges, London, UK.
Green Parrot is proud to offer unique conference facilities for business conferences, seminars, workshops, meetings and other social events. The conference facilities can accommodate 100 persons in theatre style or 60 persons in a classroom setting. Ask about the special business person's lunch or the "free" lunch given to all business people who celebrate their birthday during the use of one of the conference facilities. In addition to great entertainment, our guests enjoy swimming pool, bar, pool table and darts.
LADERA RESORT
P.O. Box, 225 Soufriere
Tel: 758-459-7323/459-5448 Fax: 758-459-5156
Email: ladera@candw.lc
Website: www.ladera.com
Discover Ladera...You will discover one of the reasons why Ladera is known as "the high point of St. Lucia" as soon as you walk into this truly exceptional property. The view is the most breathtaking in the Caribbean and arguably in the world. Beyond the far railings, the land falls away into a steep hillside carpeted in rainforest. St. Lucia's signature peaks, the Pitons, rise massively out of the glittering sea over 1,000 feet below. To visit St. Lucia and not catch this panorama would be remiss indeed.
Ladera's collection of 6 villas and 19 suites are literally wide-open to the view and the fresh hilltop breezes. Spacious interiors, rich with polished woods, lead into terraced gardens with plunge pools surrounded by lush gardens. All other parts of the property, from the swimming pool to the resort's award-winning restaurant, Dasheene, also make the most of this exceptional location. Open to non-guests as well (reservations recommended), the restaurant serves a delicious menu of local and international specialties at both lunch and dinner. Many guests are so captivated by the resort that they never leave the grounds. Those who make the effort are rewarded with a lovely nearby beach (served by shuttle service) and an array of nearby sites and towns, pleasantly reminiscent of the way the Caribbean used to be.
FOUR SPRINGS VILLAS
Bonne Terre, St. Lucia
Tel: 758-452-0028, 484-6940, 716-4799
Email: fsv@candw.lc
www.fourspringsvilla.com
Come stay with us is just our way of saying "Welcome Home." Conveniently located in the north of the island near to Rodney Bay Village, our Property is newly built and is located minutes away from an array of Restaurants, Supermarkets, Shopping Malls, Beaches, Banks, Internet Cafe's, Night Clubs, and Gymnasium for all of your recreational, financial or business preference.
Our spacious accommodations comprising of 1 and 2 bedroom luxuriously Caribbean style furnished suites. Enjoy serene moments on your private porch or simply relax in your fresh water pool. If you are looking for a truly romantic and relaxing getaway, escape to the breath taking tranquility of Four Springs Villa.
All of our Suites provides the comfort of Air Conditioning, ceiling fan, 24hrs cable TV, 110/220v outlets, clock/radio, in room safe at no extra cost, refrigerator, cooker, microwave oven, washing machine, sofa bed, cell phone with complimentary phone cards if staying 7 nights or more, security and maid service is also part of our standard feature. Four Springs Villa is just 5 minutes away from the hub of St. Lucia's tourist activities, yet it offers the quiet ambiance of living in paradise.
CARA SUITES
P.O. Box 1109, La Pansee Rd., Castries
Tel: 758-452-4767; Fax: 758-453-1999
E-mail: carasuiteslc@carahotels.com

or the best in comfort, cuisine, conference services and convenience, Caribbean Style, Cara Suites is the only choice in St. Lucia. Perched on the lush hillside above the city of Castries, Cara Suites is the ultimate choice for convenient access to the airport and the city, both a mere 5 minutes drive away. For the business traveller, Cara Suites offers serenity and superlative services - views out over the city and the dazzling blue waters of the Caribbean Sea and, among other things, free access to the Business Centre. Computers, high speed internet access, colour printing, fax and photocopying services, extensive conferencing facilities and services, and capable, efficient and attentive staff - what more could you ask for? And whether on business, or just on the island to relax and enjoy the Helen of the West, our carefully designed rooms each with the views for which the hotel is renowned, choice of two bars, the swimming pool and poolside with a view, and last but not least - the superlative Mandolin Restaurant will all combine to ensure a visit you won't forget.
CALABASH COVE
P. O. Box 1765, Castries Bonaire Estate, Marisule
Tel: 758-456-3500 Fax: 758-450-3302
E-mail: calabashcove@candw.lc
www.calabashcove.com
Calabash Cove Inn and Sanctuary is the newest addition to St. Lucia's increasingly diverse accommodation options. Located on the northwest coast of the island, Calabash Cove enjoys a most idyllic setting in the sheltered bay of Bonaire Estate. The Inn consist of 23 oversized one bedroom mahogany and teak villas, each with indoor roman baths, outdoor rain showers, air-conditioned bedrooms, large living rooms, lanai's with hammocks and rocking chairs for relaxing and reading. Cable TV, fans and phones with I-net. Some villas have private salt water plunge pools. All have unobstructed ocean views. A personalized welcome service awaits you.
Amenities include an intimate cocktail bar overlooking the ocean with low-key piano music, half moon shape restaurant serving Creole and Far Eastern fusion cuisine, a cosy music room and Caribbean library with honor bar available. The infinity pool dubbed Sweetwaters is located at the end of a natural rock waterfall. The pool furniture is made of exotic wood for relaxing. A cocktail service is available.
Nature is in abundance at Calabash Cove with local flora, miniature cane fields, pineapple groves, banana patches, lily pond, stone garden and several places of rest, complemented by water features and the gentle tinkling melodies of wind chimes.
Calabash Cove is owned by Calabash Cove Resorts Limited, a St. Lucian company, and managed by Cariboutique Hotels Inc., a management company specializing in the design and management of Luxury Boutique Hotels.
Calabash Cove was presented to the International Travel Trade and Travel Press in London, San Juan, Berlin, New York and Los Angeles to great reviews and high levels of anticipation.
RENDEZVOUS
P. O. Box 190, CASTRIES
758-457-4900; FAX: 758-452-7419
Reservations: UK and Europe 0870 22 2344
USA and Canada 1 800 544 2883
Website: www.theromaticholiday.com
Great couples have finally found their place in the sun. Whether you're looking for that special place at which to get married, celebrate an anniversary or just celebrate your special relationship, Rendezvous, St. Lucia is your best choice. And while some couples-only holidays get in your face with holiday camp games and loud music on the beach, Rendezvous gets in your heart with an idyllic time, in an idyllic place. In other words, Rendezvous is for discerning couples who like the idea of a Couples Only Resort but don't like the mass market approach.
No other couples-only resort in the Caribbean offers you such a high standard of choice, luxury and comfortable accommodations. And because they know that on a romantic couples-only holiday the luxury and ambiance of your room is important, they've recently spent seven million dollars to offer you air-conditioned rooms, king-size 4-poster beds and Italian marble bathrooms.
Rendezvous offers you an amazing menu of activities, glorious food and drink, first-class accommodation, a full program of land sports such as archery, aerobics, tennis, volleyball and cycle-tours combined with a full program of water sports such as water-skiing, scuba, kayaking, and windsurfing. On or under the sea, no other resort offers you finer instruction or finer equipment. The two floodlight tennis courts are of championship calibre and come with the attention of professional instructors.
COCO KREOLE & COCO PALM Resorts
Rodney Bay Village
Tel: 758-452 0712/0943 Fax 452 0774
Email: reservations@coco-resorts.com
Website: www.coco-resorts.com
Having completed restoration work on the 20 room Coco Creole which went into operation in November 2003, proprietor and developer Allen Chastanet is pursuing his expansion plans, and is preparing for the launching of the 84 room Coco Palm, which is scheduled to open its doors in April 2005 and represents phase two of a multi-million dollar complex.
Coco-Resorts offer the savvy traveler an opportunity to enjoy an authentic Caribbean experience. Its philosophy is to blend old world charm with modern day amenities at affordable prices. Each hotel is designed with a distinct Caribbean décor yet all rooms include Wi-Fi, cable TV, DVD, CD player, cordless phone, mini-refrigerator and each features paintings by a different Caribbean artist. Rates begin at US$80 per room and include continental breakfast.
The trademarks of Coco-Resorts are its "Hosts", individuals who are cross-trained and dedicated to specific rooms with the aim of personalizing each guest's experience and a simplified check-in/check-out procedure which eliminates the traditional registration desk.
Coco Palm, is built on the six acres of land adjacent to sister Coco Kréole in Rodney Bay Village. It provides an additional 84 rooms and suites, two pool bars, a Havana bar and Creole restaurant.
Coco Palm not unlike Coco Kréole will have a strong French Caribbean plantation style. The décor will reflect the informal creole flair with dark wood mixed with warm colours. The 72 rooms and 12 suites will have all the modern day comforts while offering guests a laid back tropical ambiance. Guests at Coco Palm will have choice from ground floor rooms with patios or poolside rooms with direct access to the pool. Rooms on the first, second and top floor, which are accessible by both an elevator and stairs, will have bay windows with panorama views of Rodney Bay Village and marina.
Each of the bathrooms will have large sunflower showerheads offering the popular 'rain shower' sensation. Also in the showers will be hand held shower heads along with a built in ledge for sitting – ideal for both the young and old. All rooms will be decorated with original Caribbean art with unique prints reflecting the Caribbean. The guest rooms will be cooled by both air conditioners and ceiling fans and will include CD players, TV's with DVD's and mini bars with an extensive music and DVD library available to guests.
Coco Palm's twelve suites, which will be approximately 500 square feet, will have spacious bathrooms, a walk- in closet along with a jacuzzi tub and separate shower. The sitting area can be used as an entertainment area or extra room for kids, which has its own bath and shower. Opening rates for Coco Palm will start at US $100 to $250 per room/per night, double occupancy.
TROPICAL VILLAS
P.O. Box 189, Castries, St. Lucia
Tel: 758-450-8240/450-0349
Fax: 758-450-8089
E-mail: tropvil@candw.lc
Website: www.tropicalvillas.net
Tropical Villas offers St. Lucia's most exclusive and luxurious private homes for holiday rentals, from condominiums in Rodney Bay to spectacular beach and hillside retreats in Cap Estate, Vigie and Soufrière. Villas range in size from 1-6 bedrooms and all have private pools (condominiums share a pool), landscaped grounds, and are fully staffed. All villas in Cap Estate are near to an 18-hole golf course, the St. Lucia Racquet Club, two beaches and are close to Rodney Bay with its varied shops and restaurants.
The villas at Vigie are close to Vigie Beach and the Pointe Seraphine Duty Free shopping facilities. Soufrière offers peaceful surroundings in the lush rainforest. There is something for everyone. Prices for an entire villa start at US$158 per night in the summer to US$190 in the winter.
SANDALS GRANDE ST. LUCIAN SPA & BEACH RESORT
Pigeon Island Causeway
P.O. Box G.I. 2247, Gros Islet
Tel: 758-455-2000; Fax: 758-455-2001
E-mail: sglmail@sgl.sandals.com

Approximately 6 miles northwest of the town of Castries on a causeway between Pigeon Island (National Landmark) and Rodney Bay, this is the newest resort to join the chain of Sandals resorts in St. Lucia.
A 284 room resort sitting on 17 acres of land that combines historic British and French flavour with the unparalleled service of Sandals, Sandals Grande St. Lucian is a magnificent new Four Diamond resort on its very own spectacular peninsular, surrounded by the Caribbean sea, where beautiful parks and historic monuments like Pigeon Island and Fort Rodney are within walking distance. It offers the Sandals world-class brand, renowned for every exclusive amenity from golf to scuba diving, an elaborate spa, sumptuous gourmet dining, ocean view accommodations, and the creative lagoon pool where guests can swim right up to their rooms. Culinary magic unfolds at 5 specialty restaurants, from signature white gloved service in a classic Italian bistro and casual beachfront dining at the Latin/Caribbean restaurant to the International Bayside Restaurant and an authentic British pub restaurant.
The hotel will provide transfers from both the Hewanorra International Airport 40 miles (1 hr. 30 min) away, and the George F.L. Charles Airport 6 miles (20 minutes) from the resort. Guests at this resort have full exchange privileges and dining at all other Sandals resorts on island.
SANDALS HALCYON ST. LUCIA
P.O. Box GM910, Castries
Tel: 758-453-0222 Fax: 758-451-8435
E-mail: sandalshc@candw.lc

A short drive from Castries and George F.L. Charles Airport, Sandals Halcyon St. Lucia is the island's ultimate beach resort with its classic Caribbean architecture and tropical gardens. For couples only, this all-inclusive paradise has 170 rooms with patios or balconies overlooking the calm waters of the Caribbean Sea, gardens, swimming pools and Jacuzzis.
Facilities include three gourmet restaurants, tennis courts, watersports and a variety of great entertainment. Guests have full exchange privileges and dining at all other Sandals resorts in St. Lucia.
SANDALS REGENCY ST. LUCIA GOLF RESORT & SPA
P.O. Box 399 Castries Tel: 758-452-3081/9
Fax: 758-452-1012/453-7089
E-Mail: sandalslu@candw.lc
www.sandals.com
Fifteen minutes from George F.L Charles airport and the city of Castries, Sandals Regency St. Lucia is situated on 210 acres of tropical greenery, edged by the Caribbean Sea. The hotel is part of the growing Sandals chain that offers excellent service and top class facilities at an all-inclusive price.
For those who want to put themselves on the leading edge of luxury, lavish one and two story suites perched atop a magnificent coral bluff with panoramic ocean views, 24 hour room service and some suites with private plunge pools are available on Sunset Bluff.
The hotel boasts the Caribbean's largest freshwater pool, with a waterfall, swim-up bar and bridges. A new 5,000 square foot swimming pool has also been added. Sandals Regency St. Lucia has a nine-hole golf course, five tennis courts, six gourmet restaurants, a health spa, fitness centre with a new cardio-vascular facility, beauty salon, gift shop and an array of water and land sports.
Sandals Regency St. Lucia has also built a new conference facility with business centre. Guests at Sandals Regency St. Lucia have full access to the facilities at all other Sandals Resorts on island.
THE VILLAGE INN AND SPA
Reduit Beach, Rodney Bay, Gros Islet
Tel: 758-458 3300; Fax: 758-452 0158
E-mail: villageinn@candw.lc
www.villageinstlucia.com.
The golden pot at the end of the rainbow has been revealed as Rodney Bay Village is set to welcome its newest addition, The Village Inn & Spa at Rodney Bay. As St. Lucia prepares for continued growth in the hotel industry, the property will be ready to upgrade its accommodations and services to match that growth.
In the fall of 2004, the hotel will re-open to offer guests a relaxing, intimate and inspiring atmosphere. The Village Inn is a medium size property with seventy-six rooms that all offer fabulous views of an oasis of waterfalls cascading into a mini-pool and then streaming into the clear refreshing full size pool. Two steaming Jacuzzis are part of this oasis. The excitement in this area is heightened by the presence of an Italian garden style bistro, Nardoni's.
Nardoni's Italian Garden will be a Chicago style bistro offering the best in authentic Italian cuisine. The enticing menu will begin with Antipasto and be followed by Italian salads, pasta, seafood or pizza. Calzones, which can be appropriately described as folded pizzas, will also be served at Nardoni's Italian Garden.
This new restaurant joins Emeralds Restaurant & Cocktail Lounge as the in-house restaurants of the Village Inn. Emeralds Restaurant offers clients the comfort and flexibility of dining bistro style in a romantic setting. The menu consists of a balance selection of Island Creole and international cuisine. The cocktail lounge above the restaurant is a great place to relax and network as you enjoy the views of Reduit beach and the Pigeon Island National Landmark. The new Village Inn will also feature a spa where guests can experience Swedish, Aromatherapy and Sport massages, facials, manicures and pedicures.
Just a stone's throw away is Reduit Beach, a one mile stretch of fine white sandy beach. The hotel is also a part of Rodney Bay Village, the hub of the best hotels, restaurants, nightclubs, galleries, duty free shops and other entertaining activities in the north of St. Lucia. The Rodney Bay Village is set to become one of the biggest attractions in St. Lucia with many great events taking place in that area.