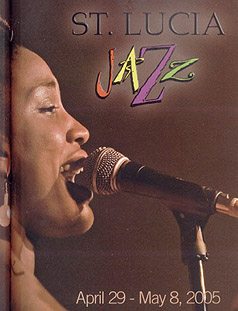 JAZZ ST. LUCIA
More Than A Festival, It's A State Of Mind
by Jason Sifflet
It's one of the hottest events on the international calendar. The biggest stars playing in the world's most intimate outdoor setting – Pigeon Island – in the middle of May.
From Wynton Marsalis to Grover Washington, from Carlos Santana to Miriam Makeba, Mary J. Blige to Ashanti, this festival is a hotspot that launches new careers and boosts old ones.
But St. Lucia Jazz is more than just a weekend of concerts. It is a mass hypnotic phenomenon that enraptures the island for at least a month. Maybe more.
The advance publicity alone sets the island buzzing. St. Lucia Jazz is infectious. Radio stations start playing great music instead of hit songs. Talk shows get entertaining instead of outrageous.
The infection spreads from the media to show windows, where fabrics get brighter, fashions get hotter and skirts get shorter. The best plays of the year are on.
By the beginning of May, jazz fever transforms the island into a musical playground. Every joint has a band. Even roadside café rock 'til dawn.
By the end of May's first week, the classic pre-jazz concerts raise all expectations. Fond d'Or Jazz spotlights the best Caribbean pop and dance music while Balenbouche always has the best mix of flare and flavour. They give the Jazz festival the taste of roast saltfish, avocado and farine and fresh salad in a tangy vinaigrette.
By the second week, jazz is a state of mind. Everyone works in the morning, leaves early to catch the lunchtime show, heads back to work for a couple of hours and then it's off again for the tea-time concert that usually runs straight into the nighttime set.
By the second day, smart people realize that there is a survival routine to jazz. Have a good breakfast, be prepared for the occasional shower or unseasonally hot sunshine and at all times, have water. Having this much fun ain't easy. Many fools found themselves sprawled out on the beach unable to lift a maguerita to their lips by the third day.
And strategy? By the fourth night, fans have to know whether to go to the first Luther Vandross show and then catch Cassandra Wilson, or save Vandross for Friday night, so you can catch Luther Francois' late night set, or just make it a Luther night. And what to do about choosing between Yolanda Adams and Joe, or Ashanti and the Cuban All-Stars?
By the time mainstage rolls around, your head is spinning. The names alone make you gaga. George Benson, Carlos Santana, Kenny G, Floetry,…the list is too long. But whatever your 'thing' is, it's at St. Lucia Jazz. Soul singers, latin, home grown folk music, guitar slingers, world beat.
Only when it's over do most people realize that it's not just a weekend. It's much more. So here is a little brotherly advice from a seasoned festival survivor: Come for the weekend and you'll love it. But if you come for a week or two, you will really understand the meaning of the term 'festival fusion'.