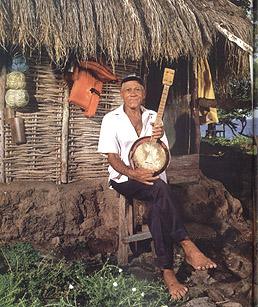 VISIONS OF ST. LUCIA: THE LAND, THE LIGHT, THE PEOPLE
To celebrate St. Lucia's 25th anniversary of Independence, in 2004, an amazing portrait exhibition was launched, featuring fifty St. Lucians, photographed in their own special island settings. We are proud to preview five of these remarkable photographs and the stories behind them in this fifteenth anniversary edition of Visions.
St. Lucia is often called the Helen of the West Indies because of its stunning scenery, but it also has a reputation as a land of beautiful and often very musical and artistic people. The portrait subjects – from Dame Pearlette, the Governor General to Vincent Eudovic, the wood carver – have been photographed in some of the most picturesque and historical places in the island.
A famous photographer's portrait of St. Lucia
The photographs are by world famous British portrait photographer, Gered Mankowitz, whose photographs hang as works of art in some of the most prestigious galleries and private collections in the world. Some of Mankowitz's work has recently fetched record prices at auction and he is best known for his iconic portraits of rock legends such as Jimmy Hendrix. With a high profile career spanning more than 35 years, his exhibitions attract international media attention, and this one will bring St. Lucia's story to the world.
Discover the people and places of St. Lucia
Sponsored by Discovery, the new five star hotel and marina being built in Marigot Bay, the portraits will be exhibited together for the first time as part of Discovery's grand opening celebrations in 2005.
The Banjo Man Heran Jn Baptiste La Pointe, Choiseul June 28, 2004
Bon jour, bon jour!" Heran Jn Baptiste steps from the doorway of his simple block house, a shaft of sunlight illuminates his broad gap-toothed smile and bare leathery chest. His light skin is almost golden as he moves forward to extend a large calloused fisherman's hand. "Sa ou fait? Sa ou fait?" Cats dart to the shadows of Heran's family compound as he embraces each of us in turn. This is a place where time is measured by the seasons rather than the strict calendars of city life. Ask Heran his age and he replies simply, " I am old." He has been married to wife Marie "from young" and has nine children—six sons and three daughters. He was born and raised in a traditional Carib hut just a few yards from his present home and has always lived here, overlooking the sea, minutes from the small cove where he keeps his brightly coloured wooden fishing boat. This softly spoken man has been a fisherman for as long as he can remember, having learned the craft from his father before him. Years of hauling nets and fish pots have taken their toll on his once strong shoulders, so he leaves much of the fishing to his sons. As he reminisces about "the early days" Heron pulls his banjo from a white plastic bag and begins plucking deftly at the strings. In Patois he explains playing the banjo is his way of keeping in touch with the past; a time when life was simpler; a time when life was better. "When I was a small boy, I played the banjo," he smiles as he recalls his first homemade instrument, the strings crafted from fishing line. He taught himself the popular tunes of the day and began his musical career playing the "shack-shack" with a local quadrille band. Now Heran and the La Pointe Shack-Shack band are regulars on the southern hotel circuit keeping the traditional music of the island alive, and bringing to life the "better days" of the past. "Playing is important to me," he says as he plucks a string, tunes, then plucks again taking a stool outside his son's straw and stick home. His grandsons leave the smoothing of newly crafted clay coal pots to listen, chickens scattering around their anxious feet. "I pray God that I should be here a while longer, to play a while longer." And as his banjo sparks to life yet again, the strings suggest there is much more to come.
The Jazzman Boo Ronald "Boo" Hinkson Pigeon Island National Landmark Gros Islet June 8, 2004
"That's Boo Hinkson!" Photographic assistant Darnell Jn Charles announces the arrival of the musician whose name has become synonymous with the St. Lucia Jazz Festival. At 14, he has not yet learned the adult art of hiding his excitement at meeting such a noted St. Lucian celebrity—especially one who is gracing the cover of the latest Cable & Wireless telephone directory. The afternoon sun is scorching as Ronald "Boo" Hinkson alights from his car, an elegant late model Mercedes, his favourite guitar still under wraps in its case. He walks slowly towards the shade and the plethora of lights and other equipment being set up amid the British military ruins at Pigeon Island National Landmark—the scene of so many of his Jazz Festival victories. As a musician, arranger, composer and performer, Boo has been making music in his St. Lucian homeland for more than three decades. "My mother is the one who taught me the guitar and encouraged all of my early musical efforts—the song writing and the experimentation. She had a gift and she wanted to share that gift with me," says Boo, his voice as melodic and relaxed as many of the songs he performs. In the 60s, Boo joined with his brothers and friends to form the Tru Tones, a group hailed across the region for its original Caribbean and pop rhythms. Such was the popularity of the Tru Tones that they even headed Stateside where they performed at Superbowl XIII in 1979. Five albums and countless hits later, the group disbanded and solo artist Boo headed in a new musical direction focusing on R&B and his now signature Caribbean jazz stylings. Success followed. The acclaimed guitarist has opened for greats such as George Benson and Kenny Burell, Al Jarreau, India Arie and Grover Washington Jr. He has performed several times with Stanley Jordan who describes Boo as "not just a good player, a great player." He has won over audiences in Germany, Canada, the United Kingdom, the US and throughout the Caribbean. Live performances have been broadcast over BBC, BET on Jazz and Bravo TV. His music has even been featured on the day-time series, One Life to Live. "My development as an artist is indivisible from my development as a person, and I am still moving forward and I am still developing," he says with a flash of that drop-dead smile. The sun is now lowering to perfect position behind Signal Hill, the spot where it is said Admiral Rodney Rodney himself perched to keep an eye on French movements at Martinique. Boo begins to strum a tune and hum, leaning against the dark stone of what was once a military hospital while the camera shutter keeps time with his up-tempo rhythm. Boo will travel to St Kitts the following day for that island's music festival. "There's a strange mix in the line-up so I'm not sure how we are going to pitch our performance," he explains. "I hope we can come up with something they like." Can there really be any doubt?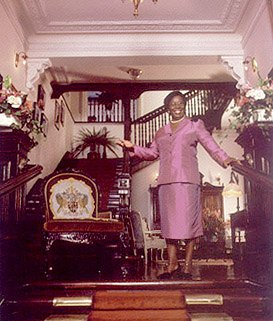 Making her House a Home
Governor General Dame Calliopa Pearlette Louisy, GCSL, GCMG Government House The Morne, Castries June 10, 2004
Her Excellency will be out shortly." Major Bernadette Saltibus offers a warm greeting in the opulent entry hall of Government House, her cheerful presence immediately softening the rigid formality of her surroundings. She is not how you would expect the Governor General's aide de camp to be. There's no bodyguard stiffness, nor cold appraisal. Major Saltibus walks up the impressive staircase and into the formal sitting room, laughing as she rushes to pick up the pieces of a burst balloon. "It was Her Excellency's birthday on Tuesday and we had a bit of a surprise party for her in here." She admits party-goers are still talking about Her Excellency's karaoke version of "My Boy Lollipop". There is a sense that this elegant building, completed in November 1895, is more than just a St. Lucian landmark, it is a home. Dame Pearlette reinforces this feeling as she enters the room, extending her hand and smiling broadly, her fuchsia suit ginger lily bright against the cream sofa. The island's first ever female head of state has brought her own style of relaxed leadership to Government House earning respectful admirers both on the island and further afield. Before taking her position as the Crown's representative in 1997 and being conferred the title of Dame Grand Cross of the Order of St Michael and St. George by the Queen in 1999, Dame Pearlette was well known as an educator beginning her professional life as a teacher at the Laborie Mixed Infants School, in her home village. She became principal at the Sir Arthur Lewis Community College, only leaving to take up her appointment as Governor General. Those who grew up with Dame Pearlette in the village of Laborie remember her as a driven student who would study under street lamps when her own home had no electricity. Academically gifted, she earned scholarships to the University of the West Indies at Cave Hill and the University of Laval in Quebec, before gaining her PhD in Education at the University of Bristol in the UK, which would later award her an Honorary Doctor of Laws. Her doctorate focused on the management and provision of tertiary education in small nation states and many of her published papers are still quoted by students of education today. But there is more to Dame Pearlette than her professional achievements. She is often lauded for her eloquent use of the Creole language and her love for the island's culture and history makes herthe perfect custodian for the treasures of the Government House museum. "Like many of the things we have here, this is a very important relic of our past," Dame Pearlette says, running her hand along the ornate chair used in her portrait, St. Lucia's coat of arms and motto—The Land, The People, The Light—depicted on its back and seat. The chair was commissioned by St. Lucia's High Commissioner to London, Dr Claudius Thomas, and made by expert embroiderers at Hampton Court. Tommy, as he was affectionately known, had a dream to build a house in traditional style and fill it with St. Lucian artifacts and memorabilia as a gift to the nation. Sadly, Tommy died before he saw his dream come to fruition. The house he christened Manderlay, but never lived in, was sold and many of his artifacts disappeared. If not for the efforts of former First Lady Janice Compton, the chair might well have vanished too. Luckily she convinced Geest to buy the chair and donate it to the people of St. Lucia. It is now in very safe hands.
Vincent Eudovic Master Wood Sculptor Eudovic Art Studio Goodlands, Morne Fortune June 9, 2004
When you look at this, what do you see?" asked master woodcarver and sculptor Vincent Eudovic on a rare rain-soaked day at his Goodlands studio, Morne Fortune. His hand caresses the contours of his raw canvass: "Each piece of wood speaks to me. I can see even before I start what this will be and how I will shape it." His next large sculpture is to be called "Sailing". Vincent traces the billowing sails and tossing waves which whisper to him from the tight packed wood grain of a massive piece of Lauier Cannel. Surrounded by chipped out shavings and the chiseled shapes of mahogany, white and red cedar and Louier Mabouey, Vincent tries to recall a time when he didn't carve. Born in Babonneau, St. Lucia, April 15, 1942, the sculptor played and worked with wood from an early age, and was inspired to take up carving as a profession by the constant visions of little dancing men carving in his garden. At the age of 11 Vincent created his first masterpiece, "Ali Baba", which earned him first prize at a national wood carving against older and more experienced carvers. At 17 he travelled to Trinidad where he determinedly attached himself to a well-known sculptor, Ricardo Vincente who reluctantly took on the talented young St. Lucian as an apprentice. Ten years later, Vincent returned to St. Lucia to teach at the government training center in La Fague, Choiseul. Under his influence, the center was converted into the Choiseul Handicraft Centre. In 1972 he was awarded a UNESCO Scholarship which took the young artist to Nigeria to train with well known and respected sculptors Bisi Fakay and Erabo Emakpa—an experience which Vincent describes as pivotal in his development. "This was probably the best experience of my life. I saw that they were doing large pieces of modern abstract art and they were so willing to pass on this incredible knowledge to young aspiring artists such as myself." On his return to St. Lucia, Vincent settled down to married life with wife Joycelin (they have six children), continued to conduct his own workshops in woodcarving for young artists, and worked relentlessly to perfect his own craft. Numerous international and regional exhibitions and accolades followed including the 1976 medal for sculpture given at the first international woodcarving exhibition in Guadeloupe, the award for best wood sculptor at the Minvielle and Chastanet Fine Arts Awards in St. Lucia from 1980 to 1989, and the St. Lucia Medal of Honour for services to the Arts (1994). "I do feel as though I have been blessed," he says, picking up a wood file which becomes instantly an extension of his sculptor's hand. "Good wood is the gold of the Caribbean… dry wood is a treasure which deserves time and patience so that its true beauty can be revealed. Every piece of wood is unique and can never be re-created. It will tell you what to do, what shape to follow." The secret is being able to listen.
A Natural Man Moses Hippolyte, Rastafarian Toraille Falls, Soufriere June 23, 2004
You have to respect nature and nature will respect you." Moses Hippolyte shakes the water from his knee-length locks as the sun breaks through the thick vegetation surrounding the Toraille Falls. Based in the busy capital of Castries, Moses, who has been a Rastafarian "forever" and "would not like to change it any day soon", ventures as often as possible to the wild side of the island, to wash away the grit of "civilization" and to commune with Jah. "Every weekend I go to a different river, places that are a little more remote, a little wilder, to cleanse my spirit." He grabs some hibiscus leaves from the surrounding bush and rubs them together vigorously at the edge of the large pool beneath the falls. A foaming lather appears and Moses scrubs the mixture into his incredible tresses. "Mother Nature has everything you need, you just need to look," he says, rinsing the shampoo with a quick step under the 60ft torrent of thundering water. Heavy overnight rain has produced an impressive cascade and Moses, who has worked for the St. Lucia Tourist Board for over 20 years, disappears behind the mist, re-emerging with a shiver. "This is what visitors should see in St. Lucia—our natural blessings; our Simply Beautiful attractions." The whole Toraille area has been kept as natural as possible by landowners Casilda and Altus Hippolyte. Before returning to St. Lucia, the couple spent a number of years in Guyana where they visited some of the region's top eco-tourism attractions, and decided to create their own slice of paradise on their family land. About four years ago, Toraille Falls was accepted as one of St. Lucia's Nature Heritage Tourism sites. As Moses dries off, hummingbirds flit in and out of the heliconias growing near the small wooden benches fringing the falls. He sighs, "Jah bless. Who needs more than this?"