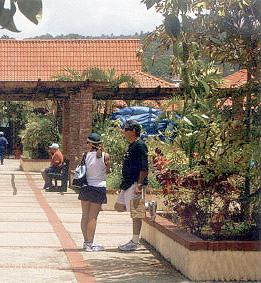 For Duty-free shopping, downtown Castries is where you want to be. Now that the new look La Place Carenage Shopping Mall is up and running, you have choice at your fingertips. Of course Pointe Seraphine offers you 39 shops to browse through. And with the introduction of internationally recognized names such as Colombian Emeralds International, Diamonds International, and Harry Edwards Jewelers, we guarantee that once you are here in St. Lucia, there is a little bit of something for everyone. From the finest in timepieces, china, crystal and jewellery, when you shop in St. Lucia, you come home to local shopping attractions galore.
St. Lucia offers a truly island shopping experience, and the local rum packs in quite a punch! Bounty Rum is made right here and if you would like to sample the spirit before buying it, a tasting session is part of a guided tour to the Roseau distillery just south of Castries.
Now we have it on good authority that island condiments and spices are highly sought after. Well if that is on your list of take home items, ask at your hotel for a supply of Baron Foods condiments or, visit Julian's at Gablewoods Mall. Your taste buds will thank you.
For a truly island shopping experience, think St. Lucia! And for the finest quality kids clothing - Capri jeans, Polo shirts, Shorts for boys and girls and Accessories, visit Kids International at Pointe Seraphine, Castries or at La Place Carenage.
Anju Silvers:
Truly a shopper's delight! With excellent locations in the J.Q. Charles Shopping Mall at Rodney Bay, at the Pointe Seraphine Duty Free Shopping Complex, and at La Place Carenage, Anju Silvers offers a world of silvers to choose from.
Caribbean Perfumes:
Capture the romance forever! Located in the tropical gardens of the new and improved Froggie Jacques Tropical Bistro, the Perfumery has been creating exquisite aromas of exotic flowers, fruits, precious woods and spices for over 30 years. Visit Caribbean Perfumes for exquisite aromas; for delightful selections; for men and women. Selections may be purchased as a gift set of miniatures.
Exquisite Emeralds and So Much More At Colombian Emeralds International:
In St. Lucia the stunning selection of fine jewellery at CEI is as breathtaking as its five island locations. With a 30-year reputation for quality, integrity, and value, it's easy to see why CEI has been voted Best Duty-Free Retailer of the Year four years in a row by the Readers of the leading Travel Magazine!
To find the most valuable emeralds CEI goes directly to the source - the master emerald cutters of Colombia. Their skilled hands have carved a name for CEI as one of the largest most respected jewelers in the world.
If green is not for you, that's fine, because the same attention to detail, style and value can be found in Colombian Emeralds International's rainbow offering of other colored gem-set jewellery including diamonds and tanzanite.
In addition to beautiful fine jewellery, great buys at up to 44% off U.S. retail can be found on internationally famous watches such as Jaeger Le Coultre, Ebel, Tag Heuer, Raymond Weil, Citizen, Wenger, and Seiko.
At Colombian Emeralds International a complimentary International Guarantee, Certified Appraisal, and Free 90-Day Insurance Replacement Against Damage, Loss, or Theft comes with every purchase. Be sure to ask about instant credit and instant savings when you visit Colombian Emeralds International. In St. Lucia at Pointe Seraphine, Hewanorra Airport, Sandals St. Lucia Golf Resort & Spa, Sandals Grande St. Lucia, and Perfect Time in Point Seraphine.
Diamonds International:
"The Diamond Specialists of the Caribbean." Diamonds International has grown to become the largest loose diamond and diamond jewelry duty free center in the Caribbean. There are thousands of tourists cruising to the Caribbean and Alaska as well as the hotel guests on our many islands each year and Diamonds International recognizes their needs. From those who save a lifetime to cruise once, to those who dock their private yachts in Rodney Bay, our customers know that they will find quality, value and complete customer satisfaction under our awnings.
Diamonds International has never deviated from those basic business principles. It has earned us an established customer base of individuals who will only trust the Diamonds International name for all their fine jewelry purchases.
- First class selection of loose diamonds (from 0.1ct to 10ct)
- Finest selection of Sapphires, Emeralds, Rubies and Tanzanite
- We custom design your own unique piece (stone setting in one hour)
- Proficient Sales Associates and GIA Gemologists to assist you
- All diamonds graded and certified to ensure accuracy and value
- Lifetime upgrades and Trade-ins on diamonds
- Exquisite selection of designer jewelry
- Choice timepieces
- Customer Service 1-800-51-JEWEL
Jewelers Warehouse:
Save up to 50% on Fine Jewelry and Watches from the islands Value Leader...Featuring a fantastic assortment of fine jewelry including diamonds, emeralds, rubies, sapphires, tanzanite, fashion gold and more....all at 50% off. Plus Jewelers Warehouse is a great place to find gifts at affordable prices, see the 14kt and 18kt gold chains, bracelets and earrings at 50% off. You can take advantage of savings of up to 44% off on US recommended prices on International watches. And shop with confidence because you get a certified appraisals with every purchase, at the time of purchase. While in St. Lucia be sure to visit Jewelers Warehouse.
Gablewoods Mall:
It's all about you! You can shop for groceries, use banking facilities, go to the gym, shop for toys, use postal services, or complete a host of other personal chores in one convenient location. While most of the shops close between 6:00pm and 7:00pm, Julian's Supermarket offers service until 9:00pm on weekends.
Harry Edwards Jewelers:
St. Lucia's premier fine duty free Jewelry, watches, crystal, china and accessories Stores are located at Pointe Seraphine, the best duty-free facility in the Caribbean and at La Place Carenage in the city of Castries. Since its establishment in 1999, Harry Edwards has grown in leaps and bounds, winning the coveted title of the Best Duty-free Retailer of the year 2001-2002. At Harry Edwards we can boast to having the wildest selection in watches and jewelry being the official agents for world-renowned brands such as ROLEX, BREITLING, CARTIER OMEGA and among others, MOVADO, RAYMOND WEIL, TAG HEUER AND GUCCI.
Our stores are decorated to enhance the elegance of market leading brand name jewelry such as DAVID YURMAN, ASH GROSSBARDT AND KABANA, including a large collection of 14 and 18 Karat Gold Jewelry.
In our well-ordained stores our range of branded products expands to include our China Crystal and accessories collection second to none as we carry leading brand names such as LLADRO, WATERFORD AND MONT BLANC Pens.
Our long-standing staff with experience of 10 years and more will make shopping at HARRY EDWARDS JEWELERS simply magnificent.
La Place Carenage:
A must see for persons visiting St. Lucia! A delightful experience in the old, tastefully re-decorated with the new. This is the new look La Place Carenage, where you can sample some of the local delicacies of the island. Here, you can enjoy such delights before buying and perhaps take home a secret recipe - A taste that's truly St. Lucian!
Pointe Seraphine Duty Free
Shopping Centre:
"St. Lucia's Biggest Duty Free Shopping Mall". Pointe Seraphine is the most modern and extensive Duty Free Shopping Complex in the Caribbean. This top quality Spanish style facility is an extension of the port facilities, conveniently located within walking distance of the city of Castries and George F.L Charles Airport.
Duty Free Pointe Seraphine consists of thirty nine shops providing a full range of high class merchandise at bargain prices, silk screened items, porcelain and china, cigarettes, liquor, jewellery, watches, electronic equipment, fine leather goods and a wide selection of arts and crafts. Our restaurant and Café provide visitors with fresh local juices, as well as local and international cuisine. Caribbean style braiding can also be done right here on the compound.
A must for every visitor, but do remember to bring along your Airline ticket and passport so you can take advantage of the duty free bargains.
For further information, please contact National Development Corporation at Tel: 1-(758) 452-3036, Fax 1-(758) 458-1088. Or visit our website www.stluciandc.com.
Roseau Sugar Factory:
Situated in the Roseau valley amidst a vast banana plantation, Roseau Sugar Factory is just 20 minutes from Castries. Among the biggest highlights is The Rhythm of Rum Tour, a fantastic journey through the history of rum complete with a detailed distillery tour and a chance to sample some rums and liqueurs. For more information and bookings, please contact your rep or contact us on: Tel: (758) 451 4315/4528; Fax - (758) 451 4221; emaiL: tour@sludistillers.com.
Great Gift Shopping:
And of course if all you want to shop for are knick-knacks and small gift items, then by all means drop into the Toy Shop or Cards & Things at the Gablewoods Mall. When you are not out shopping for sites or sunshine, St. Lucia has quite a package of variety that is yours for the sampling! Walk with your water and suntan lotion, and happy browsing...
Eudovic's Art Studio
When one speaks of sculpting in St. Lucia, the name Joseph Eudovic resonates with reverence and an almost cult-like admiration for a man who has forsaken all else and devoted his life to creating mystical sculptures which adorn homes and galleries across St. Lucia, the Caribbean and the world.
His is a calling which manifested itself when Eudovic was just 12 years old. It was at that age he entered his first exhibition and won first prize with his piece called Ali Baba. At the end of his schooling in St. Lucia, Eudovic migrated to Trinidad where he became a protégé of Ricardo Vicenté for ten years. While in Trinidad, he competed at various exhibitions and won several prizes. His next sojourn was to Nigeria where he spent seven months, complements the UN, on what he considers the most profound experience of his life as a sculptor. In Nigeria, Eudovic encountered many extraordinary artists who taught and influenced him a great deal. He studied monumental sculpture and the traditional art of Yoruba. He also studied the artistic symbols of the people and their tradition of sculpturing, which is old and very elaborate.
When it comes to accolades, Joseph Eudovic's list is very long. Among them though are multiple M&C Fine Arts Awards including a Lifetime Achievement Award. Back in 1975, he was named Best Caribbean Wood Sculptor for which he won the Golden Medal Award. Eudovic has exhibited at home and abroad including the neighboring French Isles of Martinique and Guadeloupe, Trinidad, St. Vincent and further afield.
Today, he owns and operates, Eudovic's Art Studio. Perched above the lush banana fields of the Roseau Valley, Eudovic's Art Studio is a working studio with workshop, gallery, souvenir shop, restaurant and guest house. On an average day, visitors can see young sculptors chipping away at local wood to create eye-catching pieces. Master sculptor Joseph Eudovic has imparted his skill to many St. Lucian youngsters within and outside the school system, not least of which is his own son Jalim. In fact, Jalim is making quite a name for himself, having captured a few prestigious awards and exhibited at the Commonwealth Games in Canada. All indications are that the Eudovic dynasty is here to stay.
For more information on Eudovic's Art Studio go to www.eudovicart.com or email info@eudivicart.com. If you're visiting St. Lucia, you can call them at 452-2747 or Fax 459-0124 for a free guided tour of the facility located at Goodlands.