CRICKET COUNTDOWN


By Terry Finisterre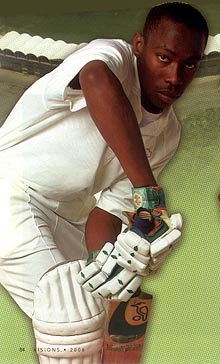 In a matter of months, they'll descend on the Caribbean — thousands of rabid cricket enthusiasts. From four continents, they will come to the region not for sun, sea and sand, but for scintillating sport.
Jamaica, the host nation for the opening ceremony, learned a great deal about large scale sporting events from hosting the 2002 IAAF World Junior Athletics Championships. The year before, Trinidad & Tobago was the home to the FIFA Under-17 World Championships.
St. Lucia, another venue for World Cup Cricket, has not had such sporting experience. The Atlantic Rally for Cruisers (ARC), the world's largest trans-Atlantic yacht race which ends in St. Lucia each December, brings over two thousand visitors. St. Lucia Jazz remains by far the island's most important international event with over 20,000 music lovers in attendance.
Since the Beausejour Cricket Stadium was completed in 2002, limited overs one day internationals in the West Indies home series have provided the island's biggest cricket spectacles.
Fittingly, two of the four teams that have played the West Indies in one day internationals at Beausejour (the stadium has also been the venue for two Test matches) will be in St. Lucia for Group C opening round play. New Zealand lost the first two international matches played at Beausejour by six and seven wickets. But I can attest that despite the losses, the New Zealand fans had a great time. Certainly no less so the England supporters - the Barmy Army, as they are known - when the West Indies defeated the Three Lions by five and four wickets in 2004.
West Indies has won four and lost three one day internationals (two to Pakistan, one to Australia) at Beausejour. The other two teams in Group C are Kenya and Canada. They will play six matches over an 11 day period. Canada does not have much of a cricketing history, but expatriate West Indians are likely to return to the region to follow 'their' team. Kenya is a bit of a mystery.
In cricketing terms, it's almost a foregone conclusion that England and New Zealand will emerge from this group. In fact, England is regarded by some as a dark horse to win the tournament, considering their improving form. But New Zealand was ranked higher than England when the groups were selected and Kenya famously beat West Indies in a World Cup match in 1999. Canada had an exciting return to the tournament in 2003, after a 24-year absence.
But whatever happens on the field of play, St. Lucians are right now more concerned about what needs to be put in place to facilitate the competition, which includes a semifinal after the Super Eight stage in Antigua-Barbuda, Barbados, Grenada and Guyana.
First and foremost will be the multi-million dollar expansion of Beausejour, already one of the region's finest grounds. The facility now accommodates twelve thousand patrons. For the World Cup, the government of St Lucia will increase capacity to twenty thousand.
Changes to Beausejour will go beyond additional chairs. Amenities like indoor practice areas will be built. Consideration has been given to erection of an electronic scoreboard and lights. The Media Centre will be enlarged.
One of the innovations that should go over well will be the availability of Wireless Internet (WiFi) access. Tournament sponsors Cable & Wireless have used WiFi successfully for St. Lucia Jazz, ARC and the West Indies home series.
The estimated World Cup television audience is two billion. With the growth of broadband Internet access in the Caribbean, Asia and Europe, organizers will be looking at new ways of getting more eyeballs.
Participating countries are exploring the possibility of creating a single immigration space for the World Cup. Once visitors pass through Customs and Immigration in St. Lucia, for instance, they would have seamless entry to Barbados, Grenada and Guyana.
One sure bet is that West Indies fans will be out in force. Their team won the inaugural Cricket World Cup tournament in 1975 and the Windies will certainly want to give them satisfaction by clinching victory in their own 'backyard', as we say in the Caribbean.