ISLAND HAPPENINGS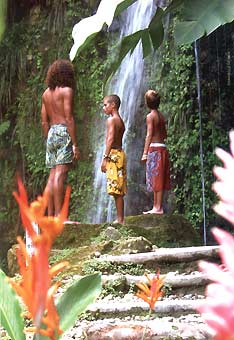 THE PLANTATION - Live in abject luxury

The Plantation on Cotton Bay will be one of Saint Lucia's most exclusive holiday locations. Scheduled to open in early 2006, it is the island's only villa resort positioned between a spectacular mile-long beach and a great, champion- ship golf course. It is a tropical escape for families, groups of friends or couples.

The Plantation is a village of elegant mansions centered around a pool as big as a lagoon– all just steps from a superb beach.

The Cotton House offers four bedrooms and a gallery. Other villas include a separate guest cottage. Chateau Mango is a deluxe three-bedroom villa while the Terracotta Terrace is a three-bedroom town house. There are also luxury apartments with one, two or three bedroom options.

Fourteen Degrees North is the casual beach café bar. The Estate restaurant opens for dinner and specializes in fine Caribbean Fusion cuisine. Before and after dinner you can linger with friends in the Piano Bar. Butler service is available for home entertaining and is included when you reserve one of the luxury villas. Nannies can be arranged to look after the children, and "The Humming-bird Club" provides them with endless entertainment.

The Casuarina spa features a range of treatments. A first in the Caribbean is the "Rasul", a state of the art treatment room. There is also a private suite designed for two where you can lose yourself for a day or a half-day with refreshments, personal masseur, a private pool
and a cave to call your own.

Water sports and riding on the beach complete the picture of what the Plantation calls "time well wasted!"

A TWIST OF FOLK

Boo Hinkson's latest album, A Twist of Folk, pays homage to St. Lucia's traditional musicians.

Hinkson is St. Lucia's finest guitarist and a talented composer and arranger. He has chosen twelve traditional numbers among them classics like Poinsettia Blossom, Aye Aye Aye Doudou and Chanson Marianne and given them a new jazzy texture, a blues feeling, a konpa swing or a surprising hard rock attitude. The original lyrics in English or Creole are interpreted by many of St. Lucia's young artistes. The work of local folk composers like Charles Cadet, Frank Norville and Joyce Auguste just got a new lease on life.

"What is indigenous must not die," says Hinkson. "If folk music is presented in a way that young people can connect to, it will be preserved and it will continue."

WORLD MUSIC FOR ST. LUCIA

Music aficionados have a new reason to come to St. Lucia. From the 1st to 4th December 2005, the first Kalalu World Music Festival welcomes international artistes to the island's shores.

Headlining the festival is Hugh Masekela from South Africa along with Idrissa Diop from Senegal, Emeline Michel from Haiti, Sensaccion Orchestra out of Cuba, Soukous Stars from the Congo, Jose Alberto from Puerto Rico, Yerba Buena from Venezuela, Sekouba Bambino from Guinea and from St. Lucia, Bluemangó and Ronald "Boo" Hinkson.

The festival lineup was designed in collaboration with New York based Afromondo Productions. Tracey Warner-Arnold is the festival's marketing consultant: "Kalalu is well-timed as no Caribbean island currently hosts this type of event."

Holding the festival in early December will help boost occupancy levels at a traditionally slow period of the year. "We are targeting world music lovers from around the globe as well as
our Caribbean neighbors from Barbados, Trinidad, Martinique, St. Vincent, Grenada, Dominica, Jamaica and Antigua," said Warner-Arnold.

Sponsored by Heineken, She Caribbean, Digicel, Liat, Almond Morgan Bay Resort, St. Lucia Hotel & Tourism Association and the Wave, the Kalalu Festival will promote St. Lucia as a centre stage for world class performing artists.

Adrian Augier, director of the event says that Kalalu aims to achieve the same level of success as the St. Lucia Jazz Festival.

The main stage for the Kalalu World Music Festival is Samaans Park at Choc Bay.

THE OASIS

The Oasis is the award winning health & wellbeing centre at The BodyHoliday – LeSPORT. The architecture is elevating and breathtaking, reminiscent of the Alhambra Palace in Spain. You can see majestic vistas and feel the relaxing atmosphere within The Oasis' peaceful
courtyards.

There are thirty-three treatment rooms and an outdoor temple dedicated to thalassotherapy, valued for its anti-inflammatory, relaxing and analgesic effects on skin disorders, muscular aches as well as the benefits to the cardiovascular and respiratory systems. Oasis treatments focus on a series of massages, wraps, exfoliation, detoxification and hydrotherapy. The hydrotherapy pool is fed by filtered seawater from the Caribbean Sea.

The Oasis boasts a Wellness Centre that is dedicated to traditional and Asian disciplines - Indian Ayurveda massages including ShiroDhara warm oil drip, Chinese Suikodo Body therapy, Shiatsu, Shodashi, rehabilitation and sports injury massage, acupuncture, clinical
reflexology, nutritional programmes, dietetics, weight management, Balinese Massage, Reiki and medicinal yoga.

Within The Oasis there is a MediSpa and specialist skin and beauty services clinic. The clinic can treat all skin types and skin disorders using LaTherapie, a French cosmeceutical product that is particularly effective for preventative ageing, acne and phyto damaged
skin. The MediSpa offers Botox Fillers (Restylane and Perlane), Lipodissolve and Sclerotherapy. Simon Connolly, a highly regarded British doctor trained by Professor Patrick Bowler, administers the treatments. The Clinic also offers beauty treatments such as
manicures, pedicures, waxing, tinting and brow shaping for men and women.

The highest quality organic products are used throughout the Oasis- Elemis, Ayoma, LaTherapie, Aromatherapy Associates and OPI.

Therapists come from all over the world, each with a different specialty. The predominantly St. Lucian staff have been trained at the Oasis' own training centre.

COCO PALM

St.Lucia's newest property, Coco Palm, is located in the heart of Rodney Bay Village. The hotel's upper floors provide a panoramic view of St. Lucia's tourism capital.

The Palm's design evokes old French Caribbean architecture, yet the hotel provides the most modern day amenities that travellers expect. Laid out over four floors, Coco Palm has 83 rooms including 12 suites and 6 swim up rooms. The colourful rooms are equipped with coffee makers, flat screen TV's, CD players, WiFi, mini-fridges, security safes and in some cases, Ipods and DVD players. One of the best views of Rodney Bay Village can be had from the roof top which by day is used for massages and in the evening for cocktails or wedding receptions and also for a special dinner set, for no more than eight people, with a
private butler.

Guests dine at the 24 hour bar and lounge restaurant, Kafe Kaiso, featuring late night music, a projector screen with TV/DVD, a pool table and a stock of fine Caribbean and international rums.

The 1,300 square foot spa offers a variety of treatments, some of which will be held in different parts of the hotel; around the pool area, on the roof top, and even on the nearby beach front. Spa services will also be available in the rooms.

Guests will be invited to participate in Feng Shui and yoga sessions. There will be some major calendar events such as Holistic month in June and a culinary month in November that will feature invited chefs from all over the world.

A special programme called Kreole Kids has been designed in association with the nearby Montessori school. During the summer vacation forty visiting children will spend half day at school and the other half on tour.

MARIE JOSEPH - CHEF LA PAR EXCELLENCE

In 1979 when Hurricane Allen hit the island, Pat Bowden, owner of the Buzz restaurant at Rodney Bay was living in Marigot Bay and running the Hurricane Hole Hotel. After the storm struck, Pat never expected the staff to show up for work. To her great surprise, Marie Joseph reported for duty.

After the hurricane, Marigot Bay was crowded with yachts. Guests and crew were impatient to get ashore for drinks and meals. Nick, Pat's husband, ran the bar while Pat and Marie prepared up to 350 meals per day. They were so short staffed that guests cleared the tables and washed the dishes!

Thirty years later Marie is the buzzing chef at "Buzz" restaurant where everyone calls her "Chef la." When you go to "Buzz" ask to meet the Chef – she loves to cook and she loves to laugh. She is also famous for her potions designed to cure a slew of ailments. "Don't try
it!" says Pat.

Pat calls Marie "the boss". When she is not giving orders to the staff, she is telling Pat how to run her life. "Chef la" is now building her home near the cricket grounds at Beausejour. The ideal address for her as cricket is her second love.

Do meet this formidable St. Lucian Lady when dining at "Buzz Seafood & Grill."

THE LANDINGS

The Landings is Saint Lucia's first private marina development consisting of 228 luxury residential properties. It offers buyers an opportunity to purchase beach-front or water-front property freehold. Sales were launched in February 2005 and the first phase is now 50% sold out. The rare opportunity to buy freehold Caribbean seafront property is available because The Landings occupies an area of reclaimed land not bound by Queen's chain
regulations.

Saint Lucia is gearing up for the Cricket World Cup in 2007. Saint Lucia will be home to the English team. The Landings will open in February 2007, in time for the event. Prospective owners will benefit from high income potential and a return on investment right from the
start.

Amenities include a gourmet restaurant, a sunset lounge and restaurant located on the resort's pier, helicopter transport to and from the airports, state of the art fitness club, world-class spa, five swimming pools, an array of retail shops and boutiques, tennis courts and central resort reception area. Landings' owners also get life-time membership at the St. Lucia Golf and Country Club, 5 minutes drive from the resort.

Canadian Frank Heaps, CEO and developer of The Landings Ltd. was quick to appreciate the development potential of the site. Together with some of the most respected businessmen in Saint Lucia they planned this exclusive yacht-oriented condominium resort.

"The development is designed to the highest world-class standards," says Heaps. "We want to set a new standard for leisure resort developments in the Caribbean."

Sunswept Resorts, the Saint Lucian based hotel group that owns and manages the BodyHoliday at LeSPORT, Rendezvous, and the Jalousie Plantation (formerly the Jalousie Hilton) has been appointed to manage the resort.

HIGHWAY TO HEAVEN
Extract from an article by Nancy Stead

The St Lucia Canopy Tour is an adventure ride, an hour-and-a half rocket 50 or 60 feet off the floor of the rain forest on 500 foot runs of cable suspended between tree platforms. The course is a system of integrated cables and rigging carefully designed to deliver a thrill
safely.

The key to a good ride is relaxing. Correct form is to lean back with right arm extended overhead, gloved thumb and forefinger forming a gentle "O" around the cable so that the gentlest pressure corrects torque. Then you soar like an upside down bird, swooping through coconut fronds, stands of bamboo, enormous tree ferns and mangolong. The tree platforms are generous in size and are enclosed with sturdy railings.

Between zips there is plenty of time to observe life in the jungle. I remember tall stalks of crab claw and heliconia sent fire-engine red spears into the air while at their feet were the palest pink symmetry of flowering ginger. The fragrance of wild bay leaf and incense filled
the air. A purple throated Carib (the Caribbean black hummingbird) darted from flower to flower and we could hear but never saw the Lesser Antillean pee-wee. I longed to see the St. Lucia parrot but they are birds of dawn and dusk and we were in the jungle at noon. The neighborhood boa constrictor had moved from his normal station in the mangolong tree at station three, but we found him later on a branch above the access road.

St. Lucia Canopy Tours is located near Dennery, about 3 miles inland from the main highway along a twisty, pot-holed track running beside the Dennery River.
A TASTE OF ST. LUCIA IN MIAMI

St. Lucian chefs play a major role in visitor satisfaction. At the 2005 edition of Taste of the Caribbean Culinary Competition held in Miami, St. Lucia's team of young chefs showed that they know how to keep people coming back for more.

Elton Ambrose from Rendezvous, Fabian Vigee of Jalousie Plantation, Gilroy Samuel and Marvin Alcindor both from Windjammer brought home the silver medal for Team of the Year. Barcus Henry from Sandals Grande won the silver medal for Bartender of the Year.
St. Lucia was pitted against 13 other teams from the region.

Once a month, visitors can sample the winning recipes of the 2005 Silver Award Winning Team at various hotels in St. Lucia.

CHANGES AT MAGICAL MARIGOT BAY

Marigot Bay, on St. Lucia's scenic west coast, has long been a favourite film location with its palm-lined sandspit and steep forested hillsides. It is also one of the most attractive natural harbours in the Caribbean. During the 1990's facilities in the bay were limited but things are changing fast... A new luxury resort, spa and marina village, Discovery at Marigot Bay, opens early 2006 transforming the bay into an exciting destination with a great choice
of dining, shopping and liming.

Built on a steep hillside overlooking the bay, the 124 indoor/outdoor designed rooms and suites of the Discovery Resort are landscaped into the lush tropical gardens. World class services and amenities are open to hotel guests and visitors alike.

Among the resort attractions is the Lapli Spa with its extensive menu of treatments from body scrubs under the Vichy shower to rejuvenating massages and facials using aloe vera, hibiscus, cactus, seamoss, banana and other locally grown fruit and herbs.

There is a fitness centre, swimming pools, the sophisticated Pink Snail cocktail bar, the Boudreau Restaurant, and the famous old Hurricane Hole bar restored to its former glory.
Discovery's first fine dining restaurant and champagne bar, the Rainforest Hideaway, opened in 2004 and has established a reputation as one of the best restaurants on the island.

Shoppers have not been forgotten. Built around an attractive courtyard garden The Marina Village has a range of boutiques, a craft shop, art gallery, bank, bakery, supermarket, dockside restaurant and bar, special services for visiting yachts, and the list goes on.
The new fully serviced docks, managed by The Moorings, attract some of the world's most beautiful sailing and motor yachts. At the height of the season, celebrity spotting is as popular as bird watching in some of the local bars.

Marigot won't just be a film-making location and photo opportunity for much longer—it's well on the way to becoming one of the Caribbean's most exclusive and exciting destinations.

UP, UP AND AWAY

What do Wyclef Jean, Harrison Ford, Whitney Houston, Bill Clinton and Nicolas Cage have in common? They have all flown on St. Lucia Helicopters.

However, the service is not reserved for celebrities and anyone can enjoy the impregnable views of the island from a helicopter seat. Indeed, on an average day, 250 people fly St. Lucia Helicopters, most of them taking the thirty minute guided tour of the island. Pigeon Point, the St. Lucian interior, Soufriere, the UNESCO World Heritage Site, the rainforest and coastal villages are all part of the itinerary. The helicopters' comfort windows make taking photographs a snap.

Indeed, St. Lucia Helicopters' services are so solicited that the company has purchased its third, six-seater machine, an investment of US$1.6 million. Equipped with headsets for all passengers, comfort seating and specially insulated for a smoother ride, the new helicopter
will help accommodate the growing demand.

At St. Lucia Helicopters, safety is a priority. The island's only qualified helicopter engineer works full time for the company, ensuring that all the machines respect all safety
regulations.

St. Lucia Helicopters is open seven days a week. In addition to set tours, the company does special charters and airport transfers. Consult stluciahelicopters.com or call 453-6950.
CABLE & WIRELESS
Historically on the Cutting Edge!

Cable & Wireless' Caribbean history started in 1868 when a cable was laid from Florida to Cuba. The linking of the region was completed in 1872 when the West Indies was able to contact the rest of the world via telegraph.

For more than 150 years, Cable and Wireless has been keeping the Caribbean connected to the rest of the world. In 1965 a new radio technology, Tropospheric Scatter, was introduced to the Eastern Caribbean. This was superseded in 1972 by the Eastern Caribbean
Microwave system and then by a new digital microwave system in 1991.

The era of liberalization brought new challenges but infrastructure investments guaranteed that everyone benefited from a world class communications network that ranked the Caribbean among developed countries in its provision of telecommunications.
Today Cable & Wireless is positioning itself as a total service provider. Visitors who want to maintain occasional contact with family and friends or workplace will find a suitable communication solution. For a more connected vacation, there are other options available.

Cable & Wireless offers mobile, internet and broadband products, cable TV, and fixed lines. This enables us to offer services to a visiting yachtsman (mobile, CATV, internet) with the same ease that we provide mobile seamless communication to the stay over tourist or real time integrated communication to the visiting business person.
TAI CHI MASTER
THE AGELESS JIMMY JAMES IS ST. LUCIA'S ONLY TAI CHI MASTER

"It's a bit like getting an honorary doctorate," says James who took up the martial arts discipline late in life. After a busy three decades spent working in the hotel and restaurant industry, Jimmy James, a jogging addict was forced to slow down when his doctor informed him that as a result of pounding the tarmac for so many years, his knee and back joints were worn out. If he did not want to end up a cripple, he would have to find something else to do.

When a friend suggested that he try Tai Chi, he went out and bought instruction videos on the practice. Two years later he finally found a teacher. Tai Chi instructors are
quite difficult to find in the Caribbean.

"When he saw what I had learnt on my own, he said 'forget you have ever done Tai Chi'," says James.

That was twelve years ago. These days Jimmy James competes at world championship level. He has won 7 gold medals and 2 silvers at international tournaments. He represents St. Lucia all over the world. In 2008 in Beijing, Tai Chi will for the first time become an Olympic
sport. Jimmy James would like to put together a St. Lucian Tai Chi contingent to compete in the discipline.

"Tai Chi is the pinnacle of all martial arts," says James who has at last found the ideal discipline that brings about a sense physical and mental well-being.

"Before Tai Chi, I was seriously considering Viagra, now I don't need it," says the very contented Tai Chi master.
CAP MAISON - OR YOUR HOUSE AT CAP

Cap Maison is situated at Cap Estate on the northwest coast of St. Lucia. This small but luxurious development is an exclusive apartment hotel. The 16, two and three bedroom units, between 2,500 sq ft and 3,200 sq ft in dimension, start at US$ 750,000. They will be built on the Caribbean coastline with unobstructed views of Pigeon Island, the ocean and the neighbouring island of Martinique.

Scheduled for completion in 2007, just in time for the Cricket World Cup, purchasers may use their apartments for up to nine weeks per year. The rest of the time, the apartment will form part of a five-star hotel. In total there will be 40 rooms, and the complex will feature a top notch seafood restaurant, a cliff-edge bar and a spa.

Owners are entitled to 50 percent of the annual rental income and according to calculations, they will benefit from a minimum five percent return in the first year of operations. The apartments are sold on a 99-year lease.

Cap Maison is the creation of Theo and Helen Gobat, who have been in the Caribbean hotel industry for over thirty years. The project is designed by Lane Pettigrew, one of the Caribbean's best-known architects. All landscaping will be done by Veronica Shingleton-Smith, owner of one of the most spectacular botanical gardens in St. Lucia.

For more information on the project, consult capmaison.co.uk.

ANIMATED HISTORY - DESMOND SKEETE ANIMATION CENTRE

Situated at La Place Carenage Duty Free Shopping Mall in Castries, the Desmond Skeete Animation Centre affords visitors a quick, concentrated discovery of St. Lucian history.

The visit starts in the Centre's small museum. Artifacts and remains of St. Lucia's first Amerindian inhabitants are on display. The most fascinating being the skeleton of a middle-aged Arawak woman dating back to 400 AD. She is in a curled up fetal position, a traditional
burial posture. The history of the Castries harbour, with its links to St. Lucia's colonial past is also shown along with a military exhibition, a testimony to the island's turbulent past.

At the end of the museum tour, visitors are invited into the Animation theatre for a 20-minute light and sound show that relates the story of the history of Castries. Using audio, video and special effects, the presentation illustrates the Anglo-French wars for domination of St. Lucia, the importance of port Castries and the catastrophes that have destroyed the capital. Well-known French, British and American personalities that have helped shaped the country's history are also included in the narration.

The Animation Centre is named in honour of the late Desmond Skeete, one of the most forward-thinking, innovative and hard-working individuals to be elected Chairman of the St. Lucia Tourist Board.

TWO POUNDS OF STEAK PER DAY - KEEPS THE DOCTOR AWAY

Gastronomic Celebrity and TV CHEF personality Peter Richard Kouly from the Triple Diamond Big Chef Steakhouse has received a Certificate of appreciation from the Caribbean Cardiac Society.

He was guest speaker at the 19th Annual Caribbean Cardiac Society Conference which was held in Saint Lucia.

Big Chef not only has the knowledge pertaining to red meat and steaks, he also has a lifetime experience in quality living. He swears by a balanced diet which includes equal doses of juicy steak and quality red wine. This translates into two bottles of red wine (one
bottle a day for health and the other at night for pleasure) plus two pounds of steak.

Steak provides a protein shot and wine is essential for the cholesterol. It cleans your veins like Draino. The cardiologists had a lot of questions for the Steak Master who managed to enlighten them and put healthy living into perspective. Here are a few examples from the question and answer session.
Doctor: You must agree that running and exercise is good for the heart.
Big Chef: Absolutely not, think about your car! Will it last longer, the faster you drive it? If you want to live longer, take a nap.
Doctor: Your heart works best with a lot of vegetables in your diet!
Big Chef: You must grasp logistical efficiencies. What does a cow eat? Hay and corn. And what are these? Vegetables. Steak is nothing more than an efficient way of delivering vegetables to your system.
Doctor: Too much wine is bad for you!
Big Chef: All doctors agree that fruit and vegetables are good for you. Wine is pure fruit to be enjoyed to the fullest.
Doctor: Tell me the advantages of participating in a regular exercise program?
Big Chef: Sorry, I can't think of a single one. My philosophy is: No Pain, Good.
And the philosophy is gaining quite a following. Nearly 500 steak lovers have become Steak Masters by successfully completing the 32-ounce Steak Challenge. Their certificates are displayed on the restaurant's wall of fame.The unbeaten record is held by a medical student studying to become a cardiologist. He consumed a whopping 67-ounce Rib Steak.

Big Chef Steakhouse not only serves big, succulent steaks, but also a large variety of seafood, salads and pasta. One of the specialities is Snapper Extravaganza topped with Jumbo Garlic Shrimps.

You can meet Big Chef, a.k.a. Peter Richard Kouly any evening (except Sunday) and chat about steaks, diplomatic service (he is the Consul for Denmark and Sweden and has been knighted by the Queen of Denmark), real estate or wines. Big Chef also has the most extensive and prestigious wine list in St. Lucia.
DIGICEL ST. LUCIA

The Digicel Network is based on superior GSM technology. Global System for Mobile Communications (GSM) is a European standard that is now commonly adopted worldwide.
When traveling to St. Lucia, you can stay connected on the Digicel Network. Digicel gives you access to over 200 roaming partners in almost 80 countries around the world! Digicel gives you the ability to send and receive calls and text messages while vacationing in St.
Lucia!

As a visitor to St. Lucia, Digicel offers SIMS for EC$50 which comes with EC$20 call credit. To use this service, visitors will need an unlocked mobile phone. The visitor SIMS can be purchased at any of 3 Digicel outlets and both airport centers of the Guy's Car Rental. With
this Digicel visitor SIM, visitors can take advantage of the local Digicel rates and can top up/recharge using Digicel Flexcards. Digicel has a total of 700 Digicel Flexcard dealers island-wide. Just look for the Digicel sign outside various business places on the island.

Remember…when dialing internationally with the visitor SIM you will need to dial 1 plus the area code and then the number.
LEPARADIS AT PRASLIN BAY

St. Lucia's latest major tourism development will be situated on 554 acres of land on east coast of the island. It encompasses 4.5km of coastline, small bays and distinctive peninsulas, and is just 20 minutes from the international airport. From the shoreline, the land rises 186 meters (610 feet), generating spectacular ocean views. The site is protected by a system of interlocking reefs, which completely isolate the bay from the Atlantic swell.

"Among the most important aspects of any real estate development are location, beauty and quality. We are thrilled and honored to have the absolute best of all three," said Kierron Dolby, Managing Director of DCG Properties Limited, the developers of Le Paradis.

Phase one will include an international four star plus hotel with 232 rooms and conference facilities for up to 600 persons. One hundred luxury condominiums and ultra-luxe residences will also be built along with an international health spa and a Greg Norman signature 18-hole
golf course to be managed by international Troon Golf. Snorkeling, sailing, diving, deep sea fishing, kayaking and tennis will be offered.

The golf course will be one of the main attractions at Le Paradis. The 18-hole Greg Norman signature course will offer breathtaking ocean views from each hole. Included on the course is a signature hole at the 14th green that will be one of the most challenging golf holes in the world. The 19th hole located at an elevation of 86 meters (280 feet) will have stunning panoramic views over the course, the bay and the ocean.

In Phase two, a 40-bed five star Marina Boutique Hotel, together with a marina and marina village encompassing inland waterways and moorings, will be nestled within Le Paradis.
Completion date for the first phase is March 2007.
TEN YEARS ON THE SOUFRIÈRE MARINE MANAGEMENT AREA

In July 1995, in response to severe natural resource degradation, a unique management system was created, the Soufrière Marine Management Area, or SMMA.

The area concerned is an 11 kilometre marine and coastal stretch in Soufrière that extends between Anse l'Ivrogne in the south and Anse Jambon in the north. It comprises marine reserves, where no fishing activities are allowed, fishing priority areas, yacht mooring zones to avoid the anchoring of yachts on delicate sea floor substrates, multiple use-, and recreational areas.

Fees generated from entry into the marine reserves by divers and the use of moorings, sustain the operations of the SMMA and pay the salaries of 9 employees.

In the beginning, the stakeholders had problems accepting the new zoning arrangements. Fishermen complained that too many prime fishing areas were taken away for the benefit of tourism, yachters complained about the banning of unsupervised diving, loss of anchorages
and fishing limitations. The cooperation of certain dive operators was inadequate.

In 1997, political changes, combined with the dissatisfaction of the trap and line fishers, caused a major crisis, leading to a thorough institutional review. The outcome was an improved structure, consisting of a Board of Directors and an advisory committee.

Later that year, the SMMA received the prestigious British Airways/IUCN Tourism and Protected Areas Award. Fishermen received a one year stipend to compensate them for the transition from an open access to a controlled access situation.

With French assistance, fishing pressure was diverted off shore with the establishment of Fish Aggregation Devices (FADs). Fishermen received training in long-line fishing and were given easy access to loans, to invest in better equipment or a tourism career.

Ongoing research showed that after only 4 years, fish catches improved. In 2001 scientists testified that certain fish species tripled in stock in the marine reserves and doubled in the fishing areas.

The International Coral Reef Action Network (ICRAN) declared the SMMA its first "Demonstration Site", based on its ability to manage coral reefs. June 30th 2005, ten years after its creation, the SMMA became part of the UNESCO World Heritage Site, the Pitons Management Area.

St. Lucia's Newest Southern Attraction - COCONUT BAY

Set amidst 85 acres of coconut palms, Coconut Bay is a short drive from Hewanorra International Airport on the windswept Southern shore of St. Lucia. The resort is an attractive alternative for the budget conscious traveler who demands a quality vacation experience.

Coconut Bay has 254 guestrooms each with a balcony, sitting area and ocean views. Guests enjoy three freshwater swimming pools including a water park, lazy river and two waterslides.

Coconut Bay's spa provides an extensive menu of salon and spa services in ocean view treatment rooms. Dining is offered in two specialty restaurants (Asian and Italian) and
an open air buffet restaurant serves breakfast, lunch and dinner. Snacks are served at the Beachside Grill and friendly bartenders mix island cocktails at three bars plus the swim-up pool bar. When the sun goes down, the fun continues with nightly entertainment.

Coconut Bay proposes a variety of recreational activities including: beach and pool volleyball, water aerobics, tennis, basketball and a complete fitness center.

"At Coconut Bay, guests can do as much or little as they like and the exceptional service of our staff will make them come back again," says general manager, Newton Grey. "We guarantee a truly memorable vacation."

Coconut Bay is the ideal setting for a wedding, honeymoon or family vacation. The staff offer full wedding services. Couples can enjoy an intimate affair or a grand celebration. Families may play the day away on the beach, in the children's activity center, or the water park. The resort is the perfect escape for any traveler seeking fun for less than a fortune. Coconut Bay Resort and Spa at 758-459-6000, or visit www.coconutbayresortandspa.com.