ISLAND HOMES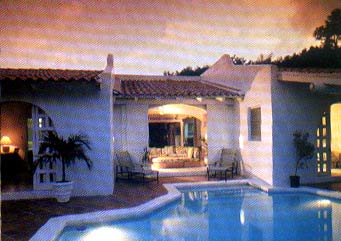 Discovery at Marigot bay

Discovery at Marigot Bay is St. Lucia's newest and most luxurious spa and marina resort. Even before the start of construction, buyers were snapping up the beautifully appointed one-, two- and three-bedroom apartments for their hassle free investment potential.
Now only a handful of the 57 apartments are still available. Each is designed with special lock-off facilities which allow them to be converted into 124 hotel units offering a range of options including one bedroom suites, two bedroom suites, three bedroom suites and
conventional hotel rooms.
The net profits from lettings to hotel guests will be shared between apartment owners and the hotel on a 50/50 basis. There are absolutely no management fees to be paid. In addition, the developer, Doubloon International Ltd, guarantees owners a minimum 6% cash return per annum for the first two years - a clear reason the project has proved so popular with international investors. Other benefits include up to seven weeks free use each year for owners generating a composite return of around 11%, half in cash and half in fun!
Scheduled for completion in February 2006 the project was designed by international award-winning architects Denton Corker Marshall. It includes a fully equipped fitness centre, the top notch Lapli Spa, yacht mooring facilities, fine dining restaurants, a dockside café and
lively bars. To view detailed plans for Discovery at Marigot Bay, visit the Discovery Information Centre at Marigot Bay or telephone (758)458-0790
St. Lucia Golf & Country Club

This company is the principal developer at Cap Estate. The feature attraction is the 18-hole championship golf course laid out through mature wooded slopes and valleys. The fully irrigated Par 71, 6829 yd facility has a complete Restaurant, Bar and Pro-Shop.
New residential developments offered by Cap Estate Properties include Villas on the Green, Sea Breeze Heights, Sea Star Residential and Sea Spa Hotel overlooking the upcoming Jack Nicklaus Golf Course and Clubhouse. Villas on the Green, an extension of the existing St. Lucia Golf & Country Club, is an exclusive residential community of only fifteen lots. Villas will be located within the course and residents will have a superb golf course right on their door-step!
Sea Breeze Heights at Mount Hardy, with Atlantic views, is a development with only 30, three-quarter acre lots. The developers also propose to complete villa construction according to the purchaser's requirements.
The Point Hardy development will feature a timeshare programme.
For more information on the limited availability of luxury home sites in and around the golf course, contact the Cap Estate Offices in St. Lucia or in the US.
Cap Estate St. Lucia Ltd, P.O. Box 328, Castries, St. Lucia, Tel: (758)450 8522. Cap Estate Corp., 1159 E. North Street, Bradley, Illinois, 60915. USA, Tel: (815) 936 4006. Or visit our website www.Cap-estate.com
Jalousie Plantation Resort
Live where heaven meets earth.

When you enter the vast acreage of the Jalousie Plantation resort in the Saint Lucia's Val des Pitons, you feel as though you have made contact with the primeval forest of a lost world. No wonder UNESCO has designated it a World Heritage Site. The twin mountains and their magic valley form what must be one of the world's most dramatically beautiful resort locations.
You can now own a villa on this remarkable site. The ninety existing villas and villa suites that dot the mountains' lower slopes are being extended and renovated for sale. They nestle into the landscape on the edge of a protected rain forest and offer mountain and ocean vistas. Fifty more waterfront villas with equally dramatic views are in the process of design.
An attractive feature is the Jalousie Plantation resort. Villa owners have access to all the amenities and activities of a first-class resort, including great diving in a National Marine Reserve right off the beach. The resort offers fine dining in four restaurants.
Villas are sold on a freehold basis. Owners may occupy for six weeks per year. After that the property is turned over to the resort's management rental pool. This assures a great holiday for life with large income and capital appreciation potential. The resort management assists with details of ownership, including mortgage arrangements.
Villas at LeSport

Looking to invest in a Caribbean property? Consider the advantages of The Villas at LeSPORT on Saint Lucia's north shore. Beautifully designed with infinity pools and stunning vistas over the Caribbean, they are situated on the grounds of one of the Caribbean's most successful resorts. An impressive arsenal of facilities and services is in place including a reputed centre of well being.
The villas, designed by renowned Caribbean architect Lane Pettigrew, offer quality construction using the hand-made traditions of Saint Lucia's finest craftsmen. Each villa has two suites, increasing the potential for rental income. Owners occupy for six weeks per year. The rest of the time the property is turned over to the resort for rental as deluxe hotel accommodation. There are no management fees or running costs. Owners also get a deeply discounted day-rate at the resort's facilities.
In terms of pleasurable appreciation and financial gain, this is one investment that pays for itself.