HOTELS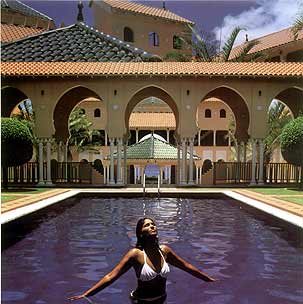 AUBERGE SERAPHINE
P.O. Box 390, Castries, St. Lucia
Tel: (758)456-3000/453-2073/4/7
Fax: (758)451-7001
E-mail: auberge@candw.lc
www.aubergeseraphine.com
Auberge Seraphine is a 28-room hotel overlooking Vigie Yacht Marina, nestled in a mangrove where wild egrets roost. Standard and superior rooms with patios are air-conditioned and most look out onto the marina.
All rooms have cable television and direct dialling telephone. Centrally located, Auberge Seraphine is five minutes from the island's capital, Castries and Duty Free Pointe Seraphine.
This small hotel is particularly popular with travellers who have business in the city and want to be near to the airport. The service is impeccable and the tariffs are reasonable. Facilities include an excellent restaurant, bar and swimming pool. There is access to a fitness centre, which is five minutes away from the hotel.
CARIBBEAN JEWEL BEACH RESORT
P. O. Box GM503, Castries
Tel: (758)452-9199
Fax: (758)452-9198
E-mail: caribbeanjewel@candw.lc
www.caribbeanjewelresort.com
Nestled on a mountainside overlooking Rodney Bay, Caribbean Jewel Beach Resort is a secluded Caribbean retreat. The 30 room resort features deluxe rooms with king and queen size beds, suites and the Caribbean Jewel Suite with 1 bedroom and a fully equipped kitchen. The executive suite has two bedrooms with an equipped kitchen. All rooms have views of Rodney Bay. Olivia's Restaurant specialises in French cuisine. The swimming pool overlooks the sea and the beach is a short walk away. The conference facility accommodates 20 people. Caribbean Jewel offers a wedding service. The resort is close to the island's major leisure amenities at Rodney Bay.
BAY GARDENS HOTEL
P.O. Box 1892, Castries
Tel: (758)452-8060
Fax: (758)452-8059
E-mail: baygardens@candw.lc
www.baygardenshotel.com
This award-winning hotel is situated on the south side of Rodney Bay, within easy reach of Reduit Beach, shopping centres, restaurants and night clubs. The hotel has 71 air-conditioned rooms each with terrace or balcony, bathroom, cable television, direct dial telephone with Voice mail, data ports, radio, 110/220 power outlets and refrigerator.
Bay Gardens is popular with corporate travellers. The hotel has three conference rooms with a fully-equipped business centre.
For guests who want to relax, in addition to the restaurant and bar, there are two swimming pools, a jacuzzi, and library. The Bay Gardens has established a reputation for providing excellent value for money service. Seventy-five percent of Bay Gardens' guests are repeat clients.
BAY GARDENS INN
P.O. Box 1892, Castries
Tel: (758)452 0255/8200
Fax: (758)452-8002
E-mail: baygardensinn@candw.lc
www.baygardensinn.com
Bay Gardens Inn complements its sister resort, Bay Gardens Hotel. The two properties are next door to one another. The Inn has 33 air-conditioned rooms, each with a refrigerator, cable television, direct dialling; data port, hair dryer and coffee and tea making facilities. The hotel has an in-house beauty parlour, spa and Internet café. There is a restaurant, bar, conference facility and swimming pool. The hotel also specialises in weddings and honeymoons. Bay Gardens Inn is situated in Rodney Bay, five minutes from the beach and Rodney Bay Village with its numerous restaurants and popular night spots.
COCO KREOLE • Rodney Bay Village
Tel: (758)452-0712/0943 • Fax: (758)452-0774
E-mail: reservations@coco-resorts.com
www.coco-resorts.com
Coco Kreole is a three star, 20 room property situated in the heart of Rodney Bay Village. Locally owned and operated by its proprietor, Allan Chastanet, Coco Kreole opened in 2003. The hotel provides a homely Caribbean experience combined with modern conveniences for the leisure and business traveler.
Room rates start at US$85 in summer for a courtside view with continental breakfast. In winter the tariff for the same room category is US$95. The rooms feature modern-day facilities: air conditioning, TV and VCR, CD players, ceiling fans and complimentary high speed wireless internet service. Rooms can easily be interconnecting which is ideal for families. Some offer a wrap around terrace overlooking rich tropical foliage. Each room displays the work of Caribbean artists.
In addition to the Coco Kreole facilities, (the pool and the bar), guests may also use the services at the sister Coco Palm resort, situated next door. These include an expanded swimming pool and the Kafe Kaiso lounge open all day all week. Guests will have signing privileges at the poolside Caribbean Bistro and Bar called Ti Banane.
Coco Kreole is a 10 minute drive from the George Charles Airport in Castries and an hour away from the Hewanorra International Airport in the south. It is within walking distance of some 20 bars and restaurants that are found in Rodney Bay Village and the two mile stretch of white sand Reduit Beach.
Coco Resorts offers guests day and sunset excursions on Carnival Sailing with four catamarans yachts as well as car rentals with mobile phone and a local Creole picnic basket to better explore the island.
COCO PALM Rodney Bay Village
Tel: (758)452-0712 • Fax: (758)452-0774
E-mail: reservations@coco-resorts.com
www.coco-resorts.com
St. Lucia's newest property, Coco Palm, is located in the heart of Rodney Bay Village. The hotel's upper floors provide a panoramic view of St. Lucia's tourism capital. The Palm's design evokes old French Caribbean architecture, yet the hotel provides the most modern day amenities that travellers expect. Laid out over four floors, Coco Palm has 83 rooms including 12 suites and 6 swim up rooms. The colourful rooms are equipped with coffee makers, flat screen TV's, CD players, WiFi, mini-fridges, security safes and in some cases, I pods and DVD players. One of the best views of Rodney Bay Village can be had from the roof top which by day is used for massages and in the evening for cocktails or wedding receptions and also for a special dinner set, for no more than eight people, with a private butler. Guests dine at the 24 hour bar and lounge restaurant, Kafe Kaiso, featuring late night music, a projector screen with TV/DVD, a pool table and a stock of fine Caribbean and international rums. The 1,300 square foot spa offers a variety of treatments, some of which will be held in different parts of the hotel; around the pool area, on the roof top, and even on the nearby beach front. Spa services will also be available in the rooms. Guests will be invited to participate in Feng Shui and yoga sessions. There will be some major calendar events such as Holistic month in June and a culinary month in November that will feature invited chefs from all over the world. A special programme called Kreole Kids has been designed in association with the nearby Montessori school. During the summer vacation forty visiting children will spend half day at school and the other half on tour.
COCONUT BAY
P.O. Box 246, Vieux Fort
Tel: (758)456-9999 • Fax: (758)456-9900
E-mail: ngrey@cbay.com • www.coconutbayresortandspa.com
Step into paradise at St. Lucia's newest seaside retreat for singles, couples and families. Located just minutes from St. Lucia's international airport, Coconut Bay Resort and Spa is situated on 85 acres of coconut palms along the southern Atlantic coast. Float under cascading waterfalls after sunning poolside with a tropical island cocktail; take your vows in an Oceanside gazebo, on the beach or in the beautiful gardens; frolic in the island's largest water park with free-form pool, lazy river and waterslides; take advantage of therapeutic treatments in the full service spa featuring oceanview treatment rooms and open-air showers.
Coconut Bay welcomes families as well. A fully supervised Kidz Klub caters to the little ones with scheduled daily activities so adults can enjoy quality time dining or reading by the "quiet" pool. Children can romp in their own water feature.
The resort's dining options cater to everyone. Silk offers Asian cuisine and Bellagio serves Italian. Both require proper dress and seating schedules are designed to accommodate families and couples. Coconut Walk serves buffet breakfast, lunch and dinner daily. From dining to daily entertainment and a world of activities, Coconut Bay delivers the perfect vacation in 254 oceanview rooms, three restaurants and a beach grill, four bars including a swim-up pool bar, tennis, basketball and volleyball courts, fitness center with water aerobics, nature trails, gift shops and a variety of other amenities.
CARA SUITES
P.O. Box 1109, La Pansee Rd., Castries
Tel: (758)452-4767 • Fax: (758)453-1999
E-mail: carasuiteslc@carahotels.com
For the best in comfort, cuisine, conference services and convenience, Caribbean Style, Cara Suites is the only choice in St. Lucia. Perched on the lush hillside above the city of Castries, Cara Suites is the ultimate choice for easy access to the airport and the city, both a 5 minute drive away. For the business traveller, Cara Suites offers serenity and superlative services - free access to the Business Centre, computers, high speed internet access, colour printing, fax and photocopying services, extensive conferencing facilities, and efficient and attentive staff. Whether on business, or just on the island to relax, our rooms with views, bars, swimming pool and the Mandolin Restaurant combine to ensure an unforgettable visit.
GREEN PARROT HOTEL
P.O. Box 648, Chef Harry Drive, Morne Fortune; Castries, St. Lucia
Tel: (758)452-3399
Fax: (758)453-2272
E-mail: greenparrot@candw.lc
www.greenparrotinn.com
The Green Parrot Hotel is a 55-room resort, tucked away on the Morne Fortune hillside with a commanding view of the capital city Castries, the Vigie coastline and the Caribbean Sea. Rooms are air-conditioned with private bath, shower, telephone, and cable television. The restaurant offers local and European dishes, served by Chef Harry who trained at Claridges in London.
Green Parrot offers conference facilities for seminars, workshops, meetings and social events. The facilities accommodate 100 persons in theatre style or 60 persons in a classroom setting. Ask about the special business lunch or the "free" lunch given to all business people who celebrate their birthday during the use of the conference facilities. Guests can also enjoy the swimming pool, bar, pool table and darts.
JALOUSIE RESORT
P.O. Box 251 Soufrière • Tel: (758)456-8000
Fax: (758)459-7667
Email: reservations@thejalousieplantation.com
www.hiltoncaribbean.com
Where heaven meets earth. The Jalousie resort in Saint Lucia's Val des Pitons is on the edge of a protected rain forest. It occupies 320 lush acres of a valley that sweeps dramatically down to Forbidden Beach. A protected underwater park attracts divers from all around the world. UNESCO has named the twin Pitons that stand like sentinels on either side of the valley a World Heritage Site. And Oprah Magazine says that of the five things you must do in your lifetime, a visit to the Pitons is Number One.
Most of the resort's accommodation is in clusters of spacious villas with mountain and ocean vistas. Deep green crashes down the mountainsides. It's a little like living in the heart of the earth's first landscape. Legend has it that the Pitons guard the secret of creation.
There are four restaurants on the property. The elegant Palm Court Piano Bar is the place to meet other guests for a cocktail and enjoy the sunset over the ocean. The beautifully appointed Plantation Room is the resort's fine dining, air-conditioned restaurant, and the Pier and Bayside provide less formal options on the waterfront. Sailing, windsurfing and kite boarding provide sunny amusement. The diving and snorkeling are simply fantastic.
There is a fully equipped gym and a full-service spa. Soft adventure treks in the rain forest take you walking up a river, jumping off a waterfall, and abseiling down cliffs. This mixture of elegance and dream-like paradise is perfect for people who want to get away from it all in style.
RENDEVOUS P. O. Box 190, Castries St. Lucia
Tel: (758)457-4900 • Fax: (758)452-7419
Reservations: UK and Europe: 0870 22 2344
USA and Canada 1 800 544 2883
E-mail: rendezvous@theromanticholiday.com
www.theromanticholiday.com
The first boutique hotel for couples. The all-couples Rendezvous resort in Saint Lucia started out as a family home on beautiful Malabar Beach. Lionel, the butler would play the practical joke of serving passing travelers drinks and snacks, pretending the house was a beach resort. In the fifties, a few guest cottages were built around the house and the island's most beautiful garden-by-the-sea hotel got its start.
Saint Lucia and the family home have come a long way since, but Rendezvous retains the intimate ambiance and style of a boutique hotel. With only a hundred rooms and a high staff-to-guest ratio, it is unlike any other couples-only hotel in the Caribbean.
Nothing is more inspiring than a great couple. And all great couples deserve a special place in the sun to rediscover each other. Manager Nigel Theophilus says: "Some couples-only holidays get in your face, Rendezvous gets in your heart."
Rooms come in a variety of styles and furnishings. After a recent $7,000,000 investment, all are first class, and all set the stage for romance.
Nothing is too much trouble for the staff. Want a special candle-lit dinner for two on the beach? No problem. Need a snack to take on a picnic? Just ask and it's as good as done.
There's lots to do: two pools (one with a swim-up bar), scuba, sailing, wind surfing, tennis, archery, volleyball, and a fully-equipped gym. The longest beach on the island makes for great walking and moonlight strolls. Wonderfully prepared food helps the process of romance and Rendezvous rises to the occasion with two good restaurants. With everything on the house, including drinks, Rendezvous liberates the couple from the tyranny of money. It is an escape for romantics.
LADERA RESORT
P.O. Box, 225 Soufrière
Tel: (758)459-7323/459-5448
Fax: (758)459-5156
E-mail: ladera@candw.lc
www.ladera.com
Perched on a forested ridge high above the glittering waters of Anse des Pitons, Ladera is as beautiful as the scenery which surrounds it. St. Lucia is known for its inspiring scenery, but at Ladera you are actually part of the landscape — nearly close enough to reach out and touch
both of the Pitons. Throughout the resort, the unifying element is the vista. Every bedroom is truly a room with a view. Each suite was intentionally designed without a fourth wall, affording unobstructed panoramas of the sea, the dramatic Pitons and the rainforest. Guests can slip into their beautifully landscaped private plunge pool and enjoy the surroundings. The all-new Ti Kai Posé spa offers guests a selection of Caribbean-inspired treatments in an intimate setting beside the rainforest. Ladera's commitment to authenticity is evident in all areas of the resort, from the innovative local dishes at Dasheene Restaurant, to the Caribbean timbers, stone and tile work used in the guestrooms. Add to that the warm, Caribbean hospitality delivered by the entire staff and you have the essence of Ladera – an unsurpassed experience not to be missed.

TROPICAL VILLAS
P.O. Box 189, Castries, St. Lucia
Tel: (758)450-8240/450-0349
Fax: (758)450-8089
E-mail: tropvil@candw.lc
www.tropicalvillas.net
Tropical Villas offers St. Lucia's most exclusive and luxurious private homes for holiday rentals, from condominiums in Rodney Bay to spectacular beach and hillside retreats in Cap Estate, Vigie and Soufrière. Villas range in size from 1-6 bedrooms and all have private pools (condominiums share a pool), landscaped grounds, and are fully staffed. All villas in Cap Estate are near to an 18-hole golf course, the St. Lucia Racquet Club, two beaches and are close to Rodney Bay with its varied shops and restaurants.
The villas at Vigie are close to Vigie Beach and the Pointe Seraphine Duty Free shopping facilities. Soufrière offers peaceful surroundings in the lush rainforest. There is something for everyone. Prices for an entire villa start at US$158 per night in the summer to US$190 in the winter.

THE BODY HOLIDAY AT LE SPORT
P. O. BOX 437, Castries • Tel: (758)457-7800 • Fax: (758)450-0368
Reservations: UK and Europe 0870 220 2344
USA and Canada 1 800 544 2883 • www.thebodyholiday.com
All a body could ask for. Seventeen years ago, when St. Lucian hotelier Craig Barnard sought a concept for a new kind of holiday, his answer was to combine the pleasures of a first-class beach holiday with the wellness programmes of a European spa. The result is The BodyHoliday at LeSPORT, the world's first wellness holiday. It opened in 1989 and it remains in a class by itself. 'Give us your body for a week and we'll give you back your mind' is more than a slogan; it's the promise the resort goes all out to live up to.
Start by treating your body to a full menu land and water sports with included instruction. Even green fees are complimentary on the championship 18-hole golf course overlooking the Caribbean. The Health & Well Being Centre in the Oasis Spa is the most comprehensive centre of wellness in the Americas. Professionals administer Thalassotherapy and other rejuvenating treatments, including many kinds of massage, wraps, exfoliation, detoxification along with motivational exercise. The new MediSpa's Specialist Skin and Beauty Services propose Botox and other cosmetic medicine treatments to help with acne, aging of the skin, cellulite, and weight management. This holistic approach to health and well-being continues with instruction in yoga, Tai Chi, Pilates, and exercise classes. The spa offers an hour of complimentary treatments daily.

DISCOVERY at MARIGOT BAY SPA RESORT AND MARINA VILLAGE
P.O. Box CP5437, Castries, St. Lucia
Tel: (from Europe) 001 758 458 5300
(from the US) 1 758 458 5300
Fax: 1 (758) 458 5299
E-mail: discovery@marigotbay.com
Opening February 2006. Discovery at Marigot Bay on St. Lucia's sheltered west coast blends into its beautiful surroundings enhancing the natural loveliness of the bay described as "the most beautiful in Caribbean" by novelist James A. Michener.
The Discovery resort provides a luxurious environment for guests with every modern facility. Integrated into the tropical landscape, the well appointed 57 suites (half with private plunge pools) and 67 rooms feature spacious verandas affording stunning views of the bobbing yachts and sparkling waters of Marigot Bay below. The interiors are a unique and stylish combination of hot city chic, state of the art fittings and Caribbean pizzazz. Each suite has a fully equipped kitchen with Italian-designed appliances, and a dining and entertaining area which opens out onto a large wooden deck. All the rooms have high speed internet access.
Dining options range from the finest haute cuisine to casual tropical tastes. There is live music, dancing under the stars, a gym, special mind and body courses and access to a variety of watersports including sailing, scuba diving and snorkelling.
The Marina Village, a Caribbean-style wooden village built around a courtyard garden is the place to shop. Browse in the boutiques, enjoy a freshly baked croissant at the bakery or an ice-cold drink at the dockside bar and restaurant. There is also a bank, supermarket, art gallery and craft shop.
Lapli means both rain and blessings in the Creole language and there are plenty of treatments at the Lapli Spa. Apart from the Vichy spa wetroom there is a range of massage and beauty therapies. Natural products make use of aloe vera, hibiscus, cactus, seamoss, banana and other locally grown fruits and herbs. Each treatment room has its own private deck with an open-air shower. You may have your treatment au naturel in one of our Zen garden massage cabanas following a relaxing soak in a Japanese-style ofuru wooden tub.
Discovery is managed by Sonesta International Hotels Corporation which has over 40 years of experience in the Caribbean providing high standards of service.
SANDALS REGENCY ST. LUCIA GOLF
RESORT & SPA P.O. Box 399, Castries
Tel: (758)452-3081/9 • Fax: (758)452-1012/453-7089
E-mail: sandalslu@candw.lc • www.sandals.com
Fifteen minutes from George F.L Charles airport and the city of Castries, Sandals Regency St. Lucia is situated on 210 acres of tropical greenery, edged by the Caribbean Sea. The hotel is part of the growing Sandals chain that offers excellent service and top class facilities at an all-inclusive price.
For those who want to put themselves on the leading edge of luxury, lavish one and two story suites perched atop a magnificent coral bluff with panoramic ocean views, 24 hour room service and some suites with private plunge pools are available on Sunset Bluff.
The hotel boasts the Caribbean's largest freshwater pool, with a waterfall, swim-up bar and bridges. A new 5,000 square foot swimming pool has also been added. Sandals Regency St. Lucia has a nine-hole golf course, five tennis courts, six gourmet restaurants, a health spa, fitness centre with a new cardio-vascular facility, beauty salon, gift shop and an array of water and land sports.
Sandals Regency St. Lucia has also built a new conference facility with business centre. Guests at Sandals Regency St. Lucia have full access to the facilities at all other Sandals Resorts on island.

SANDALS GRANDE ST. LUCIAN SPA &
BEACH RESORT Pigeon Island Causeway
P.O. Box G.I. 2247, Gros Islet
Tel: (758)455-2000 • Fax: (758)455-2001
E-mail: sglmail@sgl.sandals.com
Approximately 6 miles northwest of the town of Castries on a causeway between Pigeon Island (National Landmark) and Rodney Bay, this is the newest resort to join the chain of Sandals resorts in St. Lucia.
A 284 room resort sitting on 17 acres of land that combines historic British and French flavour with the unparalleled service of Sandals, Sandals Grande St. Lucian is a magnificent new Four Diamond resort on its very own spectacular peninsular, surrounded by the Caribbean sea, where beautiful parks and historic monuments like Pigeon Island and Fort Rodney are within walking distance. It offers the Sandals world-class brand, renowned for every exclusive amenity from golf to scuba diving, an elaborate spa, sumptuous gourmet dining, ocean view accommodations, and the creative lagoon pool where guests can swim right up to their rooms. Culinary magic unfolds at 5 specialty restaurants, from signature white gloved service in a classic Italian bistro and casual beachfront dining at the Latin/Caribbean restaurant to the International Bayside Restaurant and an authentic British pub restaurant.
The hotel will provide transfers from both the Hewanorra International Airport 40 miles (1 hr. 30 min) away, and the George F.L. Charles Airport 6 miles (20 minutes) from the resort. Guests at this resort have full exchange privileges and dining at all other Sandals resorts on island.

SANDALS HALCYON ST. LUCIA
P.O. Box GM910, Castries
Tel: (758)453-0222 • Fax: (758)451-8435
E-mail: sandalshc@candw.lc
A short drive from Castries and George F.L. Charles Airport, Sandals Halcyon St. Lucia is the island's ultimate beach resort with its classic Caribbean architecture and tropical gardens. For couples only, this all-inclusive paradise has 170 rooms with patios or balconies overlooking the calm waters of the Caribbean Sea, gardens, swimming pools and Jacuzzis. Facilities include three gourmet restaurants, tennis courts, watersports and a variety of great entertainment. Guests have full exchange privileges and dining at all other Sandals resorts in St. Lucia.
ST. LUCIAN by rex resorts
Reduit Beach,P.O.Box 512, Castries
Tel: (758)452-8351 • Fax: (758)452-8331
E-mail: rexslu@candw.lc • www.rexresorts.com
The 4-star, St. Lucian by rex resorts is set on the golden sands of Reduit Beach, one of the finest on the island. This idyllic resort is for that truly romantic holiday and is excellent for honeymoon couples. It also welcomes families.
Cool yourself in the calm waters of the Caribbean, enjoy a refreshing cocktail at the beach-side bar, and sample the gourmet cuisine from our restaurants. Cool, refreshing tropical drinks and a mouthwatering selection of delicacies are available at the Mariners restaurant and bar, an ideal venue to watch Caribbean sunsets. To complete the perfect day, sample the fine wines and cuisine at the Oriental Restaurant.
The hotel arcade has elegant boutiques, the Quarter Deck ice-cream parlour and a colourful Traders Market. St. Lucian by rex resorts also has a fully-equipped, modern conference facility.
ROYAL by rex resorts
Reduit Beach, P.O. Box 97, Castries
Tel: (758)452-9999 • Fax: (758)452-9639
E-mail. rexspecevents@candw.lc • www.rexresorts.com
The Royal by rex resorts has 96 luxurious suites set in landscaped tropical gardens, situated on St. Lucia's finest stretch of Reduit Beach. The luxurious Royal appeals to discerning clients who demand the best in comfort, luxury and high levels of service and cuisine. All suites are well appointed with a bedroom and separate sitting room, luxury bathrooms, hairdryer, minibar, safe, telephone, cable TV and radio. Each offers a patio or balcony with views of the gardens, pool and Caribbean Sea.
Revitalize your body and spirit in the Royal Spa. Whether it is fitness, invigoration or relaxation, we have the facilities to suit. Clients experience fine international and Caribbean cuisine at the Chic, a AAA Four Diamond rated restaurant and seaside L'Epicure and Terrace restaurant. Le Mirage swim-up bar serves cocktails and the Mirage lounge features live classical, jazz and island sounds for listening and dancing. The Royal conference facilities cater up to 200 people, looking to arrange anything from weddings, cocktails and dinner parties. Audio Visual equipment is available along with secretarial services.
PAPILLON by rex resorts
Reduit Beach, P.O. Box 512 • Castries
Tel: (758)452-8351 • Fax: (758)452-8331
E-mail: rexslu@candw.lc • www.rexresorts.com
A delightful all-inclusive, three star resort offering guests a relaxed friendly atmosphere and freedom to roam one of the most beautiful beaches in the Caribbean. The Papillon by rex resorts has spacious grounds and a variety of entertainment and excellent facilities including swimming pool, fitness centre and tennis court.
All-inclusive accommodation includes, full buffet breakfast, lunch and dinner with a wide range of cocktails, beers, spirits, soft drinks and house wines. Choose from the Monarch the main restaurant that specializes in buffet-style meals or the Clipper a beachside snack bar. It also includes the use of the watersports facilities and indoor games. The supervised children's club offers a range of activities for children between the ages of 4 and 12, for all three properties.