15 YEARS OF JAZZ
The St. Lucia Jazz Festival extends its beat all over the island. The event attracts visitors from all over the world and has given an unexpected boost to the local music industry.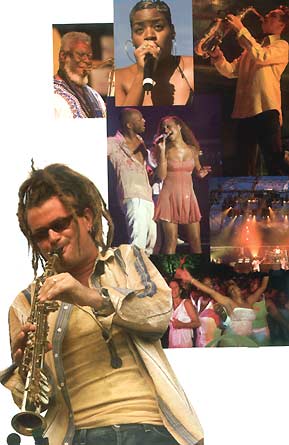 Over the last 15 years, over 350 artistes and 3000 accompanying musicians have played at St. Lucia Jazz. What started as a weekend festival has turned into a ten day event. In 1992 there were only three venues in Castries, today the festival covers the island and requires the construction of fifteen different stages.
Only one forty foot container with three tons of equipment was needed to stage Jazz in 1992. Today it takes 32 tons of sound, lighting, trussing, rigging, generators and musical equipment to produce the festival. "For a small island to develop a product with such international acclaim says a lot for St. Lucia," says Hilary Modeste, director of Tourism.
The economic benefits to the island are impressive. During Jazz 2005 over EC$46 million were injected into the local economy.
Then there are the Jazz faithful. More than one hundred individuals have attended every single event. These honorary jazz patrons come from Los Angeles, Martinique, Bermuda, Bahamas, Jamaica and Trinidad.
More and more St. Lucians are listening to jazz music.
"These days I turn on the jazz channel and I listen to the music," says Sherril, an administrative assistant at a local enterprise. "I never used to
listen to jazz but because of the festival, I have learned to appreciate the music."
Tommy, a travel agent in Castries says: "I like jazz music now. I never used to listen to it before. I always take in the free concerts during Jazz."
The festival has also benefited the local music industry. Since its inception, local artistes have been given prominence. This opportunity has helped develop the careers of several St. Lucian musicians.
Boo Hinkson is St. Lucia's premier guitarist. He performed at the first festival in 1992 with Luther Francois, a St. Lucian saxophonist based in Martinique. Since then he has played at every event as a solo artiste.
In 1996, he opened for George Benson. This encounter changed his approach to music. His playing, practice and performance were transformed as a result of this meeting. George Benson became a personal friend.
At another festival, Boo Hinkson and Stanley Jordan played together as an opening act for Herbie Hancock. The two guitarists had met previously in Martinique. Their St. Lucian encounter was a sell-out. Since then, they get together every year in St. Lucia where, along with saxophonist Ronnie Laws, they play at a private, invitation-only gig.
Ronnie Laws also booked Boo Hinkson and his band to play with him at the exclusive Anguilla festival. "We would never have met Ronnie Laws if it were not for St. Lucia Jazz," said Boo Hinkson.
As a result of the exposure afforded by the St. Lucia Jazz Festival, Boo Hinkson is booked to play at several other music festivals in the Caribbean.
BET, a major sponsor of St. Lucia Jazz shot a half hour special on the St. Lucian guitarist. Such international television airplay has done wonders for his career and his music can be heard on American radio stations.
"It's great to drive in Washington and hear my music on WHUR and in Atlanta on WCLK," says Boo Hinkson.
He now performs regularly in New Orleans, Atlanta and Washington.
Says Hinkson: "At St. Lucia Jazz, you see the best in the world: singers, instrumentalists and concert production. And if they put all this in your backyard and you do not take advantage of it, then there is something wrong with you!" Naturally, Boo Hinkson performs at St. Lucia Jazz 2006.