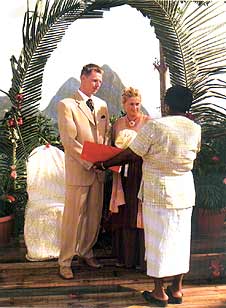 WEDDINGS

The secret is out. Couples love getting married in St. Lucia. Indeed, we are the marriage specialists. It must be something in the air or in the water! In 2004, World Travel Awards chose St. Lucia as the World's Best Honeymoon destination and Modern Bride Magazine voted St. Lucia one of its top ten honeymoon locations.
Whatever you desire, St. Lucia offers all sorts of wedding possibilities. Thirty hotels on the island specialise in weddings and encourage couples to stay on for their honeymoon.
Sandals with three hotels on the island, performs the greatest number of visitor weddings in St. Lucia. There is such a demand for the service that each hotel has at least one wedding coordinator who does nothing else but arrange perfect ceremonies. This service is ideal for couples who want to escape the stressful aspects of wedding planning. The bride and groom can literally lie on the beach until their wedding day. Formalities, flowers, photographer, music and reception are all taken care of by the wedding coordinator.
Bay Gardens specialises in garden and poolside ceremonies, Le Sport hotel makes the most of its spectacular architecture as a backdrop for its clients' weddings. Windjammer Landing makes every wedding special. They do no more than two ceremonies each day. They want couples to enjoy the exclusiveness of the occasion.
If you really want scenery, then there is Soufrière. The Pitons, one of the new World Heritage Sites, is about the most dramatic backdrop to any wedding photograph. That way everyone will know you got married in St. Lucia, the chic place for weddings. Church ceremonies can also be arranged. However, this takes a bit more time to plan than a civil
ceremony.
There are certain legal requirements that have to be completed before the marriage. These are clearly explained by local lawyers, usually chosen by your hotel, who will make your application to the Attorney General for permission to marry in St. Lucia. The application must be made seven days before the ceremony even though the couple is not yet in the island.
Original identity papers are required as well as divorce papers and even death certificates for widows and widowers. For individuals under eighteen, proof of parental consent must be produced.
The St. Lucian marriage certificate is recognised in most foreign countries such as the United States and Great Britain. French nationals, however, must register their marriage with the local embassy.
The demand for weddings in St. Lucia has created a new profession, that of marriage officer. Each new nomination is confirmed by an act of parliament. These civil marriage officers follow the vows and the rules laid down by the Registrar's office. However, wedding officers will happily accommodate couples who wish to include a reading from the
Bible in their ceremony.
Photographers and cameramen are available to record the event. Steel bands and saxophone players will give you music to dance to. Florists will make your bouquets a jungle of tropical flowers.
If you are still shopping around, try the Internet. Look under St. Lucia weddings and you will see pages and pages of options to choose from. Indeed, there are literally hundreds of ways to say 'I do' while the waves gently brush against the sandy shore at sunset.