Francis 'Mindoo' Phillip
St. Lucia's first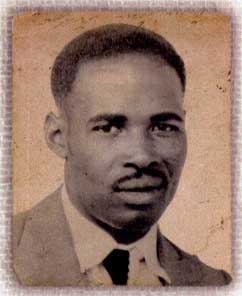 The balcony at Francis 'Mindoo' Phillip's home in Ravine Chabot overlooks the sports stadium that bears his name. For more than 50 years, he looked after the grounds. He fussed over them like an unruly child, getting the grass to grow back after a fixture and worrying over drainage problems.
In his heyday, as St. Lucia's hardest hitting batsmen, the public flocked to the grounds, then called Victoria Park, to see him in action. He even met his future wife, Helen, at the park. When she and her teammates came to play netball nearby, 'Mindoo' chased them off the pitch. He did not want them walking on the grass. After his death in 2006, it was only fitting that he be buried at the park that bares his name.
Francis 'Mindoo' Phillip was born in 1929. His father migrated to Venezuela, leaving him with his mother. He got his first taste of cricket in secondary school. He was hooked. After a short stint as an apprentice carpenter with the Public Works Department, he was hired as the handyman at Victoria Park. His life revolved around the place. In the 1940's, he played with the Hollywood Club before leaving to form the New Park Cricket Club. Both drew their membership from the Marchand area, a working man's neighbourhood situated next to the park. He spent his cricketing career with New Park, the dominant club on the island.
'Mindoo' Phillip represented the emergence of the poor and under-privileged. He took on the middle class at their own game and thrashed them at it.
'Mindoo' Phillip was the greatest male cricketer to come from St. Lucia. Yet he was never chosen to play for the West Indies team. His batting talent was respected in the Caribbean as he was invariably selected for national and Windward Islands' teams. According to his close friend, Stanley French, who has often written about 'Mindoo', he established a reputation in the Windward Islands as "a destroyer of all kinds of bowling and as a gifted all-rounder at home in any part of the field." Residents in the Marchand area who lived near the park were always cautious when 'Mindoo' Phillip batted at home. His shots frequently cleared the boundary, landing in bedrooms, living rooms and kitchens. Window panes often had to be replaced after a Phillip's innings
In 1979, Victoria Park became 'Mindoo' Phillip Park. The 'Mindoo' Phillip Masters Cricket Match is a fixture on the island's sporting calendar. It is held on the Sunday nearest his birthday. His inability to play at international level never soured him. 'Mindoo' Phillip encouraged young cricketers. He coached youth teams and supported the development of women's cricket.
Young St. Lucian hopeful, Darren Sammy remembers 'Mindoo' Phillip upbraiding him for a show of temper after he had been dismissed for playing a bad shot. He had scored 68. Said 'Mindoo' Phillip: "Young man, never forget your first fifty is for the nation. Play as though your life depends on it. The remainder of your score is yours—make sure you get what's yours."
Many thanks to Stanley French.
Photo courtesy: Mrs. Helen Phillip
Nadine George
Wonder Woman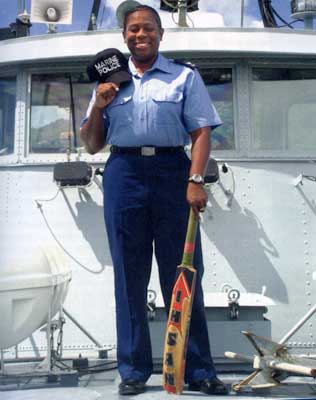 Nadine George is just as comfortable with an M16 as she is with a cricket bat. She is a Woman Corporal with the Royal St. Lucia Police Force Marine Unit and the first West Indies female cricketer to score a century in a test match.
In the Marine Unit, she is only one of two women in the 51 member squad. Qualified in electronics, she is a patrol craft operator and commander. As master of an 82 foot coast guard vessel, she is often called out to intercept drug traffickers on the high seas.
"I am the eldest in my family. Six boys come after me. I have always competed against the males," she says.
In Millet, the rural community where she grew up, everyone is cricket mad. Family matches were regular backyard fixtures. Her father, a police officer, was an avid fan. The whole family remained glued to the radio when cricket was on.
Nadine joined the Police Force and the Women's Police Cricket team in 1988. After her first match, she was selected to the national women's side. Cricket became her joy. Her batting skills terrorize bowlers.
"I have made bowlers cry. A Trinidadian girl broke down during a match because I was hitting her deliveries all over the boundary," she recalls.
Despite her iron will and incredible determination, Nadine George is soft-spoken and calm with a quick, radiant smile. She is 37 years old, an age where her male counterparts are thinking about retiring. She is just warming up. She was 35 when she became the first West Indies woman cricketer to score a hundred in a Test match. She broke the record against the Pakistan side in Karachi. She was inducted into the University of the West Indies (Cave Hill) Hall of Fame and subsequently named St. Lucia's Sports woman of the year.
In 2005, she received the MBE, Member of the British Empire, for her contribution to sport. She is a member of the St. Lucia Women's Cricket team since 1999. In 2006, she spent 3 months in Australia playing club cricket in Melbourne.
Yet women's cricket remains a poor cousin to its male counterpart. The ICC, International Cricket Council, mandated its members to merge their male and female boards. But the West Indies Cricket Board, the WICB, has yet to act. Women's teams have difficulty surviving. On tour they live on inadequate stipends and sometimes endure terrible living conditions. As a result, Nadine sometimes thinks of giving up. Playing cricket is not financially rewarding (had she been a man, her career would have taken off by now) and she needs to get ahead professionally.
But she cannot quit. Yet. Nadine wants to beat the world record of 242 runs held by a Pakistani player and score a century at a one day international.
"It's a need…like eating or breathing," she says with quiet determination. "If I don't get it, I am cheating myself."
Verena Felicien
The Pioneer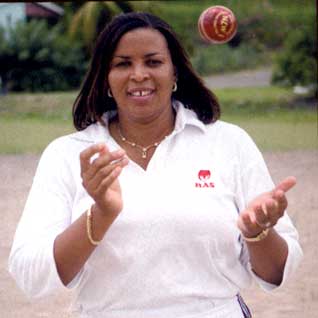 Verena Felicien took up cricket because it was the only sport played in Ti Rocher, the village where she lived, near Castries. Her aunt and her mother also enjoyed the game. They practiced on any available pitch or stretch of road. When there were not enough women to make up the teams, they recruited men.
In 1986, Verena founded one of the first female clubs in St. Lucia. With the advent of the "Toughest Wrecking Crew", the girls started playing real cricket.
"We thought we were so good that we needed a special name," she said. At first they wore short skirts to play before switching to trousers. They faced endless problems accessing practice grounds. The male teams took priority.
"Go and prepare dinner and look after your children" were the sort of taunts thrown out by their male counterparts.
But she persisted. In 1988, Verena became a founding member of the St. Lucia National Women's Cricket Association. Ten years later, under her captaincy, St. Lucia won the Caribbean Women's Cricket Championships. The team retained the title for 5 consecutive years. During that period she was also captain of the West Indies Women's team. Indeed, St. Lucian women dominated the international side. At one time, ten St. Lucians were on the team. With the West Indies team, she traveled to India, Holland and Pakistan. In 2005, she was selected to play for the World Cup. The tournament was held in South Africa. It was her second selection.
Verena Felicien is an all rounder, appreciated for her style of bowling. She is a leg-spinner. Playing cricket is a 'blessing'. The sport has allowed her to travel extensively. But more importantly, the game has taught her discipline and focus. "You have to be mannerly and controlled," she says.
She has been involved in women's cricket for the last 20 years, one of the first St. Lucian females to take the sport seriously. She has a talent for organization and she is a former administrator of the local federation, as well as a member of the regional governing body. She also has a full time job. She is a legal assistant with the National Insurance Corporation, St. Lucia's social security bureau. Her life revolves around her profession, her cricket itinerary and her daughter. The hardest part is the cricket. It is a permanent struggle to develop the sport. Talented players quit, frustrated by the lack of investment in the women's game.
Yet the West Indies Women's team continues to improve. Verena was at the wicket with Nadine George when she scored her record breaking Test century in Pakistan. Verena notched up a respectable half century during the partnership. Her ambition is to train young players and to strengthen the women's federation.
"I would like a business house to finance women's cricket," says Verena. "Our game needs the same level of support as the men's."
"For the time being, we feel like beggars around a table," she says.
Darren Sammy
Young Hope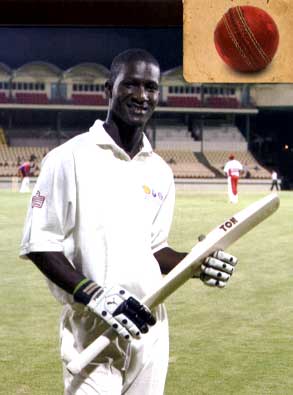 Darren Julius Garvey Sammy is 22 years old. He was born and raised in Micoud, a rural community on the Atlantic coast of St. Lucia. He is the first St. Lucian ever to be selected to the West Indies senior men's team. He is an all rounder with a penchant for bowling.
He grew up when the West Indies team dominated world cricket. Darren Sammy and his friends emulated their heroes in backyards and on street corners. Bats were made from coconut frond stems and balls were 'campos', melted-down plastic sheaths that covered the banana stems. If these were not available, oranges or discarded tin cans sufficed. His father let him stay up late to watch West Indies' matches broadcast from Australia, England or Pakistan.
He began to play properly at the Vieux Fort Secondary School in the south of St. Lucia. Exposed to formal coaching and over arm bowling for the first time, his undisciplined talent was noticed by Brian Calixte, the national coach. "He was an explosive batter and he played like a one-man team," recalls Calixte. "With time his bowling has improved and he is a true all-rounder now."
As a Seventh Day Adventist, Sammy's religion prevented him from playing cricket on weekends. Brian Calixte asked Sammy senior to make an exception. "I told Darren's father that his son had talent, that he was sure to be selected to play for St. Lucia," recalls Calixte. Brian Calixte fed and housed the young cricketer in Castries.
"It's important to know that someone is rooting for you," says Sammy. He never forgets to say thank you, especially to his parents. His mother was just fifteen when she had Darren, his father nineteen. To support his family, Mr. Sammy senior worked in agriculture. After the collapse of the banana sector, he worked as a mini bus driver. With his first decent paycheck, Darren bought his father a van. "Now he does not have to work for anyone," says Sammy.
Darren Sammy is being propelled to the top. He spent three years playing at the MCC Young Cricketers at Lords in England, a sojourn sponsored by the St. Lucia Tourist Board. He was the only West Indian in the group of twenty young international elite players. His cricket improved. He qualified as cricket coach. During this period he became the first St. Lucian to be selected by the West Indies senior team. But the call up was temporary. He bides his time as an office clerk in the Ministry of Commerce, a job that allows him to spend 9 months of the year playing cricket.
He captains the St. Lucia side and plays for the West Indies 'A' team. But his real intention is to be a permanent member of the West Indies senior team. The St. Lucian population shares his ambition. The pressure is overwhelming. Darren Sammy is not allowed to have a bad day. Weak performances unleash an avalanche of criticism which he ignores. He focuses on the game.
"It's always nice to reply with a good performance," he says. He does not want to let St. Lucians down. He seeks success as much as they do. "The nation expects me to do well," he says.