ISLAND HOMES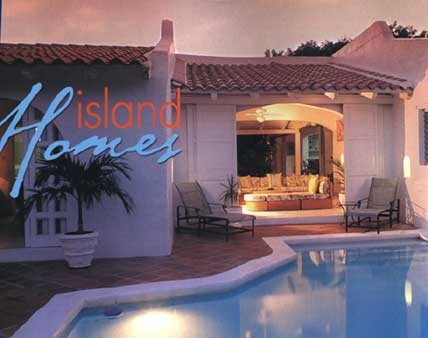 The Top Ten Villas of St. Lucia
Caribbean hospitality in a private home

St. Lucia's rental villas seem to be vying for first prize in an Architectural Digest competition. Impressive even impossible locations, pioneering design and original décor are all part of the criteria. This might explain why the island's villa rental sector is growing in popularity. Vacationing in a fabulous private residence in the tropics obviously has a glamourous appeal. But that is just part of the story. Renting a villa in St. Lucia also means enjoying the benefits of Caribbean hospitality and good Creole menus, prepared daily by competent staff.
Villa rental is the domain of the discerning, independent traveler; individuals who want to live their vacation like a local, albeit a privileged one. Popular with the British, the advantages of staying in a private house are now appealing to the American market.
We selected our top ten villas from over 60 possibilities. We chose varied locations and houses designed to suit families, house parties, couples and honeymooners. We even included a townhouse. Condomium and townhouse developments are increasing in St. Lucia and a growing number of clients prefer to rent these properties.
All villas in St. Lucia are staffed with housekeepers and cooks who specialize in local cuisine. In some cases, caretakers live on the property. They sometimes have their own pets. Some properties provide all the creature comforts, others are situated in zones where there is no television reception.
Unless specified, our choices are managed by Tropical Villas, situated at Cap Estate in the north of the island. Owned by Bridget McNamara, the company has been in existence for nearly thirty years. She started with just 6 villas in her portfolio; today she has ten times more. Prices range from US$200 per night to US$1000, depending on the size of the villa and its amenities.
Consult: www.tropicalvillas.net
Arc-en-Ciel, Soufriere
Great for house parties

Designed as a cluster of cottages connected by verandahs, the home grows out of the landscape. Peaked roofs mimic the towering Piton mountains. An infinity pool meanders around the house, passing through a grotto with a waterfall. French doors and tall ceilings capture the breezes. The house is furnished in colonial-era plantation style.
- 5 air-conditioned double rooms with ensuite shower rooms.
- Master bedroom has a view of the Petit Piton.
- Accommodates 10.
- No TV reception
- DVD library.
- Resident staff.

Bananaquit House, Soufriere
Fabulous views for families

- Five main bedrooms, sleeps eleven.
- 3 bathrooms.
- Large living area with dining for 8 persons, overlooking the garden, sea and mountains.
- Colonnaded gallery, furnished with sofas and tables, runs along the length of the house.
- Fish pond filled with lilies.
- Pool terrace with a fenced swimming pool.
- Small library, family games, stereo system and TV with DVD player (no TV reception in this area).
- Kitchen with laundry room.


The Anchorage, Rodney Bay
Spacious simplicity
One of 21 townhouses close to restaurants, supermarkets, banks, boutiques and car hire agencies. Near Reduit Beach, a safe swimming beach.
Spanish-style architecture in landscaped gardens, with large swimming pool and whirlpool.
Set on the Marina waterfront. Private dock available for additional rental.
Spacious sitting/dining room with ceiling fans and cable vision TV, opening onto a patio with a barbecue. Kitchen, laundry room and guest bathroom.
Three air conditioned bedrooms with 2 shower rooms.

Cap Pavilion, Cap Estate
Caribbean grandeur
Constructed from coral stone rendering on its own knoll with 360 degree views, the villa consists of three wings built around a central courtyard with covered walkways.

- 3 double bedrooms with 2 bathrooms.
- Guest wing with a double bed and en suite bathroom.
- Casual sitting area with Cablevision TV.
- Sitting room leads to the courtyard and gardens.
- Large size swimming pool surrounded by rocks, trees and palms, offering privacy and shade.
- A small gazebo is situated near the pool.
- Situated in four acres of landscaped grounds.
- 4 wheel drive vehicle recommended.
La Paloma, Vigie
A family house, near the capital Castries
Six bedroom villa furnished in a Caribbean/Mexican style with garden and cliff edge situation (fenced and safe for small children).

- Views of the sea, Martinique and Pigeon Point National Park.
- Large sitting/dining room with Cablevision TV and CD and stereo.
- Spacious patio with sea view and a large kitchen.
- Guest cottage with double bedroom and shower room.
- Patios run the length of the property.
- 20' x 20' U shaped swimming pool and small sitting pool with jets.
- Bedrooms are air conditioned.
Light Castle, Cap Estate
A hideaway for romantic couples
A modern, white castle on a cliff site overlooking the Caribbean Sea and the island of Martinique. Two air-conditioned bedrooms with en suite bathrooms. Master bedroom on the top floor in one of the towers, accessed via an external stairway. Second bedroom is in the main body of the house. Kitchen, dining and living areas flow into each other. Off the living area is a stone patio. A wooden sun deck encircles the deep plunge pool.
Morne Trulah, Bois d'Orange
A place for families
Built on the site of an old French fort above Rodney Bay, with views of Pigeon Island, Rodney Bay and the island of Martinique.
- Four air-conditioned bedrooms with patios overlooking the sea and ensuite bathrooms.
- Air-conditioned sitting/dining area with cable TV, DVD movies and modern sound system. - Patio with lighted swimming pool and sun deck set amid lawns and orchid garden.
- Kitchen with laundry facilities. Equipped with a burglar alarm system.
- Nearby beach. Jeep rental recommended.
St. Remy Plantation, Soufriere
For nature-lovers and honeymooners

A restored 150 year old estate house, situated in the hills on a small plantation. Gardens tended by the resident caretaker, George. Scrubbed wooden floors and a verandah encircling the house on three sides. 2 double bedrooms, one bathroom and one shower room. Sitting/dining room. Music centre, TV with video and video library. No television reception. Pool and sun deck set on the hillside. Small guest cottage with two single beds for additional rental. No children under 12.


Sea Pearl, Cap Estate
Small, intimate, comfortable

A short walk from Smugglers' Cove beach, Sea Pearl is set in a large, landscaped garden on a low cliff with sea views of Pigeon Island National Park.
Spacious sitting room, separate dining room, kitchen and laundry room. Two air-conditioned double bedrooms with ensuite shower rooms. Main rooms open onto a patio which runs the length of the house.
Kidney shaped pool off the patio. Gazebo perched on the cliff edge.

Smugglers Nest, Cap Estate
Stunning elegance

Perched on the hillside above Smugglers Cove beach, all rooms have ocean views. Landscaped gardens with gazebos. Terraces around the house. A large swimming pool overlooks the ocean with views of Pigeon Island. Furnished with antique Indonesian furniture and artifacts set against a white background. Two bedrooms with bathrooms. Two living areas, one with TV and cable television. Kitchen and open patios. A study and bathroom complete this house.
Accommodates 4. Children under 16 are not accepted.
Windjammer Villas, LaBrelotte Bay
A world apart for everyone

Mediterranean design villa complex set on a hillside with unimpeded Caribbean views. Terracotta tiles with rattan furnishings. One, two, three and four bedroom villas with plunge pools and spacious 3 and 4 bedroom Estate villas with full size swimming pools. Private bedrooms with en suite bathrooms, large dining and living areas, equipped kitchens. All villas are richly appointed with the warmth of wood and tropical furnishings.
Windjammer Landing Villa Beach Resort and Spa
Toll free from U.S and United Kingdom 1 800 958 7376
Fax: (758) 452-9454
Email: reservations@windjammer-landing.com
Website : www.windjammer-landing.com

HOMES AND LOTS

Many people come to St. Lucia on vacation and decide to purchase a home on the island. There is a wide choice of real estate to choose from and land prices are reasonable. Some people build winter getaways while others decide to turn their backs on big city life and make St. Lucia their permanent home.

CAP ESTATE
Once a sprawling sugar estate, Cap Estate is now a developed residential area situated on 1,500 acres at the extreme North of the island. The views offered from the generous half and one acre plots include the Caribbean Sea, the Atlantic Ocean, the central mountain range and neighbouring Martinique. Although some of Cap Estate's roads leave a lot to be desired, the real estate here is good value for money. A few homes are usually available for resale. Check with one of the island's real estate agents.

PREMIUM REAL ESTATE AT CAP ESTATE
For plots of land ready for construction, Cap Estate St. Lucia Limited offers some of the best values in high end real estate. On 700 acres of land, on the Northern tip of the island, with unhindered Atlantic and Caribbean views, is one of the best planned and laid out developments in the country. The quality of this location makes it a premium investment opportunity.
On the dramatic Atlantic coast, Sea Breeze Hills and Sea Breeze Heights are luxury half to one acre home sites, sold with full infrastructure. All utility cables are underground. For purchasers who want to escape the hassle of engaging a building contractor, the developers offer turnkey solutions with a series of different home options. Sea Breeze Hills and Sea Breeze Heights are ideal for building secondary residences or as a rental investment. Both are gated communities with security guards.
One of the main attractions at Cap Estate is the championship 18 hole, 71 par golf course. The Cap Estate developers are building 140 condominiums in the middle of this facility. The US$50 million development will include restaurants, swimming pools, bars and a spa. The condominiums are for sale and will be placed in a rental pool. The development will become a hotel. This project, situated near the golf club house and the proposed Jack Nicklaus Academy, is a sound investment opportunity. The developers offer guaranteed returns for the first two years after purchase.
The Pointe at Cas En Bas, launched in early 2007, is one of the most exclusive developments on the island and the star attraction at Cap Estate. The centrepiece is a private 18-hole Jack Nicklaus golf course. Nicklaus is an investor in the project that includes 2 five-star hotels and 300 luxury condominiums. The condominiums are for sale. This investment is valued at US$250 million.
The principal developer and owner of Cap Estate St. Lucia Limited is Denis Nardoni, a Chicago businessman and manufacturing magnate. He came to St. Lucia in the '90's and saw the potential of the island. He formed a conglomerate and purchased the 700 acres of land that belonged to the company along with the existing 9-hole golf course. With an initial cash investment of US$20 million, Nardoni expanded and restructured the golf course making it an 18-hole championship facility. He also laid down the infrastructure for the high end real estate projects that make up the new Cap Estate development.
Cap Estate St. Lucia Limited
St. Lucia Golf Resort and Country Club
Tel: (758) 450-8522
E-mail: capestate@candw.lc
www.cap-estate.com
www.stluciagolf.com

CONDOMINIUMS & TOWNHOUSES
St. Lucia has several condominium and townhouse developments. These have proved to be good investments. Most are located near beaches and on the lagoon and marina-front in Rodney Bay. The benefits of common management appeal to many investors. Re-sales are sometimes available. Check with your real estate agent.
TIMESHARE
Windjammer Landing is a gold crown vacation ownership resort located in one of the finest hotel complexes in St. Lucia. Timeshare publications rate Windjammer as one of the top 20 timeshare properties in the world. Weeks are available for purchase year-round in their fully-equipped, hacienda-style villas. The 1, 2, and 3 bedroom properties are all built on a hillside overlooking the Caribbean Sea. Call (758)456-9000 for more information.
PURCHASING PROCEDURES
Persons from overseas require a government license in order to purchase property in St. Lucia. Each license is for a specific property so purchasers must secure their land or house with a deposit. License applications are handled by a local lawyer who also carries out title searches and draws up the deed of sale. A government license fee of 10% is payable and other charges such as legal fees and stamp duties amount to 6 - 7% of the property price. Land must be developed within two years of purchase. Thereafter, there are no restrictions on renting or selling.
REAL ESTATE AGENCIES
Home Services Ltd., in Rodney Bay, an independent real estate agent, offers a variety of services, including property management, real estate sales, appraisals, rentals and property development. Twenty years' experience in the real estate business in St. Lucia. Tel: (758)452-0450; Fax: (758)452-0071.

VILLA SALES AND RENTALS
Tropical Villas Ltd. Property management, sales and rental. (758)450-8240, Fax: (758) 450-8089. Specialises in upmarket, luxury properties.
The developments listed here are not meant to constitute a complete listing of the properties available in St. Lucia. To make sure you have the opportunity to explore all the options, contact a local real estate agency to assist you in selecting your St. Lucian home.
GRAND VIEW VACATION VILLAS
Grand View Vacation Villas are well appointed two bedroom villas situated in Trouya, Gros-Islet with panoramic countryside and Caribbean views. The villas are within walking distance of the Trouya beach and Windjammer Villa Beach Resort.
There are two air conditioned master bedrooms upstairs with en suite shower room. Each has queen size beds and television. They share a common patio with view.
On the lower level there is a sitting/dining area with television, DVD player and Hi-Fi system. There is an equipped kitchen and a downstairs powder room. There are laundry facilities with washer/dryer and iron.
Each villa has a front courtyard and patio with unobstructed views. There is a second courtyard and utility area behind the villa. The villas, set in landscaped gardens, accommodate up to six (6) persons. However, owing to the cliff-side location, the villas are unsuitable for small children and people with walking difficulties.
Amenities also include Wi-fi Internet and direct dial telephone.
Housekeeping staff works from Mondays to Fridays, 8:30 am - 3:30 pm
Contact Travel Concepts Inc.
Tel: (758)458-2243/44
Email: tci@candw.lc for more information