CELEBRATING ST. LUCIA'S JOUNEN KWEYOL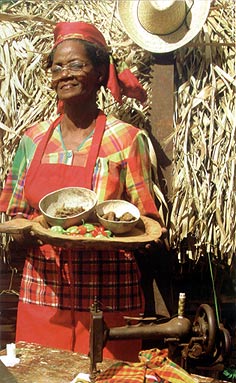 Philomene closed her mobile telephone, ticked off an item on an extensive list and breathed a deep sigh of relief. Crayfish were really hard to come by in St. Lucia if you didn't have the right contacts.
Philomene is a roadside food vendor. Her absolute favourite time of the year is the end of October when St. Lucia celebrates "Jounen Kweyol" or Creole Day, a festival to commemorate the island's heritage. Philomene specializes in traditional cuisine and she goes all out to recreate St. Lucia's Creole dishes.
This Creole revival started in the 1970's when Creole-speaking countries from around the world formed a network to honour their common heritage. "Bandzil Creole" was established and the members of the new organization decided to observe International Creole Day each year on October 28th. The occasion is celebrated by some fifteen million Creole speakers around the world.
Small island nations like St. Lucia and Dominica in the Caribbean went on to organize a second unique event, "Jounen Kweyol" Creole Day, held every year on the Sunday closest to International Creole Day.
Every August, St. Lucia's Folk Research Centre, custodians of the annual event, select four communities around the island to host activities. Community groups then plan the event which is often the biggest activity to take place in some sleepy villages for the year.
Kennedy Samuel, Executive Director of the Folk Research Centre says that since its introduction in 1984, Jounen Kweyol has created an awareness and knowledge of the island's cultural heritage.
During Jounen Kweyol, people travel the length and breadth of the island to out of the way communities to relive traditions such as old lumberjack techniques used long before the invention of the chainsaw.
Women sweat over boiling cauldrons of farine, the refined product of the cassava root. There are displays of old time cricket called'walaba' with slightly skewed rules to the regular game.
Across the island, patrons taste dishes of old such as pemie a corn flour sweet cake flavoured with coconut; green fig and salt fish, salted sardines served with breadfruit, cucumber salad and avocado pear, lentils and red beans bouillon, smoked herring, crab callaloo and crayfish freshly caught from the island's rivers and served in a salad, soup or bouillon.
It is this bouillon that Philomene is famous for and months in advance she places her crayfish order with her suppliers.
Bouillon is a soup like dish with boiled vegetables and meat. It is often known in St. Lucia as a 'one-pot' meal as it is all cooked together in one fait-tout. Local vegetables such as plantain, 'tania' a yam-like root vegetable and seasonings are cooked together with a chosen meat. Lentils or red kidney beans with dumplings are also added. Since a bouillon requires lengthy preparation, it is mostly dished up on Fridays or Saturdays and at special occasions such as Jounen Kweyol.
Philomene serves her bouillon in calabash bowls fashioned from the fruit of the calabash tree.
Jounen Kweyol is also a time to dress up. Many women wear the traditional 'jupe' – an outfit of a colourful madras skirt worn with a broderie anglaise blouse, white cotton or poplin embroidered with white flowers and decorated with red satin ribbons. The headpiece – the'tete-en-l'air' is made of madras. The foulard, a triangular piece of satin worn on the shoulder, completes the outfit.
St. Lucians often simplify things by fashioning outfits using the madras to off-set the white cotton.
Through the efforts of the Folk Research Centre, the Kweyol language is no longer looked down upon as the patois of the lower classes. Kweyol has now become an integral part of the island life.
On Jounen Kweyol, people are sometimes made to pay a fine for not speaking Kweyol. On the Friday before Jounen Kweyol, local businesses get into the spirit of the celebration. Staff members dress up in national wear, small 'en bas gorge' bands (violinists holding their
instruments 'under the throat'), supply the music.
If you are in St. Lucia for Jounen Kweyol, take the opportunity to drive around the countryside to various communities in search of live traditional music, food and thrilling displays of cultural games.