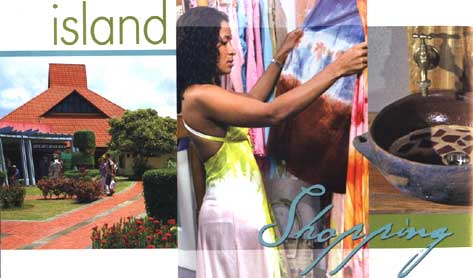 ISLAND SHOPPING
For Duty-free shopping, there is La Place Carenage Shopping Mall in Castries and Pointe Seraphine cruise ship facility. Well-known names such as Colombian Emeralds International, Diamonds International, and Harry Edwards Jewelers, have several outlets on the island.
St. Lucia's local rum packs quite a punch! Bounty Rum is made right here and if you would like to sample the spirit before buying it, a tasting session is part of a guided tour to the Roseau Sugar Factory just south of Castries.
Roseau Sugar Factory:
Situated in the Roseau valley amid vast banana plantation, Roseau Sugar Factory is a 20 minute drive from Castries. The Rhythm of Rum Tour is a journey through the history of rum. Visit the distillery and sample rums and liqueurs. For bookings, contact: Tel: (758) 451-4315/4528.
Island hot sauce, condiments and spices are also popular. These are all locally made and available at supermarkets and open air markets. The Baron Foods label is highly respected and has won several international awards for flavour and quality.

Caribbean Perfumes:
Located in the tropical gardens of Jacques Waterfront Dining, the perfumery has been creating scents in St. Lucia for over 30 years. Caribbean Perfumes blends for men and women.
Art and Antiques at Pointe Seraphine:
Art and Antiques at Pointe Seraphine is the brainchild of Llewellyn and Christina Xavier. This art gallery is modeled after the Art Shop at the Metropolitan Museum of Art in New York and offers a multiplicity of fine art, art objects, thousands of antique maps and prints.
Art and Antiques also specializes in antique sterling silver spoons, antique handkerchiefs, crystal jewelry and other collectibles.
La Place Carenage:
Situated in Castries, La Place Carenage is an air-conditioned, duty free shopping complex. There is a tour guide desk and a balcony restaurant overlooking the harbour. Visit the museum and the Desmond Skeete Animation Centre and discover the history of St. Lucia in the innovative, high-tech theatre.
Pointe Seraphine Duty Free Shopping Centre:
Conveniently located within walking distance of the city of Castries, Duty Free Pointe Seraphine consists of thirty nine shops offering silk screened items, porcelain and china, cigarettes, liquor, jewellery, watches, electronic equipment, fine leather goods and a wide selection of arts and crafts. A restaurant and café serves fresh juices, local and international cuisine. Hair braiding is also available.
In order to take advantage of the duty free prices, bring your airline ticket and passport.
Contact National Development Corporation at (758) 452-3036 or visit www.stluciandc.com.
Colombian Emeralds International:
Colombian Emeralds, one of the most respected international jewellers, has five outlets in St. Lucia. With its 30-year reputation for quality, Colombian Emeralds has been voted Best Duty-Free Retailer of the Year four years in a row by leading travel publications.
Apart from emeralds, Colombian Emeralds offers other coloured gem-set jewellery including diamonds and tanzanite.

Take advantage of discounts of up to 44% off U.S. retail prices on watches by Jaeger Le Coultre, Ebel, Tag Heuer, Raymond Weil, Citizen, Wenger, and Seiko.
Colombian Emeralds International offers International Guarantees, Certified Appraisal, and Free 90-Day Insurance Replacement Against Damage, Loss, or Theft. Ask about instant credit and savings. Colombian Emeralds and Perfect Time at Pointe Seraphine, Hewanorra Airport, Sandals St. Lucia Golf Resort & Spa and Sandals Grande St. Lucia.
Diamonds International:
"The Diamond Specialists of the Caribbean." Diamonds International is the largest loose diamond and diamond jewellery duty free centre in the region.
Diamonds International offers:
- First class selection of loose diamonds (from 0.1ct to 10ct)
- Finest selection of Sapphires, Emeralds, Rubies and Tanzanite
- We custom design your own unique piece (stone setting in one hour)
- Proficient Sales Associates and GIA Gemmologists to assist you
- All diamonds graded and certified to ensure accuracy and value
- Lifetime upgrades and Trade-ins on diamonds
- Exquisite selection of designer jewellery
- Choice timepieces
- Customer Service 1-800-51-JEWEL
Jewelers Warehouse:
Save up to 50% on fine jewellery and watches. Diamonds, emeralds, rubies, sapphires, tanzanite, fashion 14kt and 18kt gold and more.... at 50% off. Jewelers Warehouse is a great place to find gifts at affordable prices. Certified appraisals with every purchase.
Harry Edwards Jewelers:
St. Lucia's premier duty free Stores featuring fine jewellery, exquisite watches, crystal, china and accessories. Our stores are located at Pointe Seraphine, the best duty-free facility in the Caribbean; at La Place Carenage in the city of Castries; at the Iyanola Executive Lounge at Hewanorra International Airport, and at Discovery in Marigot.
Since its establishment in 1999, Harry Edwards Jewelers has grown, winning the coveted title of the "Best Duty-Free Retailer on the Year, 2001-2002".
At Harry Edwards we offer the widest selection in watches and jewelry. We are the official agents for world-renowned brands such as Rolex, Breitling, Chopard, Cartier, Rado.
Included in our range of watches are many other brands such as Omega, Movado, Raymond Weil, Tag Heuer, Gucci, Citizen, Seiko, Nike, Tissot Esquire, Techno Marine, Kenneth Cole and Michelle watches.
Our stores are decorated to enhance the elegance of market leading brand name jewelry such as David Yurman, Ash Grossbardt, Kabana, Roberto Coin, Barbara D'oro.
Our jewellery also includes a large selection of 14 and 18 Karat Gold Jewelry and other precious and semi-precious gemstone collections of Diamonds, Sapphires, Tanzanite and Emeralds.
Our range of branded products includes China, Crystal and accessories. We carry leading brand names such as LLADRO, WATERFORD and MONT BLANC. Our lines of sunglasses include OAKLEY, CARTIER, MAUI JIM, RAY BAN and RALPH LAUREN
Our longstanding staff with experience of over 12 years make shopping at HARRY EDWARDS JEWELERS unforgettable.