ISLAND SUNDOWN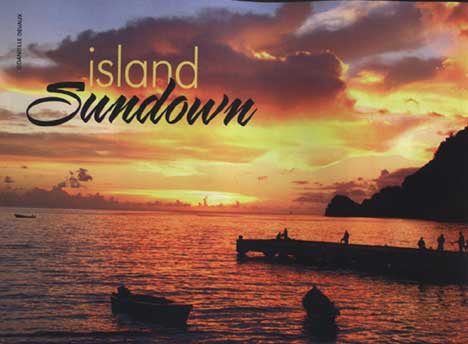 After the sun goes down the fun goes on. St. Lucia has several 'liming' zones—'liming' being the local way to say 'hang out'. Rodney Bay Village proposes the largest concentration of restaurants, bars and nightclubs within one area. There is good food, good music and good company all night long.
For those who want to go further a field, many villages around St. Lucia offer weekend night time fish fiestas.

STREET PARTY
Gros Islet

The original street lime. Gros Islet Friday Night on Friday evenings has been in existence for over 20 years. Every Friday night the barbecue grills come out onto the sidewalks and glowing coals sizzle beneath chicken and conch kebabs. Tables and chairs are set up in the streets. All the bars down Gros-Islet's main street are a hive of activity with visitors and St. Lucians. Speakers set up on street corners keep the audience hopping with a variety of Caribbean rhythms.
FRIDAY SEAFOOD FEAST
Anse la Raye

This village, just south of Castries, on the West coast, offers an excellent Friday night fish feast. Starting from 6pm, the evening is organised by the Vendor's Association of Anse La Raye. Tables are set up in the middle of the street overlooking the bay, while the cooking is done in booths that line the two sides of the road. There is lobster in season and a variety of seafood, barbecued, fried or cooked en papillote. Be sure to try the authentic fish braff made with dorado or mahi-mahi. Soak up the gravy with roasted or fried bakes. There is music and, once a month, a live band provides the entertainment. The local police force looks after security. The Anse la Raye Fish Fiesta started four years ago and has become one of the most popular places to visit. It has also brought much needed income to this small coastal village.
FISH FIESTA
Dennery

The Fish Fiesta takes place every Saturday night from 6pm in the Atlantic village of Dennery, a 45 minute drive from Castries. Seafood specialities include grilled fish, steamed fish, fried fish and lambi or conch. Music is provided by a sound system with a DJ who takes special requests from clients. The Dennery Police Force is on patrol.
CANARIES CREOLE COAL POT
Canaries

Held the 1st and 3rd Saturday of every month, the Canaries Creole Coal Pot specialises in Creole cuisine. There is live entertainment from local groups such as Floretta Marquis, the West Coast Band and Exodus. All vendors are dressed in national costume. The village of Canaries is situated on the West coast of the island. The Canaries Creole Coal Pot is organised by Margaret Edwards and starts from 3pm. Private security is hired for the occasion. For more information, call Mrs. Edwards on (758)284-7803.

J.J.'s PARADISE
Marigot Bay

J.J.'s PARADISE in Marigot Bay is a great place to 'lime'. Every Wednesday is Seafood Night and happy hour is from 5 - 7 p.m. There is a barbecue and Karaoke on Saturdays. Limbo and fire eating shows are from Tuesday to Friday.
Reservations are required. Call (758)451-4076 or VHF 16 if you are coming by boat.

SUNSET CRUISES
Sunset Cruises normally depart 5 pm and sail the Caribbean coastline until the sun disappears beneath the horizon. Champagne, rum punches and soft drinks are usually served on board. Ask your tour operator or your hotel tour desk for more information.

AFTER HOURS
All of the following after hours night spots are located in the Rodney Bay Village.
Rumours – Bar and night Club
Charlie's – Bar and night Club
Upper Level – Night Club at the Lime Restaurant
Happy Day – Bar
Mangoes – Bar