LLEWELLYN XAVIER
By Edward Lucie-Smith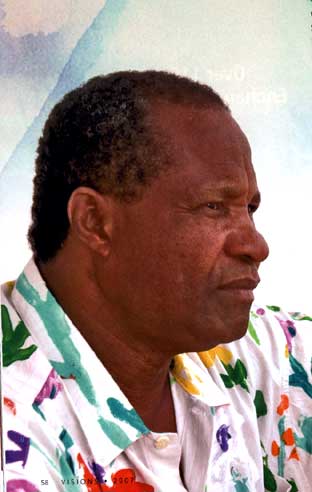 Everyone who comes to St Lucia feels the magic of the Pitons – no one more so than the island's best-known artist, Llewellyn Xavier, who has painted them over and over again. It is due to Llewellyn, in more than one sense, that we now see them as they are. "At one time," he says, "an American developer was going to build an up-market housing estate right next to them. There was even going to be a wedding chapel at the summit of one of them, with access by cable-car. I had to mount a campaign to put a stop to that."
Llewellyn Xavier's astonishing career offers an example of the fact that people from small islands often get to do big things. His view of what was possible for a poor boy from St Lucia to achieve has taken him out of the island where he was born, then returned him to it again, strengthened and renewed.
Born in 1945, Llewellyn left St Lucia at the age of 16 to work in Barbados as an agriculturalist, propagating citrus fruit. His desire to be a painter was awakened by a gift of a paint box from a flat-mate. The first pictures he made – Barbadian landscapes – were already very sophisticated and soon attracted attention from important patrons. He says now, "I was a celebrity thanks to the kindness of the Barbadians, who showed much appreciation for me both as a person and as an artist." At that time what he knew about art came largely from books which taught him both about the work of the Old Masters, and about what was then happening in post-war France. The French painters then working in Paris, led him towards an enthusiasm for luxurious, richly worked surfaces that has remained with him throughout his career.
The generosity of some of these early patrons enabled him to travel. In 1974 he made a world tour with one of them. Some of the places they visited together had links to the career of Paul Gauguin, perhaps the greatest painter to have worked in the tropics. Llewellyn also made his way to London. There he became acquainted with the work of British artists of the younger generation, such as David Hockney. He also had some bruising encounters with racism. British racism was one reason why he became involved with the story of the American black activist George Jackson, who was then in prison in the United States and who was eventually murdered there. Llewellyn read Jackson's book of prison letters, Soledad Brother, and was much moved by them. With some difficulty he initiated a correspondence with Jackson and at the same time he started to make a series of works based on his life.
These works from the George Jackson series and others connected to them such as: a series about Race and Sex, and another based on the life of the singer Paul Robeson, secured Llewellyn Xavier a prominent place in the Black Arts activism of the 1960s and 1970s. This phase of Black Art was explored and commemorated in the exhibition Back to Black, shown at the Whitechapel Art Gallery in London in summer, 2005. Examples of Llewellyn's work from this time recently entered the collection of the Walker Art Gallery in Liverpool.
The next phase of his work was very different – a series based on the nightlife of Toronto, first exhibited in that city in 1977. Despite their slightly 'decadent' subject matter, some of these works have a paradoxically religious air. Critics have sometimes compared them to designs for stained-glass windows. This becomes less surprising when one discovers that Llewellyn, at this period, was going through a religious crisis. He decided to enter a monastery, and in 1985 spent a year as a novice in a Benedictine abbey in Montreal. According to monastic rules, however, he was forced to leave for what was called "a month of discernment", before making his final vows. He returned to the Caribbean and spent the time sailing round the Grenadines in the company of a jolly archbishop – the Archbishop of Halifax. "We were determined to have as much fun as possible," he says, remembering the trip. One can believe this – when Llewellyn is around, fun is never far away.
When the holiday finished, he duly returned to his monastery, but after barely a month, decided that the religious life was not for him. An important factor in his change of mind was the realization that his spiritual commitments could only be fulfilled through a return to the world of art.
The final step in his development was marriage to Christina, his Italian wife, who had already helped to nurse him through a serious illness. After a year spent in London they returned to St Lucia to live. In 1991 they built the magnificent house and studio on the Cap Estate that is now the headquarters for all of Llewellyn's multifarious activities.
Llewellyn was never going to settle comfortably into the life of a reclusive artist, concerned only with what went on in his studio. Out of that studio has poured a huge series of art works, many of them concerned with the ecological problems that now threaten the whole world, not just the little island of St Lucia. One of his chosen means of propaganda has been a series of elegant collages made from recycled material, sent as gifts to influential people throughout the world.
These global concerns are closely linked to Llewellyn's deep love of St Lucia itself. No aspect of its life escapes his attention, from the prolific little guppy fish that inhabit the drains of the capital, Castries – the subject of a long series of small paintings -- to the legend of La Jablesse, the female forest demon who wanders the dense tropical forests of St Lucia luring men to their doom, and the related legend of the Ti Bolom, a kind of imp who can be brought to birth by keeping an egg compacted in one's armpit for a whole year. These larger works are built up from layer on layer of paint.
The more you look at them the more you see. The blobs of paint become leaves, or petal, or even a tiny face. Magic exists everywhere in Llewellyn's art, and in his life. And this magic is rooted in the place where he was born, and where he lives.
Edward Lucie-Smith is the author of LLEWELLYN XAVIER; ST. LUCIA AND THE WORLD published by Macmillan, due out in 2007.