THE SWEET SIXTIES ON PIGEON ISLAND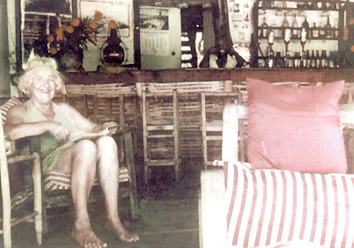 Touring around St. Lucia, having a beach picnic, taking in the sights at the Sulphur Springs, renting a beach cottage in Vieux Fort or travelling down the westcoast on board a sailing boat - these are not things that were invented with the advent of mass tourism to St. Lucia: these are things that St. Lucians have been doing for decades. The first holiday-makers were St. Lucians. Derek Walcott, the 1992 Nobel Laureate for Literature, used to spend his summer school holidays with the Augustin sister at Patience, a tiny village on the east coast just north of Micoud. Parties of Castrisians used to drive the long, windy road to Gros Islet, carrying everything from toilet paper to fried chicken and blocks of ice to cool their drinks, in order to spend the day playing waterpolo in the Caribbean Sea or playing cricket with an unripe breadfruit and a piece of coconut branch for a bat on Reduit Beach - long before the swamps were ever drained or the Rodney Bay Marina constructed.
These were the days when crossing the Barre de L'Isle, the mountain range dividing the west from the east coast, was still an adventure, the sort of thing you only did twice a year: once to travel down into the country at the beginning of the holidays, and once to go back home after six weeks of barefoot, easy-going, thoroughly satisfying country life.
St. Lucia's best-known old-time holiday-maker was quite possibly Josset Legh (pronounce: Lee), also known as Josset Agnes Huchinson (or Huskinson, after her first husband Darrel, who died of wounds received as an airfighter in World War One), also known as 'Ma Snowball' (after her second husband Tony Snowball, whom she later divorced). A retired actress/singer and member of the famous D'Oyly Carte Opera Company of the United Kingdom, Josset lived the dream of permanent, non-stop liming at Pigeon Island when those forty acres of historical rock were still an island.
In many ways, Pigeon Island at the time of Josset Legh acts as a landmark signifying a more encompassing era in St. Lucian history: those three decades of gorgeous sweet, loving life, sweeter perhaps than any other period in St. Lucia's history - with the arguable exception of the precolonial lives and times of the island's original inhabitants, the Ciboney, Arawak and then Carib Indians.
St. Lucia in the 1950s, '60s and early '70s was quite arguably the period when good old-fashioned friendliness and honest fun triumphed. Decades during which the rays of social, educational and political enlightenment thawed the cold bosom of colonial society, and partying was perfected into an art form. Middle-aged and elderly Lucians will still tell you, their eyes glazing over with mellow memories of days filled with endless sunshine, genial banter and innocent mischief, and baskets full to overflowing with home-cooked goodies, bottles of spiced rum, creme ponche, and sorrel.
The times of Josset Legh. A name that calls forth that of another person who, like Josset, knew that joie-de-vivre is something you acquire simply by doing it: William Hackshaw. Boating Bill. While Josset, the ageing, slightly eccentric Australian-born actress lived on Pigeon Island as if she were Eve never dispelled from Paradise, Bill Hackshaw carried parties of family, friends and visitors across to spend Sunday there: drinking, laughing, swimming, basking in the beauty and nature of that little island an hour's sail away from Castries harbour. The island that looks like a crouching lion when approached from the sea, ready to spring at you, yet which carries such an innocent, peaceful name.
If the current was strong, Hackshaw would drop anchor a little distance off Pigeon Island's southern beach and everyone would simply swim to the island. If the sea was calm, he'd run his revamped World War Two boat - the R215 - up the sandy beach and all hopped off. The adults to settle down for a good lime, having asked Coco, Josset's dedicated handyman from Gros Islet, to dive for some lobsters and grill them.
The kids of course would scatter. Climb up to Fort Rodney, shouting out the words of that famous poem commemorating how Admiral Rodney, in 1782, spotted from here that the French fleet under Count De Grasse set sail from Martinique (skipping over the parts they couldn't quite remember): 'The Valiant Rodney fought a fight/ that Frenchmen ever rue/ a fight that made Great Britain chief upon the stormy seas, something-something-or-the-other, she was chief among the Caribbees'. Whiiiieee!!!
The Battle of the Saints. Pigeon Island as a fieldtrip in history.
And biology.
And science.
And social studies.
Everything that will simply fascinate a child as long as it is taught hands-on. A whole world to get lost in. Scouting around for interesting items, knowing that here, soldiers have lived and died in centuries gone by. Finding where Admiral Rodney used to keep his carrier pigeons. Discovering the grave of an English soldier and child, both of them perished from the dreaded Yellow Fever. Stumbling across something that looks like it might be a human bone ('Where's Uncle Philip? He'll know! He'll know whether it is man or beast!). Not being allowed to climb the taller of the two hills, because an American soldier who was stationed here during World War Two had slipped down it and broken his neck. Creeping into the old ruins and daring one another to disturb the hundreds of bats that hung there upside down, like dead leaves in autumn. Until one of the kids screamed and sent all flying out of there: the children spilling down the hillsides, the bats flapping madly into the light.
Josset Legh at Pigeon Island. A bigboned woman, eccentric in ways that only the Brits know how, with her wrinkly face, blondish hair and invariably dressed in a sunsuit: one of those strapless things with a little skirt and pants. Bill Hackshaw borrowed one once and posed in it on the beach to entertain his guests, who were reduced to hysterics at the sight of the short, chubby sailor striking an ultra-feminine pose, his face deadpan. "And it was so like Josset to facilitate that, you know? To say: 'Oh, let Bill have one of those things'."
Accompanying Josset were her husband (for the time it lasted) and a seemingly never-ending procession of relatives and friends: her brother Skipper Legh, her daughter Audrey Hickson and, later on, various grandchildren. All eager to share Josset's piece of paradise. A German scientist lived on the island for some time: a man reportedly credited with having invented rubber foam. It was he who tried to stop incidental visitors like Hackshaw & Company from setting foot on the island. In vain, needless to say. "We thought: pure rubbish! You know. We're going there, nobody can tell us to get off Pigeon Island. It's ours!"
The island was leased to Josset in 1937 for ninety-nine years, when she first visited St Lucia in the company of her close friend Dorothy D'Oyly Carte. She relinquished the island to the American Army during the war but returned in 1946. And she still lived there, even after Pigeon Island was joined to the mainland in 1971 by a causeway. Nothing but old age could make Josset give up what she must have loved more than anything else in life - her island in the sun. On her first visit back to England since leaving after the war, in 1978, at the age of 90, Josset Legh died. Her ashes are commemorated by a headstone in St. Mary the Virgin's Church in Avington, Hampshire.
But though history invariably reduces its characters to dust and ashes, the legend of Josset lives on in the memories of thousands of living people today, occupying a very special corner in their hearts. With Francois Le Clerc (better known as 'Jambe de Bois' because of the wooden stump that replaced his original limb) and Admiral Rodney, Josset Legh's is the name that is most intimately tied to the history of Pigeon Island. Time ticks on relentlessly. But anyone wishing to get a sense of what Pigeon Island may have felt like in those carefree years of Josset's presence, might like to take a walk down to the same little beach where Josset used to run what was known at the time by the grand name of 'The Club': a little house built of crooked sticks with a thatched roof, near the southern beach on Pigeon Island. The thatched roof is still there (although covered with corrugated iron) and the walls have been rebuilt in natural stone. A shady verandah with lots of plants has been added, as have jazzy music, a funky menu, a range of ice cold fruity daiquiries and countless other lovely touches, creating 'Jambe de Bois Beach Cafe' - Pigeon Island's modern-day version of having a wonderful time in paradise. Some things never really do change.
Photographs courtesy of Ms. Georgie Black, granddaughter of Josset Legh.